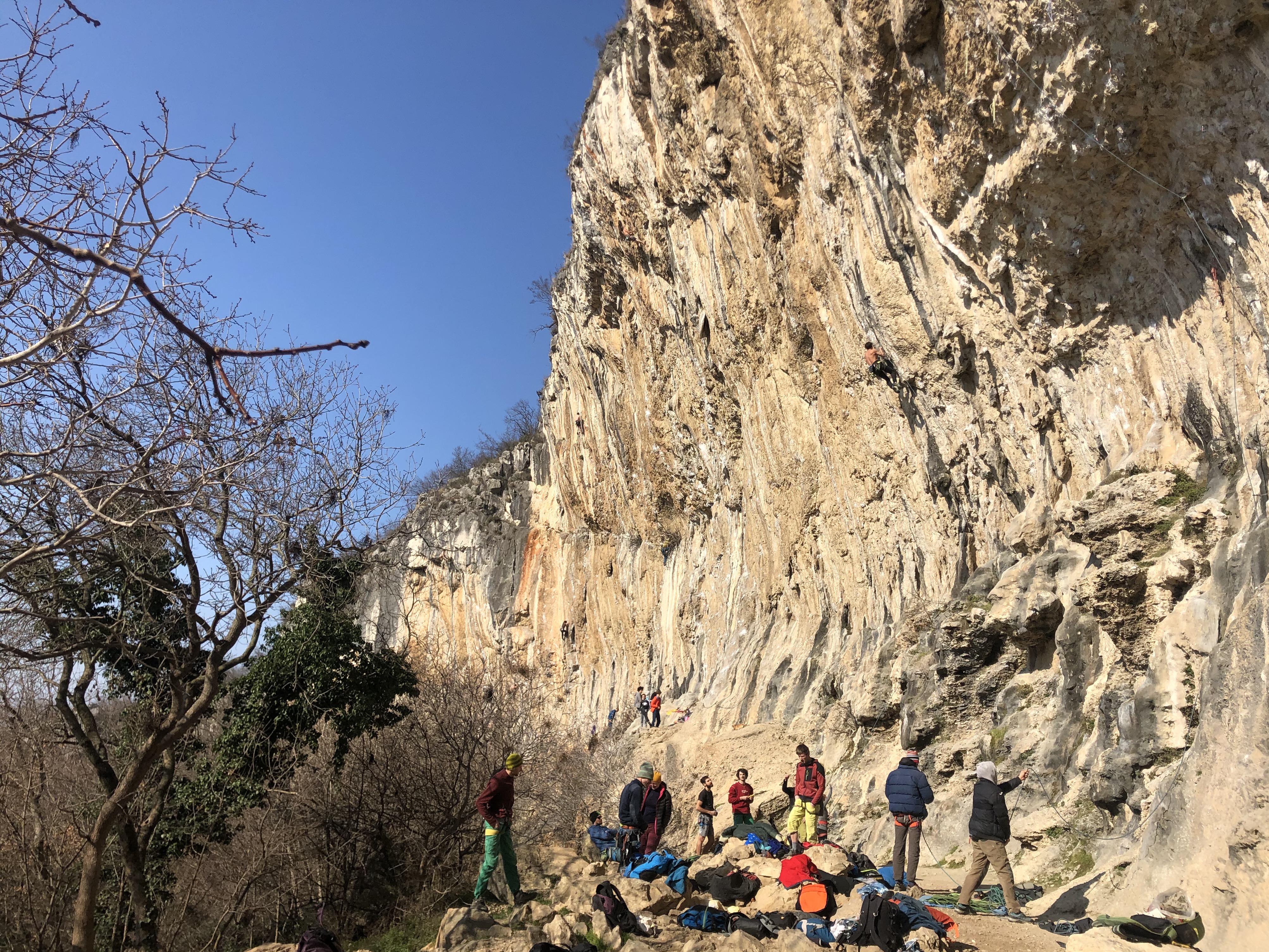 Adam Ondra, Gianfranco Dušić, Piotr Nižnik,…
Photo @ Mišja peč on Saturday
A bit late news, but still better than nothing, I guess.
We have already reported a week ago about Adam Ondra onsighting Starec in morje (8b+) in Limski kanal and about his short visit to Kompanj for his first time ever.
He liked Kompanj so much, he returned soon after and smashed Klemen Bečan's masterpiece All in, I'm out (8c) which was repeated only by Jakob Schubert before. Adam's comment was, that if this route deserves 8c, then all the routes of Kompanj should be downgraded. So, he suggested an upgrade to 8c+ for this three star king line.
Also, he has visited the super steep Pandora where he onsighted Avatar (8b), 90 days (8b) and Toruk Maktu (8b). On the right side of the big overhang he briefly tried Jorg Verhoeven's project in 9b range that Adam already tried some years ago. He will have to come back for its redpoint though. Hopefully soon!
Here is the link of Adam's funny video of falling in 7a in Kompanj and after onsighting a bunch of 8b's or 8b+'s around Istria!
And here is already the second part of the video by Adam Ondra.
In spectacular Medveja above Opatija, local climber named Gianfranco Dušić succeeded in Koraj (8b). Koraj is a connection of Villa Oraj (7b+) and the upper part of The Core (8c+), which was first done by friendly French Quentin Chastagnier.
In Osp, in sector above the village called Banje, only 14 years old Polish boy Piotr Nižnik climbed his first 8c, Osapski pajek, Uroš Perko's creation.
Then in Mišja peč, Petra Zupan clipped the chains of the beautiful first part of Chiquita (8a), while Luca Bacer executed in crimpy Človek ne jezi se (8c) and Andraž Gregorčič smashed Marjetica (8b).
Another important warning! All the routes right from Medo in the big wall of Osp are now temporarily closed! First bolts are blocked, so climbing is not possible.
The weather forecast for the next days looks promising, so see you somewhere in Istria!