Enjoy a thrilling rock climbing adventure in Istria with one of the certified climbing guides of climbistria.com!
Located on the Adriatic sea, from Italy to Slovenia and Croatia, Istria is a top spot for rock climbing adventures all year round. Famous for its beautiful beaches, unique views, and amazing history and culture, this is a great destination to enjoy an outdoor excursion on the rocks!
Book a certified climbing guide with all the equipment needed for your trip in Istria here.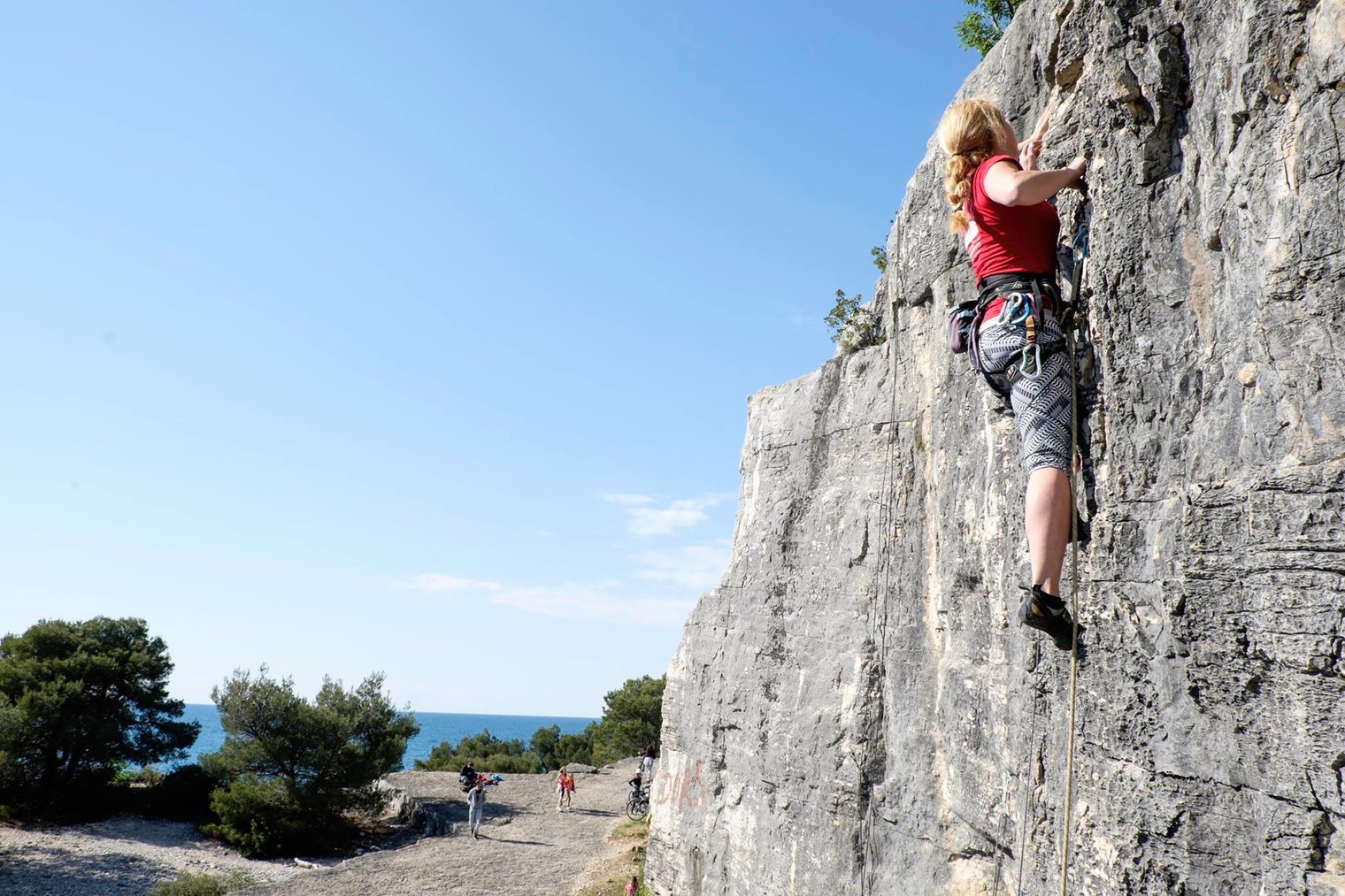 Whether you're a beginner, intermediate, experienced, or even a child, the crags of Istria offer endless possibilities for everyone of all abilities.
Introduction to climbing
Transition from indoor to outdoor
Falling techniques
Personal coaching
(Self assessment tests / Goal settings / Program planning / Conditioning / Mental training)
Climb the steep limestone rocks above the Adriatic sea in Istria, from the south in Croatia, in between in Slovenia and the northern part around Trieste in Italy.
You can choose from easy crags like Rovinj and Limski kanal, to a bit harder cliffs around the city of Buzet, perfect family spot Črni kal or hard-core climbing spot in Istria – Mišja peč, you can even climb above Trieste in winter crags like Napoleonica, Aurisina or Costiera, plus many more.
Give us a call
Write us
guiding fee
all the equipment needed (rope, quickdraws, belay device, helmet, harness, chalkbag, climbing shoes,…)
*if you have your own equipment, rather bring yours as you're used to it
transport to the crag (can be discussed with the climbing guide)
drinks & snacks at the crag
*prices vary from the number of climbers (maximum of 5 for a climbing guide), number of climbing days and dates
Issy, enthusiastic rock climber from UK:
I did intensive climbing coaching with Klemen over 3 weeks. It was all outside, at different crags in Croatia and Slovenia. We went on loads of different rock types. The whole experience was a great adventure. From the start to the end, my climbing completely changed. I'm onsighting routes I previously would have struggled to redpoint. I am more confident on the range of moves you encounter on different formations of rock. And it was just loads of fun. He's really good at spotting what you can improve and helping to make it happen, all with a smile and lots of encouragement. I highly recommend him as a coach, wether you want a climbing experience or you want to really improve your technique, he's a great coach.
Zan Ray from USA:
Climbing with Klemen was a marvelous experience. While visiting Slovenia, my plans in the Alps changed last minute. I came down to the coast and hoped to do some climbing there. When I contacted Klemen to see if he could meet me in the next couple of days, he said yes, that he could show me to the crags for the time I was in the area. This was great! Klemen was prompt and very professional. I'm still a beginner and Klemen knew just the right ways to push me while still being patient and encouraging. I know my climbing has improved markedly with the techniques Klemen showed me. I have a ton of new knowledge I will take back with me to the States as well as the memory of climbing at some stunningly beautiful crags. I whole-heartedly recommend Klemen at "Climb Istria". This was an experience I will never forget!