For those tired of the crowds in Kompanj, there are two more private, lonely crags in the near vicinity, in fact, on the far left side of Kompanj's walls. (For now) just a few routes offer quite a challenge to mostly "better" climbers, especially those skilled in climbing overhangs with a bit of bouldering touch. Berto's cave is lower, while Balcony offers a bit harder tufa endurance climbs. Amazing view, nice routes and being alone at the crag will make you come back for sure! Another, still undiscovered brilliant climbing spot.
If you can get to Roč, you're almost there. From there drive towards Kompanj, where you take the left turn at the intersection by the cemetery. Pass the railway and through couple of turns uphill. At the last left turn there is a powerline beside the road. Park and follow uphill under the powerlines for 10 minutes. The path splits a bit to the left at some point and returns just before you reach the rocky ledge which brings you to Berto's cave. Balcony is 5 more minutes to the right on a exposed ferrata.
Parking directions
Best times are autumn and spring. It is possible to climb also in the winter afternoons in the sun if the tufas are dry (not after heavy rain).
The crags are relatively new and well equipped.
Recommended accommodations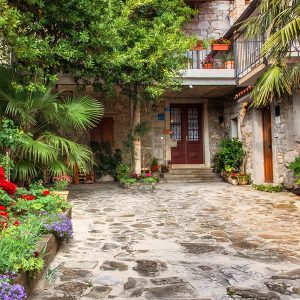 Apartments Roža
Roč 16, 52425 Roč, Croatia
Stay in Apartments Roža and enjoy in one of the best climbing areas in Istria. Roč is an excellent base for climbing in the crags near this charming village. Just a few minutes away by car to Kompanj, Čiritež, Vela draga, Buzetski kanjon or Kamena vrata. We offer two comfortable fully equipped apartments for max. 7 people. Air conditioning, fireplace, unique wine cellar or open terrace makes it comfortable in any season. Welcome to Roč!
+385 (0) 91 540 8323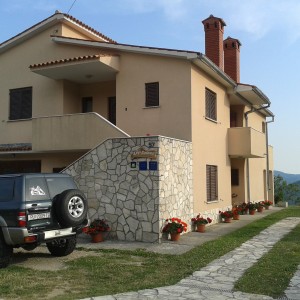 Apartments Dolores
Roč 57, 52425 Roč, Croatia
Peacefully set in historic little village of Roč, under the famous climbing area Kompanj and close to Krkuž, Raspadalica, RocknRoč, Sunset rock, HC, Buzetski kanjon,… Apartments Dolores enjoy a green surrounding and offer fully equipped modern apartments with kitchen and terrace, as well as free WIFI and private parking.
+385 (0) 91 169 6267
Routes (from left to right)
The routes in Berto's cave are around 15 meters long, nice power endurance challenges on tufas and crimps. Balcony is longer and harder. You will need a 14 set of quickdraws and a 60 meters rope.
Not recommended for kids!
A/1 – Berto's cave
| | | |
| --- | --- | --- |
| Little adventure | 6a+ | 12m |
| Optional di luso | 7b | 12m |
| Romboss | 7b | 13m |
| Gestione del gesto | 7c+ | 14m |
| Check point | 8a | 15m |
| Adesso o mai piu | 6b+ | 15m |
| Party boy | 6a+ | 15m |
A/2 – Balcony
| | | |
| --- | --- | --- |
| In bianco sul bianco | P | 20m |
| Attriti coniugali | 7c+ | 15m |
| Attriti coniguali extension | P | 20m |
| Eccesso di entusiasmo | P | 20m |
| Uomo di poca fede | 8a+ | 23m |
| Tentazioni proibite | 8a | 20m |
| Intrusioni terrose | 8b | 20m |
| Mappy new year | 7c | 22m |
| Titty twister | P | 21m |
| Red Silvia | P | 19m |
| Tanto le schivo | P | 21m |
| Effetto metanolo | 7c+ | 18m |
| Gerbiling | 7c | 18m |
| Piu no che si | 7c | 18m |
| Semiramide | 7a+ | 18m |