Above the seaside cliffs of the eastern shores of Istria lies a picturesque and cute little village Brseč. Underneath are tall, sometimes overhanging walls, perfect for climbing. Sadly, a big problem here are approaches, those enemies and necessary evil for every sport climber. For climbing, the standout sector is Pod Križ, while for uniqueness and wild factor you should visit Šip, which rises straight from the sea. Other sectors offer completely different climbing experience, with abseils for approach, sketchy belaying, sense of adventure,…
Brseč lies on the eastern coastal road between Plomin (which can be reached via Pazin or Labin) and Medveja/Opatija. You won't miss it for the aesthetic factor of the village alone, once you drive past. For sector Pod Križ drive on from Brseč on the main road towards Rijeka. After 2 kilometers there will be an obvious viewing-rest spot on the right. Park and continue on foot on the road. When the railing ends, go down the stone wall on the right, between second and third safety stone. From here the path is obvious, although quite steep and full of ropes and light climbing. The starting point for the other sectors is the parking in front of pizzeria in the village of Brseč.
Parking directions for sector Pod Križ
Parking directions for other sectors
This is an all year round crag – season lasts from late autumn to the spring. In between you can try some DWS, so actually you can never miss. The rain wouldn't be a problem at some spots, but it will additionally spice up the access – something you don't want in Brseč.
The sea water badly affects the metal. Be especially aware of that in sectors Šip and Belićev stup. Often you don't even see a bad bolt. Corrosion is like caries: when it's obvious, it's quite critical. Sector Pod Križ is freshly rebolted with adequate material.
The spaces under the wall and the approaches are very exposed, even dangerous and should be tackled with necessary calmness and seriousness. This is not a place to joke around! We advise against going here to anyone less experienced or easily frightened, and even less to the beginners and kids. Despite the wild and adventurous character of the crag this is still a nicely equipped crag and the Austrian divers/climbers Ingo Schalk, Gerald Wagner, Martin Sprenger, Gerhard Grabner, Hans Rust and Martin Schitter deserve all the praise for their vision.
Recommended accommodations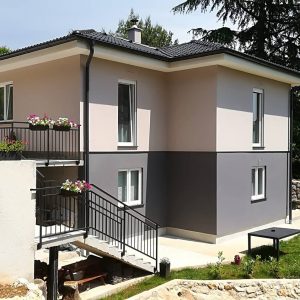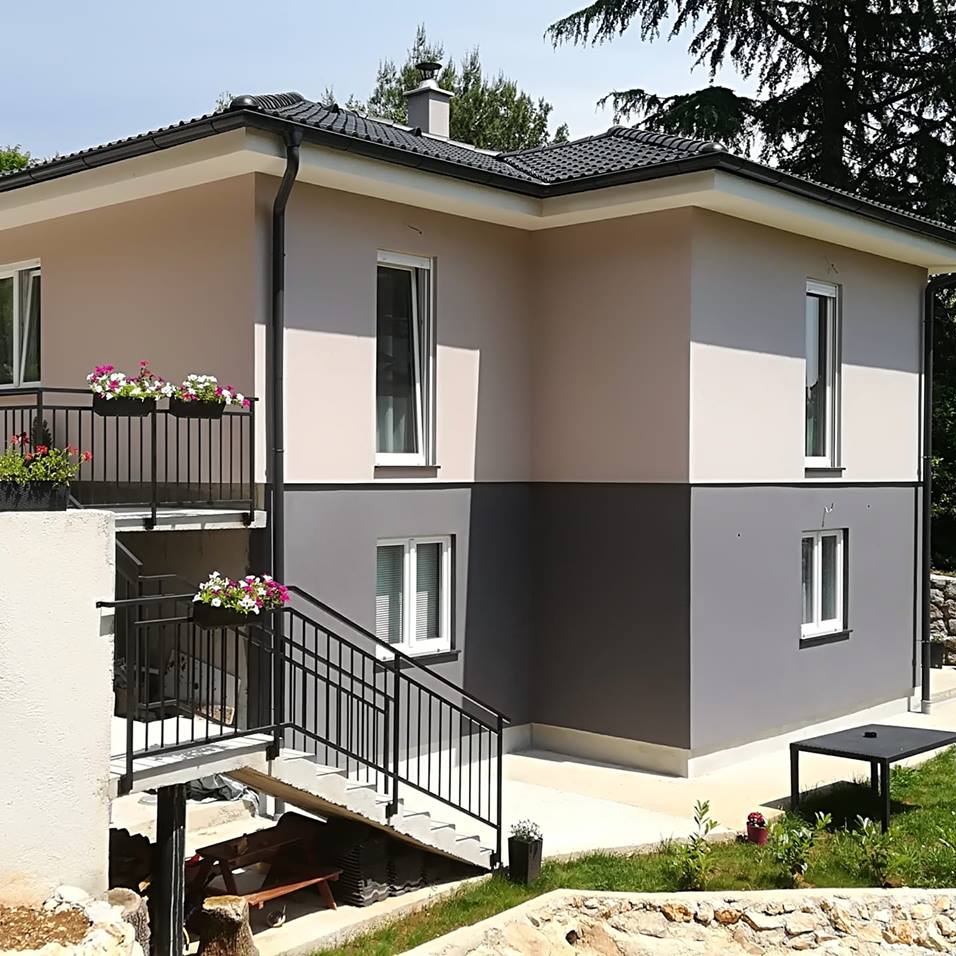 Apartments Natali
Golovik 25b, 51417 Moščeniška Draga, Croatia
Apartment Natali is a brand-new apartment located above the village Brseč perfect for climbers who want to climb in Medveja, Moščeniška Draga, Brseč or Rabac. It is ideal for up to 5 people and in low season it will cost from 35€ per night. Welcome!
+ 385 (0) 91 884 95 35
ROUTES (from left to right)
The rock is, mildly put, fresh. Realistically looking it is sharp, although full of holds (thus the lower grades). Most routes follow the easiest lines on the ledges, holes and cracks, while holds vary from sharp edges to tufa. Sometimes the rock may crumble (like lower part of Belićev stup), but it's solid overall. Grab the holds firmly, sloppiness and slips may quickly cut you. Sector Pod Križ is the most sport-climbing friendly, approachable and nicely freshly rebolted. If you're not too adventurous, this is the best place to go. Bring 80 meters of rope, or rather two of them, with at least 16 quickdraws. Scared climbers should even bring some more, along with slings, nuts and friends. For most sectors you need knowledge of abseil, rappel, re-tieing, belaying from a hanging belay, lowering, maneuvering in the wall and similar. Bring an extra rope to sector Šip, to fix it for abseil and use again later. Watch out that it doesn't fall into sea when you abseil! Anchors aren't always easy to find and you may have to lower yourself over the wall edge.
A – Belićev stup
| | | |
| --- | --- | --- |
| Goldfinger | 6b+ | 30m |
| Octopussy | 6a+ | 35m |
| Dr. No | 6a+ | 40m |
| Casino Royale | 6b+ | 40m |
| Moonraker | 6a | 32m |
B – Belićeva stijena
| | | |
| --- | --- | --- |
| The Ivy Plot | 6b | 25m |
| Kitten in the need | 6c+ | 25m |
| Wespennest | 6b+ | 30m |
C – Podgrad
| | | |
| --- | --- | --- |
| Meister Horich | 5b | 45m |
| Diver in Danger | 7a | 50m |
| Flying Dutchman | 6a+ | 55m |
| P | ? | 25m |
| Crimson Hawk | 6c+ | 50m |
| 111 | 6c | 50m |
| Wanderratz | 6a | 50m |
| Ratroof | 6b+ | 20m |
| Once upon a time | 6a | 50m |
| Feige/Sau | 6c+ | 50m |
| Hope | 6c | 50m |
| Mullmania | 6c | 30m |
D – Šip
| | | |
| --- | --- | --- |
| Last Sugar | 6c | 55m |
| White Pepper | 6c+ | 60m |
| Salty Dog | 6a | 60m |
| Medusa | 6a | 55m |
| Old Friendship | 6b | 50m |
| Ship by Šip | 6b+ | 50m |
| Renata | 6a+ | 50m |
| Malvasia | 5c | 45m |
| Polyphem | 6b | 35m |
| Outis (Nobody) | 6a | 15m |
| Aiolos | 6b+ | 35m |
E – Pod Križ
| | | |
| --- | --- | --- |
| Essig Gurkel | 5c | 20m |
| ? | 6b | 20m |
| Viper | 6c+ | 30m |
| Viper left extension | 6c+ | 45m |
| Viper right extension | 6c+ | 45m |
| Hammer King | 7c | 25m |
| Anima | 7b+ | 20m |
| Schussler | 7c+ | 28m |
| Schussler extension | 8b | 50m |
| Mirko Borič | 6c | 30m |
| Mirko Borič extension | 7b | 50m |
| Mathilde | 6b+ | 17m |
| Mathilde extension | 7b | 30m |
| Mathilde 2nd extension | 7c+ | 50m |
| Cut | 6a | 15m |
| Cut extension | 7a | 30m |
| Cut 2nd extension | 7b+ | 50m |
| Made in Austria | 7b+ | 11m |
| Lieblingsmensch Irma | 7b+ | 30m |
| Izgubljeni dječaci | 6c+ | 30m |
| Izgubljeni dječaci extension | 7b | 50m |
| Jarilo | 6b+ | 30m |
| Jarilo extension | 7b | 45m |
| Fishermans friend | 6c+ | 35m |
| Volos = Fishermans friend extension going left | 7b | 50m |
| Fishermans friend extension | 7b | 50m |
| P | ? | 40m |
| Wario land | 7a | 18m |
| Wario land extension | 7c | 40m |
| Happy end | 8a | 45m |
| Kaotiko | 6b | 18m |
| Point break | 6b+ | 17m |
| Point break extension | 7b | 40m |
| Bodhi | 7c | 38m |
| Home run | 6c | 35m |