HC? Head circumference? Horrific cliff? Huckleberry Crawford? …or simply HardCore crag between Buzet and Roč. For a long time in plain sight, for a long time not interesting, deemed too hard at first sight. But not for Klemen Bečan, who kindly added a couple of 7s for common mortals to his hobby projects. But a second sight reveals much more potential, once the wall is cleared and explored – let's hope it happens soon.
Drive from Buzet towards Roč. After a small ascent you will drive through the village Selca. Continue for 1,5 km, when the road turns right, you take the turn left to a narrow road towards Strana (this road will also take you on top of Pandora). When you see the crag on your right, park your car beside the road.
Parking directions
The wall is not overhanging apart from a few small roofs, so you will need nice weather without too much heat. The shade from the trees can extend the climbing season in HC.
Recommended accommodations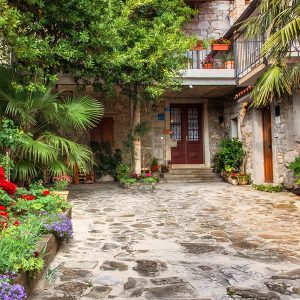 Apartments Roža
Roč 16, 52425 Roč, Croatia
Stay in Apartments Roža and enjoy in one of the best climbing areas in Istria. Roč is an excellent base for climbing in the crags near this charming village. Just a few minutes away by car to Kompanj, Čiritež, Vela draga, Buzetski kanjon or Kamena vrata. We offer two comfortable fully equipped apartments for max. 7 people. Air conditioning, fireplace, unique wine cellar or open terrace makes it comfortable in any season. Welcome to Roč!
+385 (0) 91 540 8323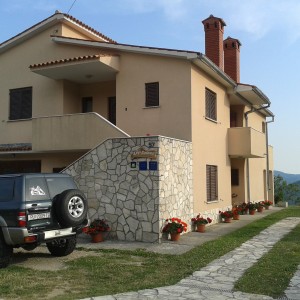 Apartments Dolores
Roč 57, 52425 Roč, Croatia
Peacefully set in historic little village of Roč, under the famous climbing area Kompanj and close to Krkuž, Raspadalica, RocknRoč, Sunset rock, HC, Buzetski kanjon,… Apartments Dolores enjoy a green surrounding and offer fully equipped modern apartments with kitchen and terrace, as well as free WIFI and private parking.
+385 (0) 91 169 6267
ROUTES (from left to right)
The routes are mostly vertical with hard cruxes, often at the start. Strong fingers, perfect technique and sometimes dynamic solutions are the key to success. For some routes it seems that they favour tall climbers. They are bolted nicely and the base of the crag is comfortable.
People with children (did you seriously bring them here to climb?), be mindful – under the crag lies the road, although the traffic is almost non existent. Some climbers think the grades are quite harsh.
| | | |
| --- | --- | --- |
| Corona is a big lie | 8b | 15m |
| HC (Hippy climbers) | 8a | 15m |
| Eskalandija | 7c | 15m |
| Esmeralda | 8b+ | 15m |
| Napaka u systemu | 8c | 15m |
| Luskavica | 8b | 15m |
| Velikonočni zajec | 7b+ | 15m |
| Welcome to HC | 8a+ | 15m |
| Roštiljada | 8a | 15m |
| Pterodaktil style | 8b | 15m |
| Ako si kraći, skači | 7b | 15m |
| Como las cabras | 6c | 15m |
| To to | 7b | 15m |
| Another victim of Corona | 7a+ | 15m |
| Vanlife | 8a | 15m |
| Super Krek | 6b+ | 15m |