A climbing area above the village of Čiritež in a sector called Hollywood is a mystery: an interesting, overhanging wall in plain sight, but still only rumors that something is happening here. Rumors point out loose rock – yet a visit to the crag reveals a handful of bolted routes. Access is wild, even though at first glance this area has enormous future potential… it remains to be seen.
You approach it from the top of the walls, so first you need to get to Roč. Drive through the village on the road, leading to the railway station and Nugla. Drive on, over the railroad and after less than kilometer turn left for Nemarniki, where you keep left and park at the last house. The path across the meadow leads you to the dry riverbed, following which will bring you to the wall edge. Going around on the left side will (with a bit of climbing) bring you to the crag.
Parking is kind of non-official, beside the road, and though there are never big crowds here, try to be polite and don't disturb locals.
Parking directions
The walls face south and are sheltered from the wind, so summer is off. Even late spring or early autumn can be uncomfortably hot.
You go to Hollywood (at the moment), if you wish to visit something new. The rock is fresh, so of course it can crumble a little.
Recommended accommodations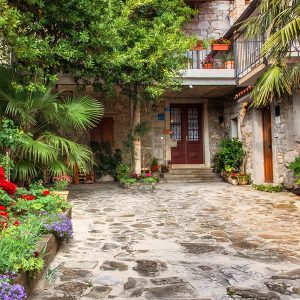 Apartments Roža
Roč 16, 52425 Roč, Croatia
Stay in Apartments Roža and enjoy in one of the best climbing areas in Istria. Roč is an excellent base for climbing in the crags near this charming village. Just a few minutes away by car to Kompanj, Čiritež, Vela draga, Buzetski kanjon or Kamena vrata. We offer two comfortable fully equipped apartments for max. 7 people. Air conditioning, fireplace, unique wine cellar or open terrace makes it comfortable in any season. Welcome to Roč!
+385 (0) 91 540 8323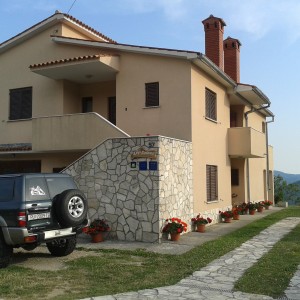 Apartments Dolores
Roč 57, 52425 Roč, Croatia
Peacefully set in historic little village of Roč, under the famous climbing area Kompanj and close to Krkuž, Raspadalica, RocknRoč, Sunset rock, HC, Buzetski kanjon,… Apartments Dolores enjoy a green surrounding and offer fully equipped modern apartments with kitchen and terrace, as well as free WIFI and private parking.
+385 (0) 91 169 6267
ROUTES (from left to right)
On the left and right part of the main steep wall you can find also some vertical routes. Although the space under the wall is comfortable and enjoyable, the descents and surroundings are not really kids-friendly. The equipment is new and no one should complain about it. Basic gear suffices.
| | | |
| --- | --- | --- |
| Semi pro | 6c | 15m |
| Stranger than fiction | ? | 15m |
| The blind side | 7c+ | 15m |
| Whale rider | ? | 15m |
| Big fat mama | ? | 35m |
| P | ? | 30m |
| Radarska kontrola | 7a+ | 12m |
| Jahač | 6c | 10m |
| Ulica halucinaicje | 7c | 10m |