Between Buzet and Motovun, which almost compete who has more medieval charm, lies a health spa Istarske toplice with massages, saunas and swimming pools, but the climber's gaze will drift to the rocks that surround the spa. You should come here, if only to hike around – the paths are great, while the scenery and the view are one of the best.
Drive along the old town of Buzet (on a hill to your left), beside the Mirna river in the direction of Motovun, Novigrad and Buje. Istarske toplice are well sign-posted – the turn is on your right.
For sector Frat turn left a couple meters before, go over the bridge, park and continue on a walking trail , that splits left for Majeri. Walk until a prominent left hairpin bend. When it turns right again take a small path left and uphill towards the crag.
For Hallelujah caves drive through the spa to the right side. Park without blocking anything. The approach starts on the side of the wire fence on the right and goes straight and steeply uphill.
Parking directions for sector Frat
Parking directions for sector Hallelujah caves
Most crags are sunny, even though you can always find some shade. Hallelujah and Frat tend to get wet after rain. Rain in Hallelujah cave is not a problem, which is not the case elsewhere – but you will get soaked while walking there, and the path gets quite slippery. Best times are still spring and autumn and sunny winter days.
Rock quality is good. The bases of all crags are nice and large.
When it gets warm the snakes may come out. These timid creatures shouldn't scare you too much. And, since you are here – why not jump into a healing thermal bath or wrap yourself in mud bandages, after a nice massage.
Recommended accommodations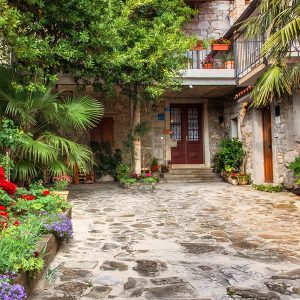 Apartments Roža
Roč 16, 52425 Roč, Croatia
Stay in Apartments Roža and enjoy in one of the best climbing areas in Istria. Roč is an excellent base for climbing in the crags near this charming village. Just a few minutes away by car to Kompanj, Čiritež, Vela draga, Buzetski kanjon or Kamena vrata. We offer two comfortable fully equipped apartments for max. 7 people. Air conditioning, fireplace, unique wine cellar or open terrace makes it comfortable in any season. Welcome to Roč!
+385 (0) 91 540 8323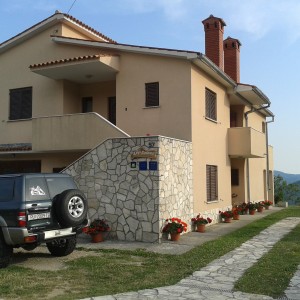 Apartments Dolores
Roč 57, 52425 Roč, Croatia
Peacefully set in historic little village of Roč, under the famous climbing area Kompanj and close to Krkuž, Raspadalica, RocknRoč, Sunset rock, HC, Buzetski kanjon,… Apartments Dolores enjoy a green surrounding and offer fully equipped modern apartments with kitchen and terrace, as well as free WIFI and private parking.
+385 (0) 91 169 6267
ROUTES (from left to right)
This is a crag that offers all climbing styles. Depending on where you intend to climb. In some routes the bolts can be far apart.
Hallelujah cave
| | | |
| --- | --- | --- |
| No.1 | 5c | 20m |
| No.2 | 5c | 20m |
| P | ? | 15m |
| P | ? | 15m |
| Lassing Pressing | 8a | 15m |
| Schonheitsfehler | 8b+ | 16m |
| P | ? | 17m |
| Caveman's playground | 8c+ | 20m |
| Sunčana strana | 7c+ | 18m |
| Schlangenloch | 6b | 17m |
| Serum | 6c | 17m |
| 10000 | 6c+ | 18m |
| Kon Tiki | 7c | 15m |
| Fragola con panna | 6c | 15m |
| Rotbart | 6b | 15m |
| Dichte Fichte | 7c+ | 12m |
| Il conto unico | 7b+ | 18m |
| Waffengenger | 7b | 16m |
| Big fish | 7a+ | 25m |
| Big Ben | 7a+ | 20m |
| Schwarzer Finger | 7a | 20m |
| Kolja | 6c+ | 20m |
| Die Spinne | 6b | 22m |
| Fingerprint | 7a | 22m |
| Science friction | 7b | 22m |
Frat
| | | |
| --- | --- | --- |
| Silenzio di Samba | 6a+ | 18m |
| Krampus | 7a+ | 22m |
| Babaroga | 7c | 22m |
| Patata templada | 7a | 23m |
| Troia o sposa | 7c+ | 25m |
| Stargate | 7c+ | 25m |
| Starghey | 7c+ | 25m |
| Tris di primi = start in Tanto brazo, finish in Stargate | 7c+ | 25m |
| Tanto brazo, poco c… | P | 25m |
| Il mago della sega | 7b+ | 11m |
| Fatta per Facco | 7a+ | 25m |
| Pankeepa | 6b+ | 25m |