At the initiative of the Buzet tourist association Kamena vrata, a nice crag was equipped for belay slaves, beginners and climbers seeking easy going routes. Then Klemen Bečan dropped by and the area quickly got some harder routes. But of course, you should come here mainly with a desire to enjoy yourself or to make your first steps in the vertical world.
Drive out of Buzet in the direction of Istarske toplice (Motovun) and after a few kilometers you will enter a canyon, which is "hugged" by rocky gates, well known in these parts as Kamena vrata – the crag is on your right. Park on the left side on the banks of the Mirna river, carefully cross the road and you will be at the crag. The access is at times steep and sandy, so take it slow as to avoid a bruising or two.
Parking directions
The crag is on a sunny place, which rules out the summer, when you will be drenched in sweat, but since it has many corners and it lies in a canyon, you can find some shade in the transitional period or in the afternoon. Rain will chase you away.
No doubt about it – the rock is great. The routes are new, the bolts are flawless and perfectly bolted. Take care of the children, as the road below can be very busy!
Recommended accommodations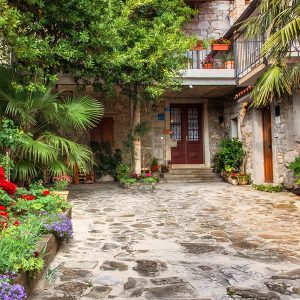 Apartments Roža
Roč 16, 52425 Roč, Croatia
Stay in Apartments Roža and enjoy in one of the best climbing areas in Istria. Roč is an excellent base for climbing in the crags near this charming village. Just a few minutes away by car to Kompanj, Čiritež, Vela draga, Buzetski kanjon or Kamena vrata. We offer two comfortable fully equipped apartments for max. 7 people. Air conditioning, fireplace, unique wine cellar or open terrace makes it comfortable in any season. Welcome to Roč!
+385 (0) 91 540 8323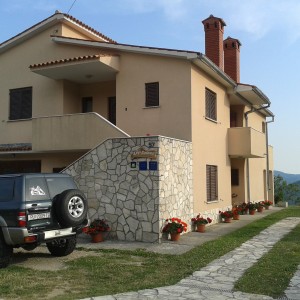 Apartments Dolores
Roč 57, 52425 Roč, Croatia
Peacefully set in historic little village of Roč, under the famous climbing area Kompanj and close to Krkuž, Raspadalica, RocknRoč, Sunset rock, HC, Buzetski kanjon,… Apartments Dolores enjoy a green surrounding and offer fully equipped modern apartments with kitchen and terrace, as well as free WIFI and private parking.
+385 (0) 91 169 6267
ROUTES (FROM LEFT TO RIGHT)
Most people will come here for easy, vertical or slabby routes with nice holds, where even the basic knowledge of foot technique is adequate. Other harder routes have usually tough cruxes, so don't underestimate them – but better climbers can show the beginners how to milk a tufa or two. Most routes are short, apart from the ones on the right. They are decently bolted, so bring 10-12 quickdraws. For harder and longer routes on the right side bring at least 70 meters long rope and around 16 quickdraws.
A – Stone Age
| | | |
| --- | --- | --- |
| Miš | 4b | 15m |
| No.2 | 5b | 15m |
| Gimnastik | 5a | 15m |
| Gumarić | 4b | 15m |
| Pifo | 4b | 16m |
| Dječje radosti | 4c | 17m |
| Light spit | 5a | 17m |
| Č.T.B.K. | 5c | 20m |
| Digging for gold | 5c | 22m |
B – Botanicus
Kokić
4c
15m
Iz kuta kruga
6a
12m
Breaking bad
7c
15m
Bonsai
8b
20m
Zvući teško
8b
18m
Da li ti se sviđam?
6c
14m
Brus pajser
6b
14m
90-60-90
5c
8m
Noćna smjena
5c
8 m
Gucci Gucci
5a
25m
Botanicus
5a
25m
Cirkus
6b
25m
Geto u konobi
P
15m
Šparoga blues
7a+
15m
Kamena vratina
7b
15m
Panzer division
7b+
13m
Feed your fear
8a
13m
Hollywood
7b
27m
Snejkuljčica
8b
35m
Hit poletja
7b
37m
C – Amazona
| | | |
| --- | --- | --- |
| Sjedalica | P | 8m |
| Pritisak | 7c | 7m |
| No sun no fun | 7b+ | 7m |
| Lopovska | 7c+ | 30m |
| Tandem | 7a | 26m |
| Ribida | 5b | 17 m |
| Tobogan | 6a | 20m |
D – The doors
| | | |
| --- | --- | --- |
| Glavić | 5a | 25m |
| Žili mi ruka | 6b | 14m |
| Bišprcavrit | 5c | 12m |
| Čistać kamina | 5c | 25m |
| Way of saxony | 6a+ | 27m |
| Les salles degaines | 6b+ | 28m |
| Tusta | 6b | 28m |
| Zmajeva linija | 6a | 30m |