For those tired of the crowds in Kompanj, there is a more private, lonely crag in the near vicinity – for a good reason. For now just a few routes offer quite a challenge to mostly better climbers, especially those skilled in climbing extreme overhangs and with a bit of a bouldering touch. They can be very impressed, once they get to know the crag. There is still a room for new routes. Climbing is possible even if it rains.
If you can get to Roč, you're almost there. Drive towards Kompanj, where at the intersection at the cemetery you take the left turn. The parking space is small. Please try to park as unobtrusively as possible before you cross the railway, then cross it on foot and soon turn left over the small bridge into the forest. From here the path is short and clear.
parking directions
The trees offer shelter and shade, but spring and autumn are still the best times. You can climb also in the rain, but the routes tend to get wet after a while.
Recommeneded accommodations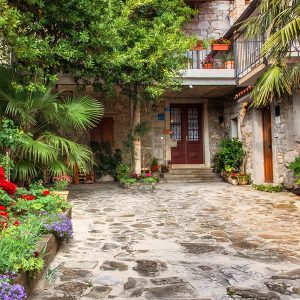 Apartments Roža
Roč 16, 52425 Roč, Croatia
Stay in Apartments Roža and enjoy in one of the best climbing areas in Istria. Roč is an excellent base for climbing in the crags near this charming village. Just a few minutes away by car to Kompanj, Čiritež, Vela draga, Buzetski kanjon or Kamena vrata. We offer two comfortable fully equipped apartments for max. 7 people. Air conditioning, fireplace, unique wine cellar or open terrace makes it comfortable in any season. Welcome to Roč!
+385 (0) 91 540 8323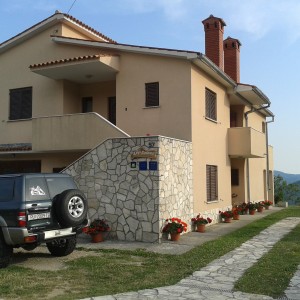 Apartments Dolores
Roč 57, 52425 Roč, Croatia
Peacefully set in historic little village of Roč, under the famous climbing area Kompanj and close to Krkuž, Raspadalica, RocknRoč, Sunset rock, HC, Buzetski kanjon,… Apartments Dolores enjoy a green surrounding and offer fully equipped modern apartments with kitchen and terrace, as well as free WIFI and private parking.
+385 (0) 91 169 6267
routes (from left to right)
ROUTES (from left to right):
Krkuž is relatively new and well equipped. There is a lot of room under the wall. The routes are short and very steep, mostly 20 meters. But they are bolted close together, so bring at least 10 quickdraws. The routes are very specific and hard, mostly on overhangs and roofs. You need a lot of strength and extremely good technique for climbing in the roof. Because of that even any small hold or sloper is quite a crux, and there are plenty of those.
| | | |
| --- | --- | --- |
| Pampurio | 7b | 14m |
| Krki | 7b | 14m |
| Z ginocchieru v Roč (left start into Slippy) | 7c+ | 15m |
| Slippy | 7c | 15m |
| Brzinski | 7c | 9m |
| Kvrt | 7c | 9m |
| Vurenka = Kvrt extension | 8a+ | 20m |
| Ždraloples | 7c+ | 9m |
| Busin | 6b+ | 7m |
| Busin extension | 8b | 20m |
| Busin extension going right = Žila | 8b+ | 20m |
| Plafonjera | 8a | 20m |
| Dinagonala (same start as Seringunčić, then left) | 8a | 21 m |
| Seringunčić | 8a | 21 m |
| Gušti su gušti (same start as Žunta, then left) | 8a | 20m |
| Žunta | 8a+ | 20m |
| Ultra light | 8a | 20m |
| The ladder of freedom | 7a+ | 15m |
| From the ladder to the light | 7a | 15m |
| ? | 7b | 15m |
| ? (from the ground) | 7c+ | 20 m |
| Glad | 6b | 15m |
| Đule | 5c | 9m |
| Biska | 5c | 15m |