Wide valley of Lovranska draga, which ends in the sea at Medveja, is another natural pearl of the region, at first sight rich with excellent walls, which seem hard to access. Today, this is one of the crags with the hardest routes in the region and a concentration of 7s and 8s, all of which are spectacular: mostly on overhangs and tufas, endurance based, continuous and full of innovative moves and cruxes. For all better climbers this is an absolute pilgrimage destination, with plenty of room for more.
The sector behind the camp has a separate approach. Drive to the camp in Medveja and park beside the road before it (from the direction of Rijeka). From here, there is a short path beside the camp fence to the wall.
For other sectors you have to drive through Lovran, where you need to catch the turn uphill (from direction of Medveja camp sharp left after the gas station, from direction of Rijeka turn right after the Riviera restaurant). Follow the signs for Liganj, Tuliševica and Lovranska draga. You will drive through the first two villages after a series of hairpin bends. Once you leave Tuliševica, drive on for 1,5 kilometers and park on the left side on a big widening (look for the signs for Lovranska draga and Villa Oraj). Here, a narrow road goes left and down. Go on it by foot and you will soon see a small parking on the right and a path right beside it, leading to the crag (under the powerlines). At the first powerline the path splits. Left one will take you to Knezgrad, if you go right and down, you'll arrive to Stribog. From both sectors you can reach Mali and Veli Jože using via ferratas (from Knezgrad you will first get to Stribog). The path to sector Kvarner starts at the end of Knezgrad and goes around on a series of ropes and ferrata. Most approaches are unsuitable for kids!
Parking direction for sector A
Parking directions for all the other sectors
Maybe you'll be able to climb behind the camp in the summer early morning, because elsewhere will be too hot. Winter is the perfect season, with spring and autumn too, if the weather is not too great. You can even climb in rain, but as with any wall with tufas, Medveja will get wet and will dry depending on the wind.
The lowest sector is right beside the campground – it's old and made for beginners. Still, it's nicely bolted and in a pleasant environment, so despite lower grades, you can climb nicely here. It functions almost as a separate crag.
Stribog is a vertical wall, rich with holds, for technically advanced climbers, with great continuous routes on the grey limestone.
Veli Jože has three long, fairly hard and slightly overhanging routes, but mostly lots of free space. More wellrounded is the superb Mali Jože, offering something for everyone: easy warmups, even better 7s, technical 8s, tufas, slopers, crimps, overhangs, vertical walls. It's an almost mandatory visit, if you don't drift straight to Knezgrad.
Knezgrad is the king sector. Almost all the routes are fantastic, but not for beginners. If you want to truly enjoy here, you need the level of at least 7c. All of the routes are rich in tufa, holes and big holds, interrupted by cruxes for power or technique. Of course the basis for everything is endurance in overhangs.
The crag is at the edge of Ućka National Park and is surrounded by private property. Since climbing history is not so long here and with it understanding and knowledge of our sport (as is the case in Buzet), the climbing is tolerated here, but is also just starting to build its public image. Anybody coming to Medveja contributes to it. So your first imperatives should be the basic rules of civility: politeness, respect, cleanliness and peacefulness, especially towards locals. Next, park only at the designated spot and use only the described paths. It's absolutely forbidden to camp or sleep illegally at the crag or anywhere near, not to mention building of fire or anything similar. There is also archaeologically important concentration of prehistoric caves here, so equipping of new routes is forbidden at some walls. In any case, the area is exemplary maintained by RiRock club from Rijeka, so before doing anything, contact them on: rirockclimbing@gmail.com!
The first to bolt here were locals and climbers from Rijeka, Pazin and Pula around 2008, who first made the lower sector Mali Jože with the first route RiRock, which kick started the revolution. Climbers with drills came from all sides: Varaždin, Zagreb, Italy. The biggest leap was made by bolting the magnificent Knezgrad, where Italians with Andrea Polo left their mark. Soon after, the first Croatian 9a fell: in 2011 Klemen Bečan climbed the Polo brothers project, the Core, which was later downgraded to 8c+ by Andrea Polo. But we didn't wait too long for the next 9a. During climbing of Vicious Circle in Mišja, Adam Ondra visited Medveja, where he onsighted Lovranska droga (8a) as a warmup, which was just an introduction to the on sight ascents of Outdoorfingerspiele (8c) and The Core (8c+). Ondra thought that The Core was easier, but he admitted, that he probably missed the best beta for it. Still, the highlight of the day was first ascent in More (meaning "the sea" in Croatian – so don't pronounce it the English way), a proper 9a. An ordinary day in Ondra's life – a lifetime dream for everybody else. Check this funny video of his redpoint!
Recommended accommodations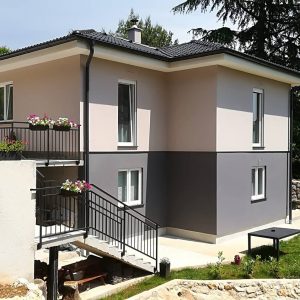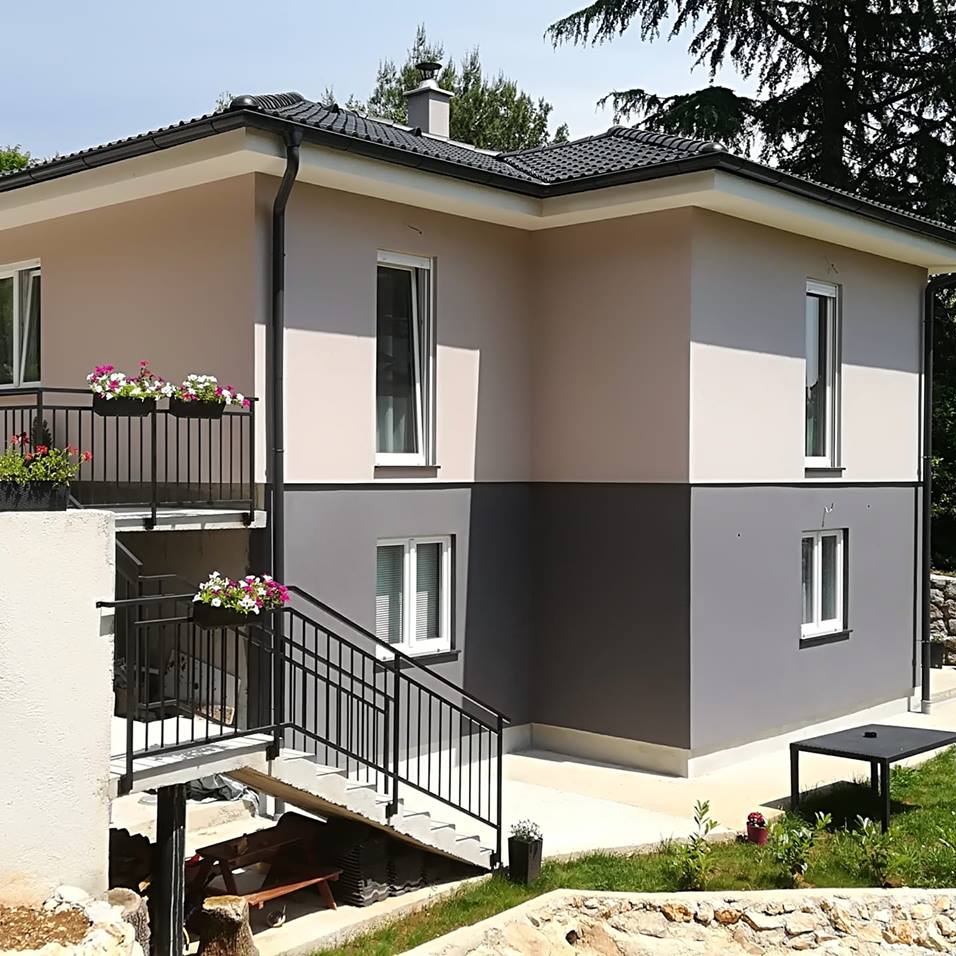 Apartments Natali
Golovik 25b, 51417 Moščeniška Draga, Croatia
Apartment Natali is a brand-new apartment located above the village Brseč perfect for climbers who want to climb in Medveja, Moščeniška Draga, Brseč or Rabac. It is ideal for up to 5 people and in low season it will cost from 35€ per night. Welcome!
+ 385 (0) 91 884 95 35
ROUTES (from left to right)
Sector behind the camp is completely separate story from the rest of Medveja: it has its own approach, different and even a little polished rock and a good selection of very easy and nicely equipped routes that will be simple enough even for a complete beginner.
Stribog is the first sector you come to if you go past the powerlines. Although the routes are more vertical, they are nice and continuous and are worth stopping by to warm up for the later, harder sectors.
Veli Jože is the tallest wall in Medveja, but there's lots to be done here. You get to it on a scary ferrata from Stribog. The first cave has three routes, while lower and to the left are long, technical and a bit crumbly ones. Anyway – equippers welcome!
Mali Jože was the first sector to be bolted here and has many long, quite demanding classics. Anybody, except complete beginners will find two or three routes for his or her level here, though not all are easy for their grade. Be sure to try the first route of Medveja (not counting camping), RiRock 7b+!
Knezgrad is the king sector about which nothing more needs to be said. Just be sure to have the proper level.
Kvarner is a sector bolted by Italians Polo and Varnerin. The Dreamer starts one floor lower. It's a sector for select few, but has some future potential. Of course, bring at least 70 m long rope, and enough quickdraws, especially if going to Knezgrad. Equipment is new and great, only the distances between bolts (especially in Knezgrad), in easy parts and in easy routes can be substantial. Space under the wall is mostly comfy, which doesn't apply for approaches – although the ferratas are safe and good, it's good to be well versed and elegant when moving on them.
A – Campground
| | | |
| --- | --- | --- |
| Tom Bombadil | 5b | 15m |
| Tertium organum | 4b | 14m |
| Cherokee sol | 6a | 12m |
| Karl Viking | 6a | 12m |
| Tita | 5c | 8m |
| Lighting | 4c | 8m |
| Sara | 5a | 17m |
| Ben | 5b | 17m |
| Magdalenina oštrica | 4c | 17m |
| Pentagram | 4b | 17m |
| Irena | 4b | 20m |
| Pješčani sat | 5c | 20m |
B – Stribog
| | | |
| --- | --- | --- |
| Medea hejz | 6b | 15m |
| Kumpanija, muma i rakija | 6a | 20m |
| Mustafa Zlatni | 6a+ | 20m |
| Marinov dub | 6c | 20m |
| Medvejko | 7a+ | 20m |
| Molly Bloom | 6c | 20m |
| Bleach | 6c+ | 20m |
| La Poderosa | 7a+ | 20m |
| Grupa TNT | 7a | 25m |
C – Veli Jože
| | | |
| --- | --- | --- |
| Small crew | 7c | 45m |
| Armada 1987 | 7c+ | 50m |
| Dances of resistance | 7b+ | 25m |
| Dances of resistance extension | 7c+ | 48m |
| P | ? | ? |
| Pirati s Marsa | 6c | 25m |
| House of pain | 8a | 15m |
D – Mali Jože
| | | |
| --- | --- | --- |
| Novi val | 6c | 25m |
| Điber | 8a | 30m |
| Disciplina Kičme | 7c+ | 30m |
| Radio Bemba | 7a | 20m |
| Radio Bemba Sound System extension | 7a+ | 30m |
| Mr. Morgen | 7b | 30m |
| Ledeno doba | 8a | 30m |
| Tequila | 8a | 30m |
| Ri Rock | 7b+ | 30m |
| Stare užance | 7c | 30m |
| Gorki park | 6a+ | 15m |
| Loligo Vulgaris | 6a+ | 15m |
E – Knezgrad
Colpo di Fulmine8b+30m
| | | |
| --- | --- | --- |
| Lana | 7a+ | 15m |
| Flex Luthor | 7c | 15m |
| Outdoor fingerspiele | 8c | 20m |
| L'artiglio infiammato | 8b | 20m |
| Criogenetica | 7b+ | 15m |
| Criogenetica extension | 8a+ | 25m |
| Friends without borders | 7b+ | 18m |
| Non pensarci troppo | 8b | 26m |
| Aria di Golpe | 8b+ | 28m |
| Golpe de Estado | P | 30m |
| The Core | 8c+ | 30m |
| Koraj (Villa Oraj + top part of The Core) | 8b | 30m |
| Villa Oraj | 7b+ | 20m |
| More = Villa Oraj extension | 9a | 28m |
| Lovranska droga | 8a | 20m |
| Venga vecchio | 8a | 25m |
| Total extrem | 8a | 22m |
| Total extrem extension | P | 28m |
| The end | 8c+ | 25m |
| L'Istrian | 8a+ | 20m |
| Analmario | 7a | 22m |
| Il catalogo | 7c+ | 25m |
| Happy birthday | 8b | 25m |
| Štrnoflc | 8b+ | 25m |
| Nausicaa (start in Rizzo Razzo, finish in Štrnoflc | 7c | 25m |
| Rizzo Razzo | 6c | 25m |
F – Kvarner
| | | |
| --- | --- | --- |
| El Kvarner | 8b | 22m |
| Water for life | 7c+ | 15m |
| Hotel Lovran | 7c | 25m |
| L'era glaciale | 7c | 25m |
| The dreamer | 7a+ | 25m |