Nice holiday crag that will fulfil all your desires of sea adventures and some recreational climbing in between. Portafortuna is a beautiful climbing area close to Baška on the island Krk. It is characterized by sharp holds on compact limestone in the shade in the afternoon and always with some fresh wind breeze under the wall. Weather conditions and vicinity of the beautiful Adriatic sea makes it one of the best climbing areas in the region for the summer.
While driving on island Krk from Punat towards Baška in one moment you will reach the pass where the beautiful view on Baška gloriously opens. Just couple of hundred meters below the pass in direction Baška you will see on your left abandoned night club "discoteka". Park on the right side of the road close to the water pond. From parking take the path going right upwards, opening and always closing sheep fences to reach high up a rocky barrier on the slope after cca 20 minutes walk.
Parking directions
Ideal periods are spring and autumn (from April to October). The walls exposure is North-East, East and South-East. In high summer it is also possible to climb in the afternoon, when almost all the routes are in the shade and some wind breeze is always present. Winter climbing is possible only in the morning in full sun without any wind.
Potafortuna offers slabs and mainly vertical routes on sharp gray, white and some yellow limestone as well. Holds vary from mainly crimps to some pockets, sloppers and cracks.
Take special care if sheeps are above the walls. Sometimes they tend to throw stones over the edge, so in that case better avoid that sector for that day.
Recommended accommodation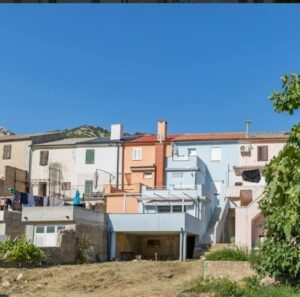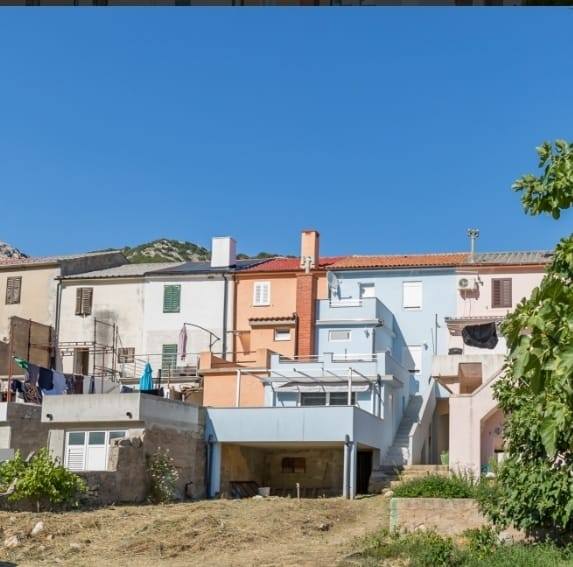 Apartments Tamara
Draga Bašćanska, 51522 Draga Bašćanska, Island Krk, Croatia
Apartment Tamara is located in Draga Bašćanska, 4km from the beach in Baška and even less to the beautiful climbing spot Portafortuna. On the first floor, the apartment has one bedroom, living room, kitchen, bathroom, toilet and terrace. On the second floor there are two more bedrooms with a terrace. The apartment is equipped with satellite TV, Wi-Fi Internet, air condition and heating system. Perfect place to stay for up to 6 guests.
+ 49 151 428 475 39
ROUTES (from left to right)
Routes are very friendly bolted mainly with INOX expansion bolts and top anchors. 80 meter rope is recommended because most of the routes are longer than 30 meters. Also a set of 16 quickdraws will be well used.
Sector A/I
| | | |
| --- | --- | --- |
| La Roux | 7b | 13m |
| La Roux direct | 7c | 13m |
| Krk | 6b+ | 13m |
| Psychastenia | 6c | 13m |
| Petit beure | 6a | 13m |
| Giant stars | 5b | 15m |
| Zwergenleiter | 5b | 15m |
| Trbuh | 6a+ | 13m |
| Bodulska | 5a | 12m |
| Ajkulica | 7a+ | 12m |
| Global warming | 6b | 15m |
| Kyoto procol | 6b+ | 15m |
Sector A/II
| | | |
| --- | --- | --- |
| Sudden death | 6b | 12m |
| US Bushman | 5c | 24m |
| Wings for life | 5c | 27m |
| Gipsy life | 6a+ | 20m |
| Fak4Life | 6b+ | 20m |
| Forum Alpin | 5b | 20m |
Sector A/III
| | | |
| --- | --- | --- |
| Iva Piva | 6b+ | 20m |
| Iva Piva extension | 6b+ | 40m |
| Pika poka | 6b+ | 29m |
| Fire walker | 6c | 29m |
| Outsider | 7a+ | 29m |
| Tu pa tam | 7c | 29m |
| Miss Baške | 7a+ | 28m |
| Joke about summer | 6c | 30m |
| Upornik z razlogom | 7b | 30m |
| Trlica | 7b+ | 30m |
| Trlica in sinica | 7b | 30m |
| Knjiga o bambusu | 7b+ | 30m |
| Hamsterdam | 7c | 30m |
| Cojones | 7b | 30m |
| Dar mar | 7b | 30m |
| Zag | 7a+ | 30m |
| Zig zag | 6c+ | 30m |
| Forever young | 6a | 33m |
| Flower power | 6c | 33m |
| Pustolovec Rajd | 6c | 25m |
| Metulji so srečni | 5c | 30m |
| Eierbar | 5c | 30m |
| Pravljica za puding | 5a | 25m |
| Simpel platka | 4b | 25m |
| Needles and pins | 6a | 20m |
| Needles and pins direct | 7c | 20m |
Sector A/IV
| | | |
| --- | --- | --- |
| Botanist | 4c | 25m |
| Vulture | 5a | 25m |
| Moja prva | 4a | 27m |
| Maratonček | 4b | 30m |
| Yellow line | 4a | 25m |
| Bašćanska direkt | 4a | 30m |
| Cut | 4a | 30m |
| Bašćanska ploča | 4b | 30m |
| Heart | 5a | 22m |
| Jugo nije za dugo | 4c | 24m |
| Broken heart | 5b | 20m |
| People in motion | 5c | 20m |
| Pirun | 5b | 15m |
| Batomaljac | 5a | 15m |
| 8848 | 5b | 18m |
| Kratka slatka | 5b | 14m |
| Lea | 5b | 14m |
| Double | 5b | 15m |
| Trouble | 5b | 15m |
| Leo | 5b | 15m |
| 12 years later | 5c | 20m |
| Olujna bura | 5b | 20m |
| Piranha | 5c | 22m |
| HGB | 5c | 20m |
| Missing | 5c | 20m |
| Mambo no.5 | 6a | 20m |
| Reif fur die Insel | 5b | 20m |
| No.5 | 5b | 20m |
| Green seas | 4c | 20m |
| Wapplerbauch | 5c | 20m |
| Cool runnings | 4c | 20m |