Ah, Raspadalica… Basically it is a crag under the whole edge of Ćićarija, which is worth visiting for the view of Buzet and its surroundings alone. There are countless potential walls with good rock, and lately, old routes have been rebolted and some new ones added. Rebirth of Raspadalica is happening at the moment. Perfect winter sunny spot which is getting more and more attention from climbers.
It is best to drive to camp Raspadalica (either from Gornja Nugla or around via Počekaji) and approach the crags from the top. It is not advisable to traverse the hill under the sectors. The path winds along the edge of Ćićarija and paths down are sometimes hard to find. There is an nice path for trekkers from the train station to the edge. For sectors B and C descend on the steep hill between both walls. The approach to the C sector can be especially difficult. To the D sector leads a path that is a bit more difficult, right after the pines, where the edge of the cliff is less rocky and more overgrown. Access sector E by a steep, but nice path at a clearing between a group of trees and pines.
Parking directions
The crag is in the sun, which is good in the winter, when also the vegetation is least dense – in summer we can only wish you luck – the access would destroy even Bear Grylls – and if you survive this, you will die of a heart attack on the wall.
The rock, considering the name ("Crumbledore"), is not so bad, but it is at times loose. The gear is new and protected by modern standards. The base of the crag is semi-comfortable, but not advisable for children.
Walk carefully. In hot months the rocks are often occupied by horned vipers. Bring a stick and swing it before you as you walk. The snake will retreat on its own. On a nice day you will share the edge of the cliff with paragliders and hangliders.
Recommended accommodations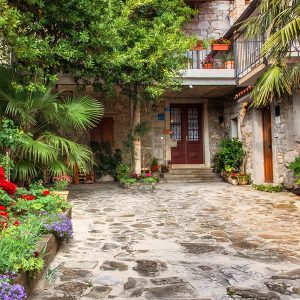 Apartments Roža
Roč 16, 52425 Roč, Croatia
Stay in Apartments Roža and enjoy in one of the best climbing areas in Istria. Roč is an excellent base for climbing in the crags near this charming village. Just a few minutes away by car to Kompanj, Čiritež, Vela draga, Buzetski kanjon or Kamena vrata. We offer two comfortable fully equipped apartments for max. 7 people. Air conditioning, fireplace, unique wine cellar or open terrace makes it comfortable in any season. Welcome to Roč!
+385 (0) 91 540 8323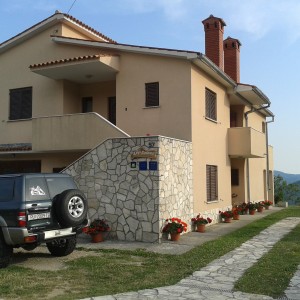 Apartments Dolores
Roč 57, 52425 Roč, Croatia
Peacefully set in historic little village of Roč, under the famous climbing area Kompanj and close to Krkuž, Raspadalica, RocknRoč, Sunset rock, HC, Buzetski kanjon,… Apartments Dolores enjoy a green surrounding and offer fully equipped modern apartments with kitchen and terrace, as well as free WIFI and private parking.
+385 (0) 91 169 6267
ROUTES (from left to right)
For a relaxing day in easy routes visit sector E. The routes are short, but nice, vertical and with good holds. In other sectors the climbing style can vary, but we leave it to more adventurous climbers.
A 70 meters long route and about 15 quickdraws will do it's work.
Sector A – Cave
| | | |
| --- | --- | --- |
| Leonidio news | 8a+ | 20m |
| ? | 7a+ | ? |
Sector B – Zmaj
| | | |
| --- | --- | --- |
| United | 6b+ | 35m |
| Podgorka | 6b | 20m |
| Zmaj | 6c | 30m |
| Paraglider | 6c | 35m |
| Padobranac | 6a+ | 35m |
Sector C – Izbavitelj
| | | |
| --- | --- | --- |
| P | ? | 21m |
| P | ? | 21m |
| Sedam vrhova | 7b+ | 21m |
| Izbavitelj | 6b+ | 20m |
| Stella rossa | 6c+ | 20m |
| Grozni | 6b+ | 20m |
| Palac gore | 6a+ | 20m |
| Amotamo | 6c | 20m |
| Sveti Stjepan prvomučenik | 7b+ | 30m |
| Šok y vjeverica | 7a | 30m |
| Exuvia | 7a | 30m |
| Pepito | 6b+ | 27m |
| Kontrolirani nadgledani slobodni | 6c+ | 20m |
| Diplomac | 7a | 30m |
| Čučerčan | 7a | 30m |
| Raspafarian | 7b | 30m |
| First class | 7a+ | 30m |
| Bezimeni | 7b+ | 20m |
Sector D
| | | |
| --- | --- | --- |
| Frontera | 6a | 12m |
| Megane | 6a | 12m |
| Minijatura za dve sestre | 6b+ | 15m |
| Rijeka prvak 98/99 | 6a+ | 15m |
| Jump | 7a | 15m |
Sector E
| | | |
| --- | --- | --- |
| Bebi pista | 4c | 7m |
| Čripnja | 5b | 8m |
| Aut put | 6a | 7m |
| Ortikarija | 5c | 20m |
| Presjednik Joža | 5a | 10m |
| Čimuki | 5b | 18m |
| Jutarnja rosa | 5b | 15m |
| Medovača | 6a | 15 |
| Homus Balcanicus | 6b+ | 16m |
| Makinja | 6a+ | 15m |
| Prhut | 6b | 16m |
| Ribež | 5c | 20m |
| Sastavljavica | 5c | 10m |
| Raspadalica direkt | 6a+ | 15m |
| Drugi dan | 6a | 10m |
| Ilegalac | 6b | 10m |
| Bacci | 6a+ | 10m |
| Caro | 5c | 11m |
| Io | 5c | 12m |
| Prvi | 5b | 12m |