RockNRoč is a small impressive cave that you see high up on the left side of the road towards Roč (Kompanj), short after passing the village of Čiritež. After rainy days it is blessed with a scenic waterfall falling down over the center of the cave. The routes are mainly short but nice with typical limestone formations of Istria. For those who like short approach, steep routes and a peaceful climbing area, this is the destination you were looking for.
Enter in the medieval Roč, drive through it and on the end of the village you will find the big Cimos (Citroen) factory on your right side. Park here at the beginning! From the parking lot go a bit back until the last evident meadow on your right side of the road. Pass it on not so obvious trail till you reach the tree with the fixed ropes to help you descend and reach the crag. 5 minutes in total.
Parking directions
The cave is south-west oriented that's why it offers perfect climbing in winter afternoons. There are no trees to get some shade, so if you are in spring or in autumn try to reach it as early as possible. The sun afterwards will burn you out. In summer better check for some other areas. After rainy periods there is a waterfall falling, so the stalactites in the routes remain wet for a while and also the ground gets quite muddy and not so pleasant.
The rock quality is prime as well the routes were equipped recently and in a proper way.
The Sunset rock area shares the same parking as RockNRoč and has as well a short approach. So if you get tired of hard routes but remain still in the will to climb some easier ones check it up, it's for sure worth a visit. The routes are much better than they appear at first.
RECOMMENDED ACCOMMODATIONS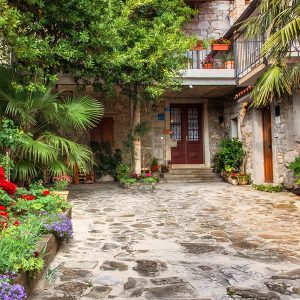 Apartments Roža
Roč 16, 52425 Roč, Croatia
Stay in Apartments Roža and enjoy in one of the best climbing areas in Istria. Roč is an excellent base for climbing in the crags near this charming village. Just a few minutes away by car to Kompanj, Čiritež, Vela draga, Buzetski kanjon or Kamena vrata. We offer two comfortable fully equipped apartments for max. 7 people. Air conditioning, fireplace, unique wine cellar or open terrace makes it comfortable in any season. Welcome to Roč!
+385 (0) 91 540 8323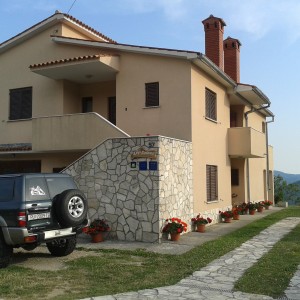 Apartments Dolores
Roč 57, 52425 Roč, Croatia
Peacefully set in historic little village of Roč, under the famous climbing area Kompanj and close to Krkuž, Raspadalica, RocknRoč, Sunset rock, HC, Buzetski kanjon,… Apartments Dolores enjoy a green surrounding and offer fully equipped modern apartments with kitchen and terrace, as well as free WIFI and private parking.
+385 (0) 91 169 6267
ROUTES (from left to right)
The climbing over there is mainly super steep and on good holds (tufas, jugs,…) except of the »warm up« routes on the left and on the right side of the cave. They are vertical on a perfect solid Istrian limestone in a vertical rock full of edges, pockets,…EEP w
You don't need more than a 50 meters rope and a set of 10 quickdraws.
| | | |
| --- | --- | --- |
| Z armoniku v Roč | 5c | 15m |
| Mentalna lopata | 6c | 15m |
| Rex | 6c | 15m |
| Damask | 7a+ | 14m |
| Damask direct P | ? | 15m |
| The time | 8b+ | 12m |
| Pelinkovac | 8a | 14m |
| P | ? | 14m |
| P | ? | 15m |
| Export Import | 8a+ | 15m |
| Nairobi | 8a | 15m |
| P | ? | 15m |
| P | ? | 15m |
| RockNRoč | 7b | 16m |
| BaBa | 7b | 15m |
| Limbo | 6c | 16m |