Another nice new interesting climbing addition close to the village Roč, near the big classic area of Kompanj, which shares the same parking lot as the small cave RockNRoč. Twenty routes in grade range from 6a to 8a offer nice climbing in gently overhanging wall full of stalactites, jugs and edges, all around 15 meters long. The approach is short and the climbing area is well appreciated in winter sunny afternoons when it is blessed with sun. Moreover it offers a beautiful view towards Buzet.
Enter in the medieval Roč, drive through it and on the end of the village you will find the big Cimos (Citroen) factory on your right side. Park here just before the train rails on the left side of the road. From the car continue by foot on a small trail which starts around 10-20 meters before the rails going left. Passing some small meadows and small trees you will in around 2 minutes reach some fixed ropes on the top of the wall. Descend using them and you will get under the wall of Sunset rock.
Parking directions
The crag is blessed with sun in the winter afternoons, so the climbing here is possible from autumn till spring. In the morning you can always find some shade while the sun in the afternoon will for sure warm you up. After rain tufas remain wet for quite a while.
The rock is typical Istrian limestone full of jugs, crimps, tufas and other features.
The small cave of RockNRoč shares the same parking as Sunset rock and has as well a short approach. So if you feel still fresh and well prepared to try something harder and even much steeper, it's for sure worth a visit.
Recommended accommodations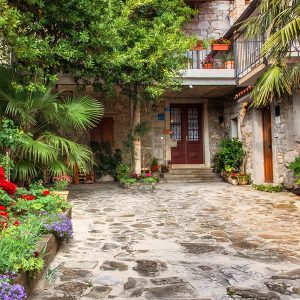 Apartments Roža
Roč 16, 52425 Roč, Croatia
Stay in Apartments Roža and enjoy in one of the best climbing areas in Istria. Roč is an excellent base for climbing in the crags near this charming village. Just a few minutes away by car to Kompanj, Čiritež, Vela draga, Buzetski kanjon or Kamena vrata. We offer two comfortable fully equipped apartments for max. 7 people. Air conditioning, fireplace, unique wine cellar or open terrace makes it comfortable in any season. Welcome to Roč!
+385 (0) 91 540 8323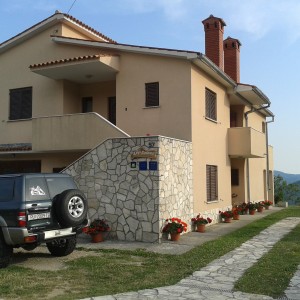 Apartments Dolores
Roč 57, 52425 Roč, Croatia
Peacefully set in historic little village of Roč, under the famous climbing area Kompanj and close to Krkuž, Raspadalica, RocknRoč, Sunset rock, HC, Buzetski kanjon,… Apartments Dolores enjoy a green surrounding and offer fully equipped modern apartments with kitchen and terrace, as well as free WIFI and private parking.
+385 (0) 91 169 6267
ROUTES (from left to right)
Holds vary from jugs, stalactites, edges to pockets and sloppers. Some routes are more slabby, some are more steep. Everyone can find a challenge for their own desires. Although the routes at the beginning appear to be quiet short, they are in fact not, so you will get pumped in them for sure.
You don't need more than a 50 meter rope and a set of 10 quickdraws.
| | | |
| --- | --- | --- |
| Holy diver | 6a | 12m |
| Jane | 6b | 12m |
| I am on my way | 6c | 13m |
| Always in the sun | 6c+ | 13m |
| Heroes | 6c+ | 13m |
| Holidays in the sun | 7a | 13m |
| Enter sandman | 7b+ | 13m |
| Mailo | 7a | 12m |
| Nirvana | 7a | 12m |
| 10000 days | 8a | 12m |
| Shotgun | 7b | 12m |
| Stargazer | 6c | 12m |
| It's not over | 6c+ | 12m |
| Fuck the winter | 6b+ | 12m |
| Wish you were here | 6c | 14m |
| Kill Bill | 6c | 15m |
| Dirty deeds | 7b+ | 15m |
| Weltfrieden | 7a | 16m |
| Fire | 7b | 12m |
| Fire extended | 7c | 15m |
| Jambi | 7a | 11m |
| Mendocino | 6b+ | 12m |
| On the road again | 6b+ | 12m |
| Easy livin | 6c | 11m |
| Paranoid | 6c+ | 11m |