Vela Draga is foremost a breathtaking natural monument of geomorphology and geology, a part of Učka National Park and the location of a walking-learning trail, which will take you into the past of this splendid natural phenomenon, teaching you about animals and plants and long traditions of mountaineering and sport climbing as well. The rock formations are actually better for admiring than for climbing. This is a special historical center of climbing, thanks to Italian Emillio Comici from Trieste, who in 1931 with his partner Stauderi scaled northern side of the Big tower. In 1986 began a more modern equipping of the crag, which continues to this day, although in climbing sense it is not really too special – you should come here for the environment and peace, without big ambitions.
Get going on the motorway from the direction of Buzet towards Učka tunnel. Right before the tunnel use the exit for Labin and Vela Učka. Drive behind the gas station, right and downwards. Cough up some money for the toll and turn left for Labin. Soon you will spot a big parking on your left with some benches. From here a learning trail leads through the woods to the edge of the walls. If you're a bit nosy, you will find the way down already at sector Fliper, otherwise there are more trails on the scree slopes, that lead you in the middle of limestone towers. They are then connected with a network of trails and with a bit of orientation skills you should handle yourself quickly.
Parking directions
Best time to climb here is from autumn until spring. In winter you will hope for the sun, while in spring and autumn you will search for shady walls. Be careful, snakes!
The rock is sometimes good, but may, especially at beginnings, crumble a bit. You need a little experience to judge its quality, but as mentioned, you should take the relaxed, patient approach.
You are located in the national park, so act accordingly: take your trash, don't destroy anything and don't make too much noise! Climb only in the described, equipped routes. The climbing of narrow tower, "Sviječa", in the middle of the crag, is explicitly forbidden. Sectors are comfy enough and connected with a network of paths on the scree slopes. You can study some informative panels in between.
Recommended accommodation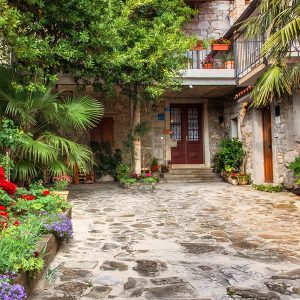 Apartments Roža
Roč 16, 52425 Roč, Croatia
Stay in Apartments Roža and enjoy in one of the best climbing areas in Istria. Roč is an excellent base for climbing in the crags near this charming village. Just a few minutes away by car to Kompanj, Čiritež, Vela draga, Buzetski kanjon or Kamena vrata. We offer two comfortable fully equipped apartments for max. 7 people. Air conditioning, fireplace, unique wine cellar or open terrace makes it comfortable in any season. Welcome to Roč!
+385 (0) 91 540 8323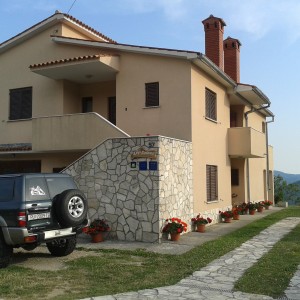 Apartments Dolores
Roč 57, 52425 Roč, Croatia
Peacefully set in historic little village of Roč, under the famous climbing area Kompanj and close to Krkuž, Raspadalica, RocknRoč, Sunset rock, HC, Buzetski kanjon,… Apartments Dolores enjoy a green surrounding and offer fully equipped modern apartments with kitchen and terrace, as well as free WIFI and private parking.
+385 (0) 91 169 6267
ROUTES (from left to right)
Grey limestone is mostly slabby and vertical, with an occasional roof, crack or corner. Holds are quite sharp, from pockets, to big edges and small crimps. Mostly you should rely on good footwork. If anything, the harder routes are more technical and the longer ones will test your finger endurance.
Most routes (except Nad tunelom and multipitches) are fairly short. Basic gear is more than enough. The equipment varies – from good to bad, especially in small, scattered sectors and on multipitches. Climbing here is more old school and romantic. Take your time and embrace some deficiencies.
A – Nad tunelom (Above the tunnel)
Wave of the future
7a+
20 m
Kameleon
6c
20 m
ZOO
6b
25 m
Nonićev
6c
15 m
Fant
6a+
35 m
Sunčana luka
6a+
30 m
Petrin
6a+
30 m
B – Grga
Moje zlo
6a
10 m
Grga
6b
12 m
Cvrčak
7a
10 m
C – Okno (The window)
Fa
6a
10 m
Fu
6c+
10 m
Nad oknom
6a
10 m
D – Furija
Apogej
6a
12 m
Katja
6b
12 m
Luna
6a+
12 m
Furija
6a+
12 m
Hydra
6a
11 m
E – Rukavica
Huncut
6c
25 m
Forma
6a+
15 m
Forma extension
7a
25 m
Torpedo
6b
25 m
Pukotina
5b
25 m
Desni rub
6b
25 m
F – Gorgona
Zimbabve
6b+
13 m
Fingerplay
6c+
13 m
Black coffee
6a
13 m
Bijelo pranje
5a
13 m
Cracker
6a
11 m
Motika direct
5a
11 m
Motika
4b
11 m
Fu – fu
5c
11 m
Vježbenik
7b
11 m
Gorgona
6c+
11 m
¸T.D.
6c+
11 m
Ružica
6a
12 m
Žuta ruža
6a
12 m
Bršljanov žlijeb
5b
14 m
Ljubica
6b
15 m
I am from Austria
5c
15 m
G – Fliper
Bršljanov rub
4a
13 m
Onaniko
5c
12 m
Stojan
4b
11 m
Fliper
6a+
10 m
Pinčica
4b
10 m
H – Castello (The castle)
| | | | |
| --- | --- | --- | --- |
| Simona | 6c+ | 12 m | |
| Črviček | 6c | 12 m | |
| Tony | 5c | 20 m | |
| Napoleon | 7b+ | 15 m | |
| Utopljena ptica | 6c | 20 m | |
I – Krokodil
Plastic sausage
6a+
12 m
Amonijak
6c
11 m
Dinamit
6c+
11 m
Krokodil
6a+
11 m
Eddie
6a
15 m
J – Veliki toranj
You can do it
5c
18 m
Comici brid
6a
40 m
Odiseja
6a+
15 m
Feniks
6c
17 m
Jugozapadni
4c
35 m
Crna mačka
7a+
20 m
Californication
6c+
20 m
Tutti frutti
6a+
20 m
K – Ispod tornja
P
P
Smbelox
6b
20 m
Fantazija
7a+
22 m
Milanov smjer
7a+, 7a, 5c
90 m