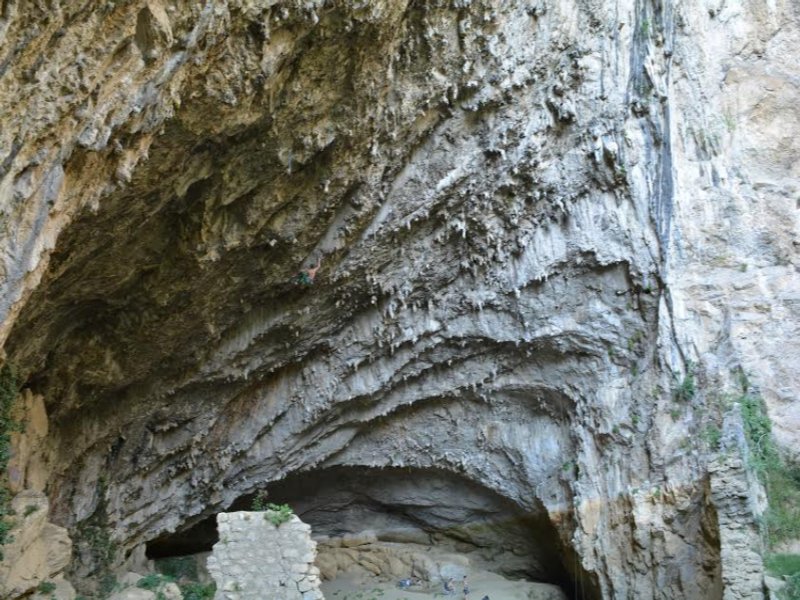 Gianfranco Dušič rocks the cave of Osp
Gianfranco Dušič from Rijeka (Croatia) on Thursday climbed his first 8c ever in the big cave of Osp. He fired 55-meter long endurance testpiece Osapska pošast on his third try. The first part (7c) of Osapska pošast (aka the monster of Osp) was bolted long time ago by Jure Bobnar, then Klemen Bečan showed up in the cave, saw this project and extended it for another 30 meters and made the first ascent of this 55 meter long monster back in 2012. It is characterized by many long reaches between the chaos of tufas and never ending endurance climbing making more than 100 moves all together.
Gianfranco returned to the cave of Osp on Sunday, used the perfect conditions and made the first repeat of the first pitch of another 55 meters long route called Bala Bala. The first pitch was first ascended by Klemen Bečan and till now remained unrepeated. Klemen graded it as 8b, but Gianfranco's opinion is that it should be a proper 8b+.
Bala Bala is a 180 meter long multi-pitch in the big wall of Osp starting directly from the steepest part of the cave with the grades of: 8b(+), 7c, 6c, 7c and 7a+. For more experience of the route and climbing in the big cave of Osp check this great movie!
Looks like Gianfranco is in his best shape ever. Let's see what he will do next! 😀 You can also check his blog (in Croatian).
Also in the cave of Osp 14 years old Croatian girl Jani Zoraj smashed on her second go first part of Active discharge (8a). Bravo Jani!
Just couple of hundred meters to the right, in the wall of Mišja peč, members of Slovenian junior climbing team were climbing during the weekend. Martin Bergant redpointed his first 8b+, Millenium, the extension of Mozaik; Tim Unuk did Sanje za dušo (8b+) and Milan Preskar did Lahko noč Irena (8b). Strong young guns!
Besides that, Luca Marziari from Vicenza (Italy) climbed popular Mrtvaški ples (8b) also in Mišja peč.
Looks like the season fully started, conditions arrived and hard routes are being climbed on daily basis. Looking forward to the rest of the season. 😀