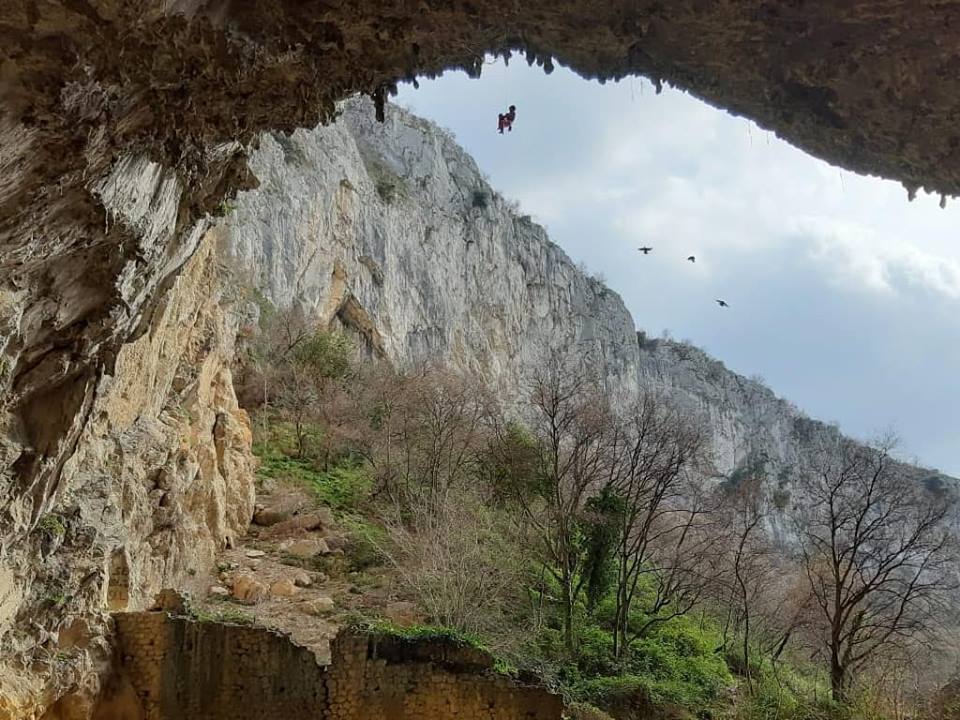 Spring is in the air
In Istria spring is in the air! The temperatures are nice, flowers are blooming and wild asparagus are everywhere, not to mention that already »summer« crags like Baratro, Grotta Caterina and Skedenj are already totally dry.
And the ticklist of the last week…
In sunny Napoleonica, both young Jaka Šprah and restless Luka Biščak redpointed the crimpy classic Orcobaleno (8b).
Looks like Klemen Bečan is back in shape as well as he did on his first try the connection of Helikopter v omaki (8b) and Osapska pošast (8c), named Helikopter v pošasti with the grade of 8c. He knew both routes from before, but fighted his way out on his first try to the anchor of this 55 meters long super steep route in the big cave of Osp. For the end of the day he repeated as well another marathon route, Active discharge (8b+). In the first part (8a) of it, on the second crux, one good tufa was missing and also on the end of it, just before start of the extension, there was a big tufa where you have seated on and had a full recovery rest, now it's unfortunately gone. By Klemens words, the route was maybe a bit soft for its grade before, but now it's not anymore. 😊
SPECIAL WARNING!
The small tufas in the big cave of Osp are different from those in other crags. Because they are tufa-ceuos, they are very porous and get soaked with water fast. When they are dry, they are very strong, but if the water is dripping from them, it also dissolved the binding materials inside, which makes them much more fragile, like wall without mortar. Because this are good holds, it is possible to climb even wet routes, but the risk that tufa will break is, also according to experience from last couple of years, much higher. Let's leave aside danger for the people under the wall, here the most important thing is preservation of the wall and especially routes – many have in time already become harder and just a break or two separate them from making a 5-star route unclimbable or having a nasty bouldery crux! So absolutely refrain from climbing, grabbing or stepping on wet mushrooms and tufas! We understand that it is annoying, when you drive from far away and your project is dripping wet. But climbing in nature also has such limitations. Your decision to ignore this warning is even more unethical than chipping artificial holds. The big cave of Osp has a relatively long dry period, some routes are also less critical and besides, there are Osp, Mišja peč and Baratro nearby (1).
In the same cave of Osp, Croatian Siniša Škalec redpointed his first 8b ever, previously mentioned Helikopter v omaki.
Couple of hundred meters away, in sector above the village of Osp Miha Pančur and Damjan Gruden ticked Osapska mumija (8b), the connection of cruxes of Matičkov svet (8b) and Karies (8a+).
Passing  the Croatian border, in Kompanj Marko Kalčič smashed the long Gayline original (8b) and Hungarian Tamas Farkas crushed beautiful power-endurance route Der Berg ruft (8b) in the small cave on the far-right side of the crag. In the same sector his friend Soma Strommer flashed Granouille (8a).
In Čiritež, in the small cave of RockNRoč Tamas Farkas onsighted Nairobi (8a) while Austrian Martin Sobotka executed in short and bouldery The time (8b+).
With nice weather forecast there will be many more news to come soon, for sure!
(1) From the new guidebook – Karst edge