Črni kal, the granddaddy of Slovenian free climbing and a training ground for mountaineers, has spread to both sides in the recent years, mainly due to bolting efforts of Betka Galičič – with many easier and great routes for beginners and advanced climbers. In between you can still find old classics, that are so polished that they can easily be graded one or two grades more. For a relaxing, easy going day of climbing on the Karst sun you can hardly pick a better crag.
The old route leads through the village of Črni Kal – drive slowly – around the church and up the hill to a large parking space (P1). Less intrusive is a dirt road around the sand dig on the upper part of the Karst edge (after you leave the motorway at Kastelec, turn for Črnotiče and after that turn right on a dirt road). From this parking place (P2) a path to the right leads to the rightmost sectors, or left towards the tower.
Parking directions for P1
Parking directions for P2
There are not many overhangs, so you will need a dry day. But the crag is protected from the wind and has many trees and corners, providing shade, so the heat is not a big problem, unless you decide to climb in the most exposed walls – which are, on the other hand, great for the winter. It is an all year-round playground but still, the best periods are spring and autumn.
The rock quality is excellent and almost never breaks – but beware in new sectors, that still need to be "cleaned". Because of hikers and animals on the edge, caution (and a helmet) is advised. The routes are bolted perfectly, even though there is sometimes a complaint or two – as many climbers are not used to leading the routes come here. There is large and comfortable space under the wall.
Črni Kal is full of history. In the nearby quarry a paleolithic axe was discovered, as well as a bronze statue from the Roman period. Climbers are familiar with the Turkish tower – a ruin of an old castle dated to the 11th century, which was built to control the important trading route. The church of St. Valentine is also special with its leaning tower (so why even go to Pisa?) and the oldest house in these parts – Benko's shack from 1489. The seaside region was affected by the furious fight against occupation in WW2 more than other parts of Slovenia – you can be reminded of that at the "skater" monument halfway to Osp.
Recommended accommodations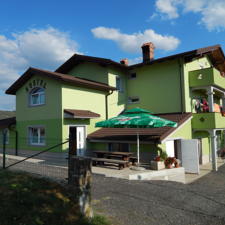 Hostel Ociski Raj
Ocizla 1c, 6240 Kozina, Slovenija
Hostel Ociski raj is located in the heart of climbing areas. From hostel to Črni Kal is only 7km, 11 km away are world-famous Mišja peč and Osp. Also climbing areas like Risnik (Divača) and Val Rosandra (Italy) are really close. In the vicinity of the hostel there are many walking paths, as well many opportunities for cycling and other trips. Hostel offers you accommodation in private rooms and in dorms with shared kitchen and bathrooms.
+386 (0) 40 874 745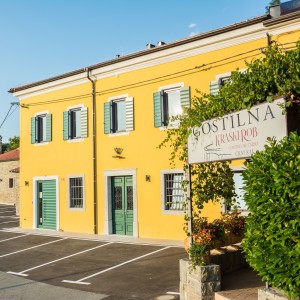 ROUTES (from left to right)
The routes are mostly vertical, of all types – from routes, dotted with jugs from bottom to top, to the technical cruxes where you will hardly be able to move. But if you look around, you will also find small roofs, overhangs, corners and cracks. If the routes looks polished, it probably is. That doesn't mean it is not nice, but you have been warned.
You can climb even with 8 quickdraws and 50 meter rope. There are plenty of shorter routes, but be careful for the longer ones on the tower and in new sectors, there you will need at least 70 meter rope and 14 quickdraws. The top anchors come in many shapes – from lower-off carabiner to rings and others.
A/I-II – Above the road
| | | |
| --- | --- | --- |
| Poletje | 6b+ | 10m |
| Morje | 6c+ | 10m |
| Sonce | 7a+ | 15m |
| Vročina | 7b+ | 14m |
| Na strehi sveta | 7b | 14m |
| Najlepša | 6c+ | 16m |
| Boj z naravo | 7b | 13m |
| Ocizla | 6a+ | 13m |
| Upanje | 6b | 13m |
| Strast | 6c+ | 12m |
| Grenkoba | 7a | 12m |
| Princeska Prva | 5c | 19m |
| Let's start again | 6a+ | 22m |
| Franček Frančišek | 6b | 22m |
| Čarovnici iz BiaSep | 6a | 23m |
| Brest | 5c | 23m |
| Bor | 6a | 20m |
| Vsakdo išče svoje parkirišče | 6c+ | 20m |
| Mokre sanje | 6b+ | 22m |
| Alpinist | 6a | 25m |
| Virus | 6b | 18m |
| Egipt | 6a | 14m |
| Paradigma | 6a | 14m |
| Navdušenje | 6a+ | 16m |
| Moment | 6a | 16m |
| Trenutek sreče | 5c | 16m |
| Pirh | 6a | 30m |
| Hren | 6a+ | 30m |
| Aleluja | 6b+ | 30m |
| Vnebohod | 6c | 30m |
| Vstajenje | 6c | 30m |
| Spoved | 7a | 23m |
A/III-IV – Turkish tower
| | | |
| --- | --- | --- |
| Sandijev raz | 6a | 27m |
| Senca | 6c+ | 27m |
| Kirnova | 6a | 27m |
| Valterjeva zajeda | 5c | 27m |
| Direktna varianta | 5c | 27m |
| Dreamcatcher | 6b+ | 27m |
| Kondor | 6c+ | 27m |
| JJJ | 8a | 27m |
| Almina | 7a+ | 27m |
| Škrablova poč | 6c | 27m |
| Uscana zofka | 6c | 27m |
| Giljotina | 6c+ | 30m |
| Karantena | 7c+ | 29m |
| Vislice | 7a | 29m |
| Pas de deux | 7c | 15m |
| Medved | 7c+ | 17m |
| King size (left variant) | 6c+ | 29m |
| King size | 6c+ | 29m |
| Pingvin | 7b | 29m |
| Mlin na veter | 6c | 25m |
| Pajkel | 6a | 22m |
A/V – Turkish tower – north face
| | | |
| --- | --- | --- |
| Bobiči | 6a+ | 24m |
| Vampi | 6c | 22m |
| Barcaffe | 7a | 12m |
| Turška kava | 6a | 16m |
| Brodet | 5b | 17m |
| Normalna | 4a | 16m |
| Most | 4a | 22m |
| Po grajskih stopnicah | 4b | 15m |
| Srčkana | 6a+ | 16m |
| LBA | 6c | 16m |
| Zidarska poč | 7a | 17m |
| Prostozidarska | 7b+ | 17m |
| Brez raza (without the arete) | 8a | 17m |
| Prepih | 6b+ | 17m |
Sector B
| | | |
| --- | --- | --- |
| Konec raja | 6a+ | 33m |
| Poletje odhaja | 6b | 33m |
| Draga naša Lidija | 5c | 35m |
| Johnny Jump | 6a+ | 25m |
| Elanora | 5c | 19m |
| Wannabe | 6a | 19m |
| Deponija | 6a | 23m |
| Koko bom vrtal, če nimam niti za vijake | 6a+ | 22m |
| Krigl | 6b | 26m |
| Superca | 5c | 28m |
| D.D. lovec iz Kastelca | 7a+ | 26m |
| J.S. vinogradnik iz Kastelca | 7a | 25m |
| Viadukt redukt | 7a+ | 25m |
| Viadukt | 6c | 25m |
| Dežela senc | 6c+ | 17m |
| Burja | 6b | 17m |
| Šah mat | 7a | 17m |
| X | 7b | 16m |
| Levi Y | 6a | 16m |
| Zabava brez razov | 7b | 16m |
| Desni Y | 5c | 16m |
| Buhtelj | 5a | 15m |
| Bula | 6c | 16m |
| Legalize it | 7b+ | 16m |
| Turški med | 6b | 16m |
| Črn prusik | 6a+ | 17m |
| Gauda | 6c+ | 16m |
| Krokonoj | 6b | 16m |
| Leve sirove luknje | 6c | 17m |
| Desne sirove luknje | 6b | 17m |
| Gorgonzola | 6b | 17m |
| Vagabund | 7b | 16m |
| Rokova | 6c | 17m |
| Šnops | 6c | 22m |
| Ledeni možje | 6c | 17m |
| Zmrznjeni možje | 7a | 21m |
| Bog odpusti jim | 5c | 15m |
| Dilema | 6b+ | 10m |
| D.O.A | 6c | 10m |
| Intenzivno | 7a | 10m |
| Tjaška | 5b | 17m |
| Sončica | 6a | 17m |
| Perje | 5c | 16m |
| Prestop | 4c | 16m |
| Z poč | 5c | 17m |
| Martinčkov rep | 6b | 16m |
| Poševna zajeda | 5c | 15m |
| Izhod Road runner | 6a | 11m |
| Kojot Vily | 5c | 12m |
| Daffy Duck | 6a+ | 15m |
| Bugs Bunny | 5b | 16m |
| J&K – Špelin grafit | 5c | 16m |
| Kamin | 3 | 16m |
| Sonce popoldan | 5b | 15m |
| Pakla | 5a | 14m |
| Lunapark | 4a | 14m |
| Bilabong | 4c | 15m |
Sektor C
| | | |
| --- | --- | --- |
| Sončna ura | 6a | 15m |
| Ajda | 4b | 15m |
| Vilijeva | 4b | 15m |
| Bori šumijo | 5c | 15m |
| Raz lokomotive | 6c | 15m |
| Trboveljska | 6c+ | 15m |
| Lokomotiva | 6b+ | 15m |
| Lajza | 6a+ | 15m |
| Soft rock | 6c | 15m |
| Kamena doba | 6c | 15m |
| Škis berač | 6a | 15m |
| Leteči Dolenc | 5b | 15m |
| Pasja radost | 6a | 15m |
| Barbara | 7b+ | 16m |
| VV | 6c+ | 16m |
| Popaj | 6a | 16m |
| Popajev raz | 6b+ | 16m |
| Kačja slina | 6c | 16m |
| Borček | 6b+ | 16m |
| Bubo | 6a | 16m |
| Bunka | 5c | 13m |
| Čez streho | 6c+ | 13m |
| Levičarka | 5a | 13m |
| Pomaranča | 6a+ | 13m |
| Mandarina | 7b | 12m |
| Hard rock | 6c | 12m |
| Midnight moving | 6a+ | 12m |
| Varianta JŽ | 5c | 12m |
| JŽ | 5b | 14m |
| Goseničar | 5b | 14m |
| Gosenica | 5a | 14m |
| Cergol | 6b | 14m |
| Kamin | 5a | 14m |
| Trabant | 5c | 16m |
| Raz Mercedesa | 6a | 16m |
| Mercedes | 6c | 16m |
| Fičo | 6a+ | 16m |
| Mortisia Adams | 6b+ | 13m |
| Poč | 5b | 13m |
| Oliva | 5b | 13m |
| Bela gurtna | 5c | 15m |
| Teddy bear | 6c | 15m |
| Lily Marlene | 6b | 16m |
| NSK | 6b | 16m |
| Jahalna | 5b | 16m |
| Kreš test | 5b | 15m |
| Carpe Diem | 5c | 15m |
| Bingel bongel | 5b | 15m |
| Heker | 6a | 15m |
| Krvava nevesta | 6a+ | 16 m |
| Fosilček | 6a+ | 16 m |
| R 12 | 6a+ | 16m |
| I.R. Babon | 6a+ | 16m |
| I.AM Weasel | 6a | 16m |
| Surogat | 6a | 16m |
| Beetle juice | 6a+ | 16m |
| Mična gospodična | 4b | 16m |
| Kačon | 5c | 16m |
| Burleska RŽV | 5a | 16m |
Sector D
| | | |
| --- | --- | --- |
| Dan D | 6a | 14m |
| Sandijeva zajeda | 5c | 12m |
| Piranha | 7a | 12m |
| Francev raz | 5b | 14m |
| TCG Ut | 5b | 14m |
| Mladi upi | 3 | 14m |
| Kosovir | 4c | 14m |
| Scooby-doo | 4a | 12m |
| Kratka sladka | 4b | 12m |
| Dexter's laboratory | 6a | 12m |
| Marenda | 4b | 15m |
| Cow & Chicken | 5c | 12m |
| Johnny Bravo | 4c | 12m |
| 2 stupid dogs | 5b | 10m |
| Žanetka | 4b | 14m |
| Vremenko | 4c | 15m |
| Kokijev raz | 6c+ | 16m |
| 13 duhov | 4c | 16m |
| Turbo folk | 4b | 16m |
| 40+ | 4c | 16m |
| Opičji posli | 4b | 16m |
| Nulta ura | 4b | 16m |
| Sreča na vrvici | 4b | 17m |
| Vrtnar | 4a | 17m |
| Plevica | 4b | 17m |
| Zlati časi | 4c | 17m |
Sector E
| | | |
| --- | --- | --- |
| Mira ur | 4a | 10m |
| Oj ježek moj | 6a+ | 10m |
| COOH2 | 6a+ | 10m |
| Čebelica | 5a | 11m |
| Mary Pompins | 6a+ | 10m |
| Cvrček (chimney) | 4b | 10m |
| Cvrček (in the slab) | 5c | 10m |
| Žužek | 6a | 10m |
| Zavajon | 6b | 10m |
| Bojler | 6c | 10m |
Sector F
| | | |
| --- | --- | --- |
| Jutri je nov dan | 6a+ | 23m |
| Najboljši sosed | 5a | 23m |
| Komu zvoni | 5c | 22m |
| Stekleni zvon | 6a+ | 23m |
| Uranoja | 5c | 24m |
| Še pomnite, tovariši | 6b+ | 25m |
| Adijo pamet | 6b+ | 25m |
| Fračji dol | 5b | 14m |
| Mali pišček | 4c | 14m |
| Exitus in tabula | 5c | 15m |
| Ovarij | 4a | 15m |
| Smegma | 5b | 15m |
| Globus | 5a | 15m |
| Casus Purus Putus | 6a | 16m |
| Mea Culpa | 5a | 16m |
Sector G – Peskovnik
| | | |
| --- | --- | --- |
| Frtala | 7a | 15m |
| Labodji spev | 5b | 18m |
| Tudi angeli jočejo | 5b | 18m |
| Flancat | 6a+ | 19m |
| Krofek | 6b+ | 19m |
| Grdi raček | 6c+ | 19m |
| Čarovnija | 7c | 19m |
| Lolek | 6a+ | 20m |
| Regrat z jajci | 6a | 20m |
| Primorski sneg (without the crack) | 6c+ | 20m |
| Bolek | 7a | 20m |
| Ramayana | 6a+ | 23m |
| Zrcalce | 6b | 22m |
| Sidarta | 6a | 25m |
| Miška | 5c | 25m |
| Matako Koyama | 5c | 22m |
| Stlačenka | 6b+ | 22m |
| Vikova | 6c+ | 22m |
| Petek 19. | 6b+ | 25m |
| P. drekač | 6c | 25m |
| Modri dirkač | 6c | 25m |
| Hipotenuza | 6b+ | 26m |
| Var. Hipotenuze | 6b | 26m |
| Štrigon | 7a | 26m |
| Mau Ce Mem Kresnu | 7a+ | 26m |
| V novo tisočletje | 6c | 28m |
| Guliver | 6c | 27m |
| Fenix | 6c+ | 29m |
| Pride in mine | 6c+ | 31m |
| Roja | 6a+ | 30m |
| Prišel, videl, omagal | 6b | 33m |
| Skin deep | 7b | 33m |
| Dolce far niente | 7a | 35m |
| Stokalnik | 7a+ | 35m |
| Miš maš | 7a | 35m |
| Šiš miš | 7b+ | 33m |
| Vzemi ali pusti | 7a+ | 31m |
| Lom valov | 6c+ | 30m |
| Mačje pokopališče | 6c+ | 29m |
| Alkimist | 7a+ | 29m |
| Stonoga | 7b | 30m |
| Božji veter | 7b | 32m |
| Airbag | 7a+ | 34m |
| Aligator | 7b | 33m |
| Pavijan | 7a+ | 33m |
| Thorn birds | 6c | 30m |
| Vrtinec rož | 6c | 30m |
| Peskovnik | 6a+ | 28m |
| Migula | 6c+ | 30m |
| Polarni sij | 6c | 30m |
| Franci na balanci | 6a | 30m |
| Oskubljena kura | 6c+ | 28m |
| Vetrnica | 6b+ | 25m |
| Pazi, vlak! | 6b | 25m |
| Kripl klub | 5c | 17m |
| Kr neki | 6a | 17m |
| Pasulj | 5a | 17m |
| Cvetje v jeseni | 6a | 17m |
| Nergomanija | 6c | 17m |
| Superspinatus | 6c+ | 17m |
| Sivi Panterji | 6b | 17m |
| Terapija | 6c+ | 17m |
| Lejina | 6a+ | 17m |
| Viagrakiller | 6c | 15m |
| Roman the best | 6c+ | 18m |
| Stranski tir | 6c | 17m |
| Epikondinitis | 6b+ | 17m |
| J.S. Sadilec rož | 6b | 17m |
| Jutri bo bolje | 6b | 13m |
| Zemljotres | 7a | 13m |
| Princ čistosti | 6c | 10m |
| Škratek | 5c | 10m |