The imposing Risnik sinkhole, which was created through the collapse of the ceiling over a former subterranean cavern has unique local climbing character. The crag lies in beautiful Karst surroundings and offers a good alternative to the populated crags of Črni kal and Osp. You will most definitely be alone at the crag. All the routes have been reequipped lately and also a new sector was born.
On the highway from Koper to Ljubljana take the exit Divača, then on the turnaround turn left and on the next crossing left again direction Lipica and park on the left side just after about 500 meters before the wooden sign for Risnik. From parking take the dirtpath going left until in 5 minutes you reach the wall down low.
Parking directions
The perfect period is from late autumn till early spring. The crag is totally sheltered from strong northern winds and is exposed directly to the sun. Better to avoid it in hot days. Also snakes can come out.
The rock in some routes can still be a bit loose, so it's always better to wear a helmet, at least as a belayer.
Recommended accommodations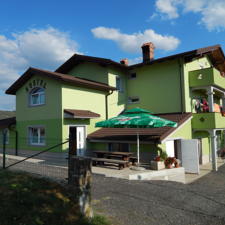 Hostel Ociski Raj
Ocizla 1c, 6240 Kozina, Slovenija
Hostel Ociski raj is located in the heart of climbing areas. From hostel to Črni Kal is only 7km, 11 km away are world-famous Mišja peč and Osp. Also climbing areas like Risnik (Divača) and Val Rosandra (Italy) are really close. In the vicinity of the hostel there are many walking paths, as well many opportunities for cycling and other trips. Hostel offers you accommodation in private rooms and in dorms with shared kitchen and bathrooms.
+386 (0) 40 874 745
ROUTES (from left to right)
Climbing varies from short to two pitches long technical routes which require really good foot technique. A lot of finger power is also very welcome.
Main sector
| | | |
| --- | --- | --- |
| Kupido | 6c | 23m |
| Ivanova | 5c | 23m |
| Martinčkov jarek | 4c | 22m |
| Koliševka | 5b | 24m |
| Big foot mama | 6a+ | 24m |
| Big foot ata | 6a+ | 24m |
| Papamobile | 6a | 24m |
| Črna gradnja | 5c | 24m |
| Simona | 5b | 23m |
| Simona extension | 6b+ | 34m |
| Harpo | 6b | 13m |
| Harpo extension | 6c | 33m |
| Nekaj vijoličastega | 7b | 14m |
| Plava smer | 6c+ | 17m |
| Plava smer extension | 7a | 37m |
| Življenje so samo sanje | 7a | 20m |
| Življenje so samo sanje extension | 7b | 40m |
| Mihov raz | 7a | 40m |
| Popoldanska | 6b+ | 20m |
| Popoldanska extension | 6c | 40m |
| Škorpijion | 8a | 15m |
| Kačje leto | 7c+ | 17m |
| Kombinacija | 5b | 20m |
| Kombinacija extension | 6a | 40m |
| Damjanova | 6b | 35m |
| Botanika | 6a | 25m |
Sector The tower
| | | |
| --- | --- | --- |
| Košček časa | 7b | 35m |
| Rum in šah | 6c | 32m |
| Katjina | 6a | 30m |
| Pirova zmaga | 4b | 20m |
| Pirova zmaga extension | 7b | 35m |
| Zlobna buča | 6c | 35m |
| Incident v Kranju | 6b | 25m |
| Modra Frankinja | 6c | 25m |
| Miss nočne omarice | 6a | 25m |