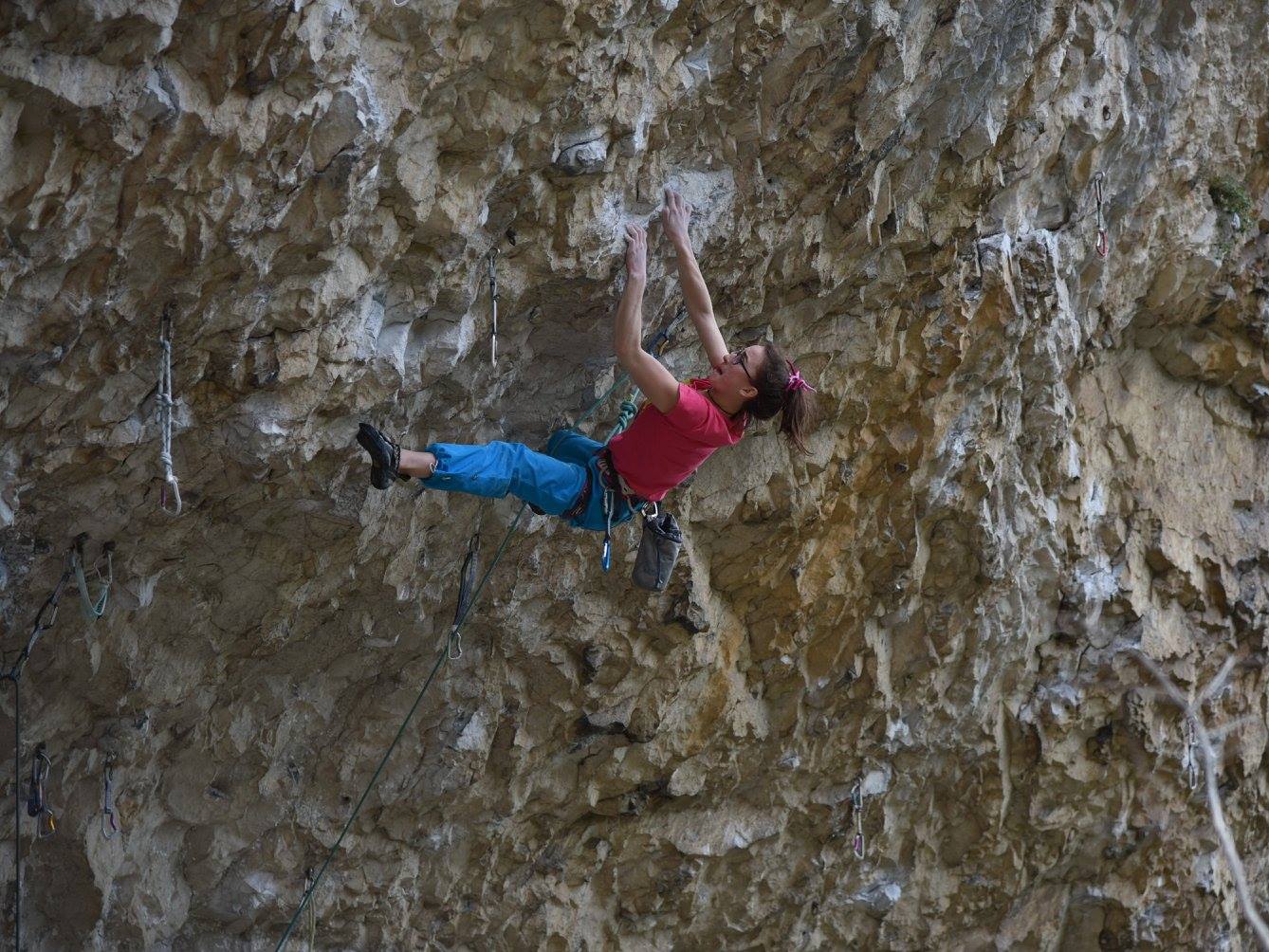 Easter holidays in Istria
Photo @ Vanda Michalkova in Marjetica (8b) in Mišja peč
Everybody probably already heard about Adam Ondra crushing almost everything in Istria.
Something else? There were so many climber for Easter holidays in Istria, for sure many hard redpoints were done. So, where to start? With the youngest, the new generation rockin around the Osp I guess?
13 years old Slovakian girl, Vanda Michalkova, just walked through Marjetica (8b) in Mišja peč. Her friend from Czech republic, Eliška Adamovska, redpointed Lahko noč Irena (8b) and Chiquita (8a) as well.
Some young Germans executed as well in Mišja peč: for example 15 years old Philipp Gassner crushed Missing link (8b+) and Lahko noč Irena (8b). While 16 years old Moritz Perwitzschky properly smashed almost everything in the right part of Mišja peč: Missing link (8b+) and it's natural version Natural link (8c), very hard and bouldery and also rarely repeated Matrix (8b), Marjetica (8b) and as well the classic of Talk is cheap (8c).
A bit older, but still very young Hungarian Tamas Farkas clipped the chains of Talk is cheap (8c), besides that he climbed as well the 40 meters long Bastilla (8b+).
Christian Munch executed in Talk is cheap (8c), which seems to be the route of 2016 in Mišja peč, also he crushed the beautiful Nočna kronika to the top (8b) on his 2nd go and onsighted the endurance testpiece of Urbanova (8a).
Polish guy Przemyslaw Krauze redpointed the classic Mrtvaški ples (8b), while experienced American Benjamin Ditto climbed Kaj ti je deklica (8b+).
On the female side we also saw ascents from Katie Lambert which clipped the chains of Urbanova (8a), and as well by Austrian Isabelle Kolle which ticked Iglu, Corto and Mozaik (all 8a in Mišja peč) and besides that she redpointed as well Zadnja skušnjava (8a) in Osp in sector Babna on her second go.
So many climbers, so many hard ascents, we for sure forgot something. Don't blame us, just simply enjoy the climbing and the nice weather and good atmosphere. 🙂