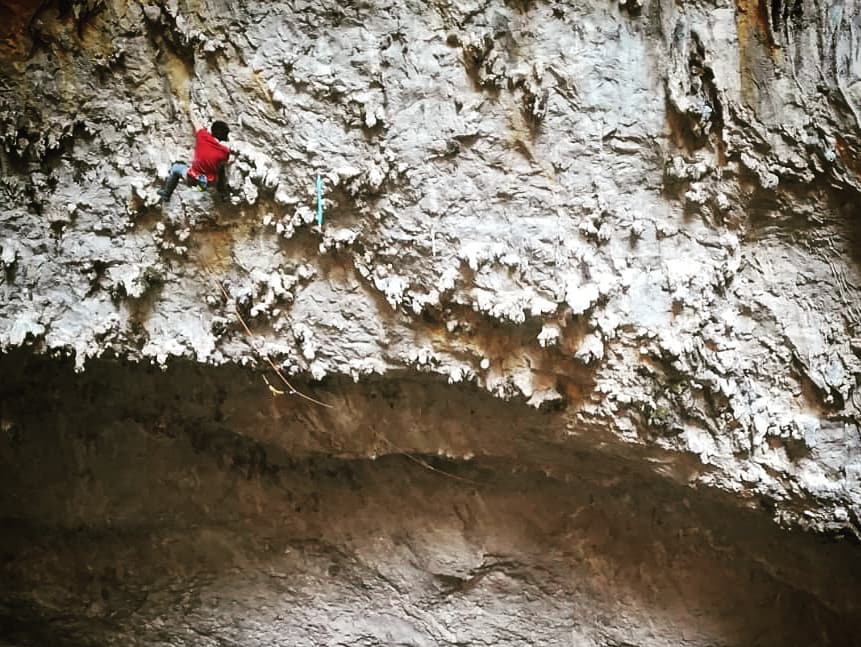 Gabriele Gorobey crushes Halupca 1979 (9a)
Gabriele Gorobey in Halupca 1979 (9a) in the big cave of Osp @ photo from his FB
Just a couple of days ago we have reported about first 9a for Gabriele Gorobey – Sbisi. Now he has crushed his second one, Halupca 1979 in the big cave of Osp.
32-years old Trieste based local guy is a multi-discipline climber, from boulders to hard-core sport routes even to big walls. In Istria he is known as an explorer of new climbing areas, developing, bolting and first ascending numerous new routes.
A couple of days ago he succeeded in his first 9a, Sanjski par extension in Mišja peč, now he just crushed his second one, Halupca 1979 in just a couple of tries, so he believes it is a bit easier than the previous.
Halupca 1979 is in the centre of the big cave of Osp and was bolted by Klemen Bečan in 2007 and next year first ascended by Matej Sova. It is composed of power endurance start followed directly with hard boulder for about 9 moves on bad pinches, underholds and extreme drop knees in full roof. After the crux you have a good rest still in full roof which is followed by endurance climbing on tufas and blobs till its anchor on around 20-25 meters of height. Until now it counts 9 redpoint ascents. Bravo Sbisi!
From the climbing club in Ljubljana we have received an email, that they will be climbing with their climbing school this Saturday in Črni kal, not to be surprised if it is going to be crowded.
Nice weather forecast for the weekend, so hope to see you on the rocks!