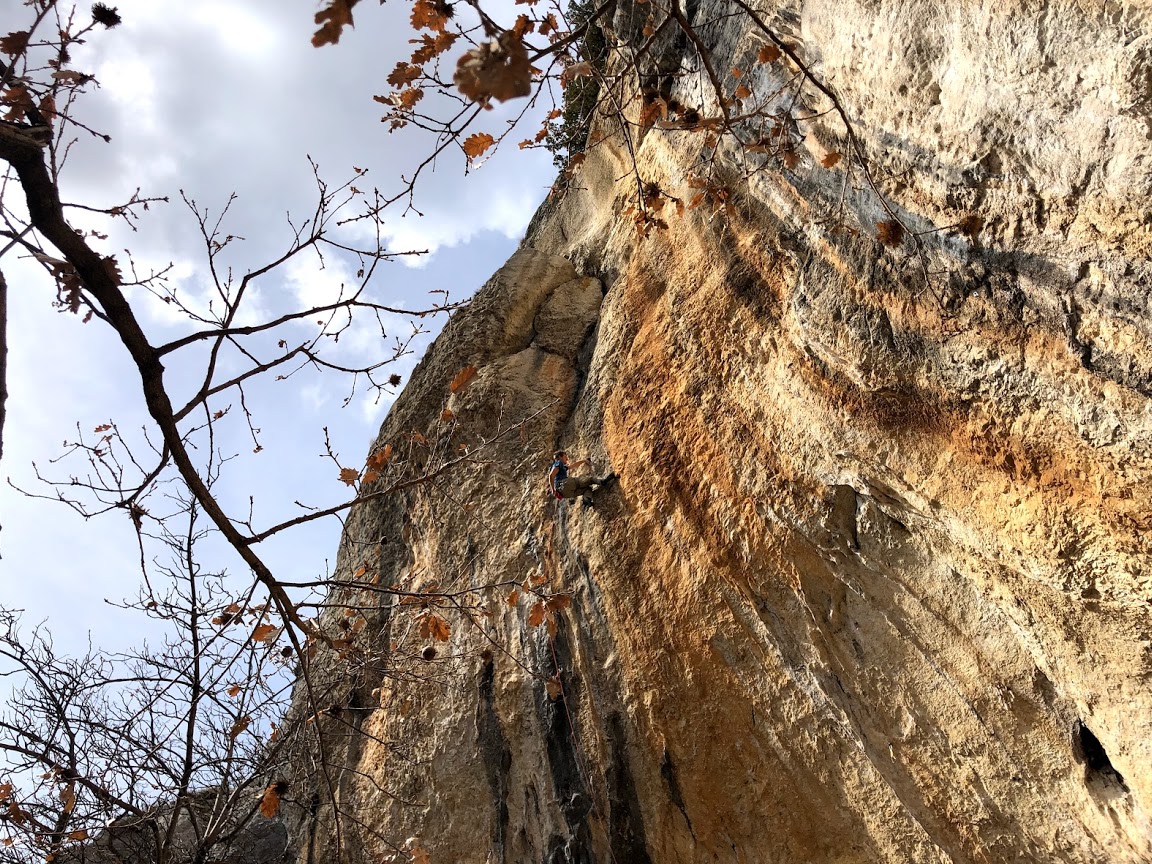 Great conditions, great achievements
Photo @ Stefano Folgarait during succesful ascent of Rainini (8b) in Kompanj
With great weather conditions and best crew also the great climbing achievements happen on a daily basis. Here is a big last week's list of hardest ascents in Istria and for sure we have missed some. 😊
In Mišja peč we had a visit from South Tyrolean climbing team among strong boulderer Stefan Scarperi fast ascent in Talk is cheap (8c) and Missing link (8b+) we already reported in the latest news. After he climbed as well the bouldery extension of Tortuga (7b), named Ninja želva (8c) and made a big list of flashes including Popaj (8a+), Highlander (8a+), Samsara (8a), Corto (8a) and so on. His teammate Michael Piccolruaz ticked crimpy Človek ne jezi se (8c) and flashed Corto (8a). Patrick Tirler smashed the artificial Marioneta (8b) and Moritz Sigmund flashed Samsara (8a), while on the girl's side Alexandra Ladurner after redpointing Oktoberfest (8a) did Corto (8a) as well and Elisabeth Lardschneider made a nice list of Mišja peč's 8a classics including Giljotina, Samsara and Corto.
On more local side, Trieste based Luca Bacer had an amazing day in Mišja peč, first by climbing hard Missing drink (8b+) and after firing Missing link (8b+) on his second go the same day.
Miha Hribar succeeded in his second 8c this winter by climbing Strelovod (8c). First time he passed all the traverse to get to the rest of Marjetica (8b), he just didn't let go until he clipped the chains.
Above Trieste, in magnificent Val Rosandra Omar Genuin made a fast ascent of Anek (8b) in nowadays very popular sector with many new nice routes called Strapiombi delle Vergini. IMPORTANT NOTICE: In Val Rosandra, in sector Bianca/Bela stena climbing is strictly prohibited as well as walking under the rock because of the birds nest until the 5th of May. There are big penalties, so better respect that!
In Croatian Istria, more precisely in Kompanj, our Italian friend Stefano Folgarait showed his full shape by easily climbing the beautiful Rainini (8b) on his third go and onsighting Psycho killer (8a) and Realitatsverlust (8a), as well as many others.