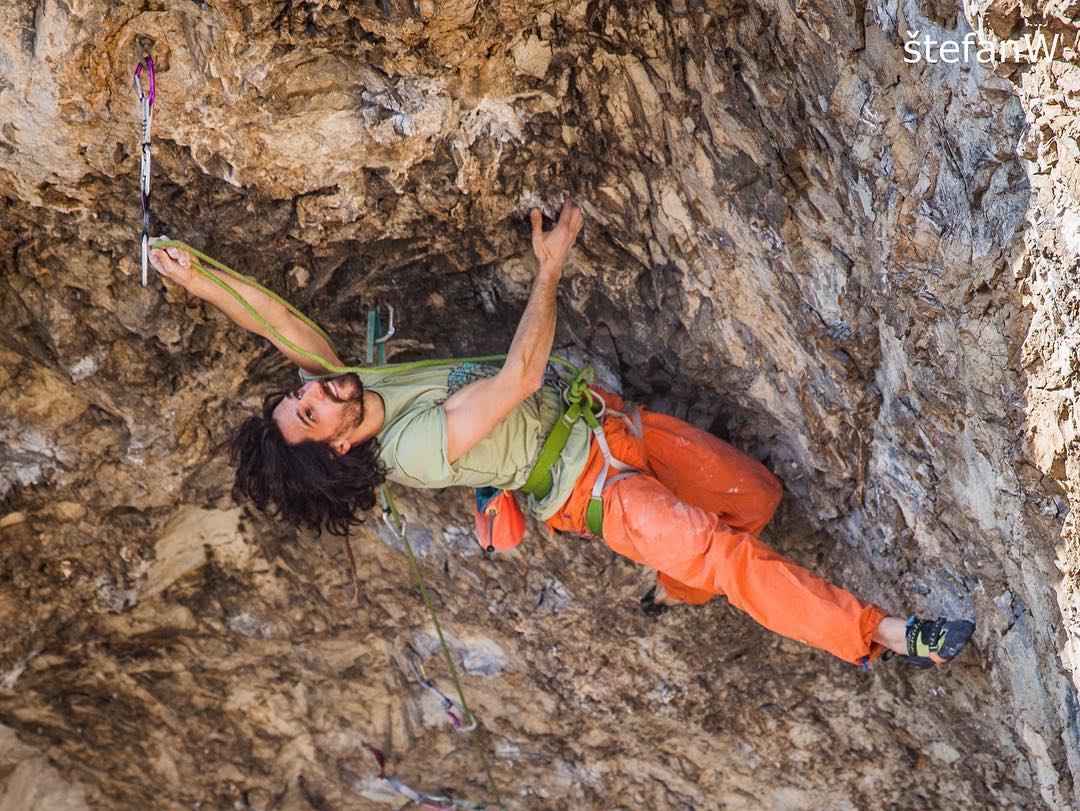 Gabriele Gorobey has finished Sanjski par extension (9a)
Gabriele Gorobey – Sbisi in Sanjski par extension (9a) in Mišja peč @ photo by Štefan Wraber
Gabriele Gorobey, for friends Sbisi, a well-known local climber from Trieste, has stunningly finished Sanjski par extension (9a) in Mišja peč. It was his long-term project causing him some injuries as well as mental issues. Anyways, when he less expected and went for a try without any pressure only short after he recovered his knee injury, he finally succeeded in it and it became his first 9a! Big congrats!
The route was bolted in 1992 by Slovenian climbing legend Tadej Slabe, then in 1994 he freed the first totally horizontal part and graded it 8c. Years later one hold broke and it got upgraded to 8c+. The extension was freed by Uroš Perko in 2003. After that it got at least 12 repeats from many famous climbers. From the first anchor (8c+) you continue with no rest directly into another boulder composed of around 6-8 hard moves and then through endurance finish to the top of Tedi's cave.
Two routes to the left is the line bolted as well by Tadej Slabe and freed by Uroš Perko named Talk is cheap (8c) which was done by strong youngster Jaka Šprah. He was also bouldering in the roof of Črnotiče where he ticked Red queen (FB8a), respectively.
Also in Mišja peč, 15 years old girl Lucija Tarkuš redpointed the power-endurance classic Mrtvaški ples (8b).
While in sunny Kompanj, always enthusiastic local climber Goran Matika first ascended the extension of crimpy Powder war (7b+), now with name Row Powder war and a proposed grade of 8a. In small cave on the far right of Kompanj, Enej Novak succeeded in his first 8b, super steep route named Soul kitchen.
On the east coast of Istria, more precisely in scenic Medveja, Trieste based Guido de Sabbata smashed Happy birthday (8b).
The temps are now unusually warm for this time of the year, the weather forecast for the next week looks cool, always sunny, maybe only on Monday there is some chance of light evening shower.
Enjoy the rocks of Istria!