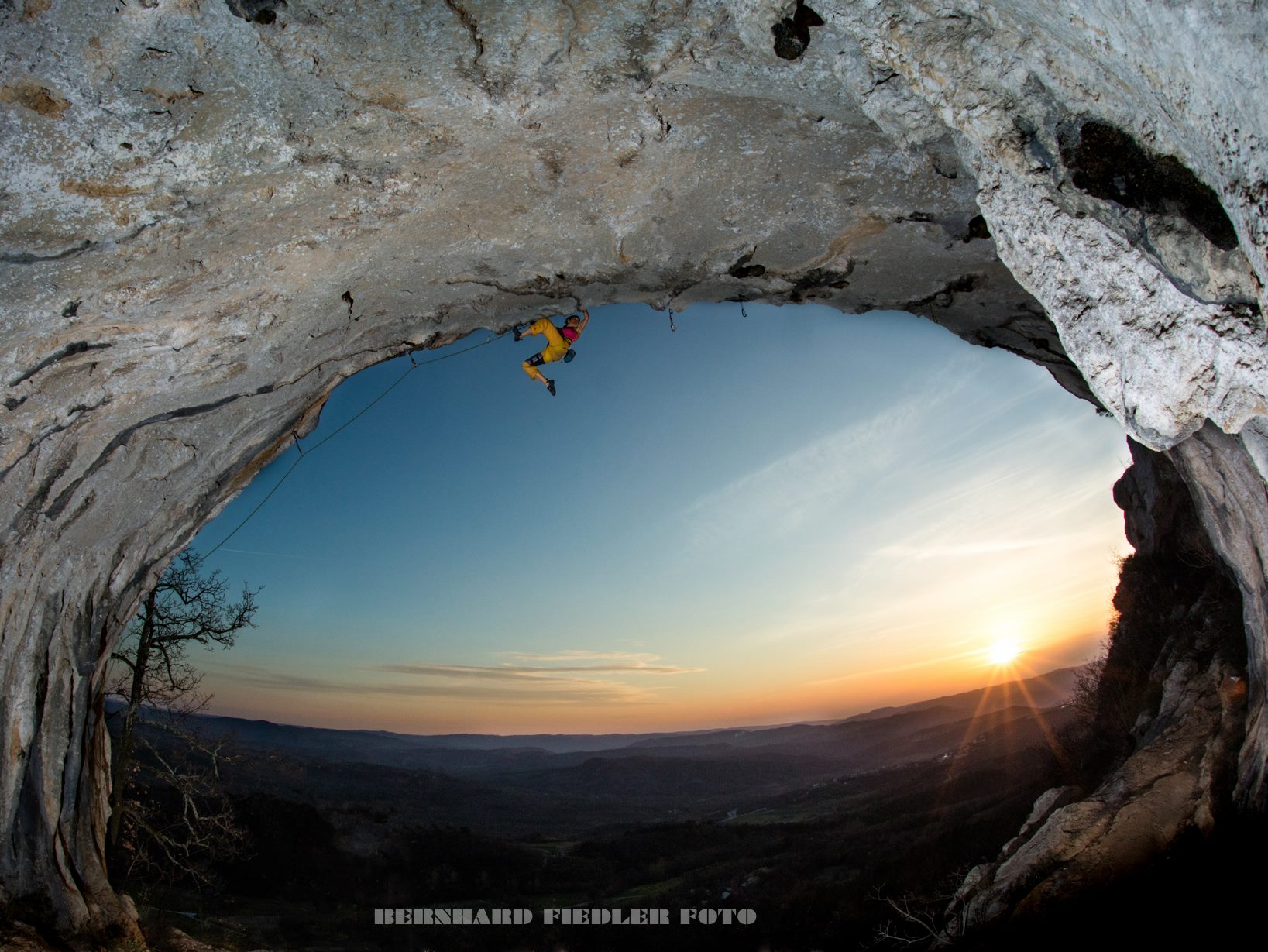 Hard redpoints in Istria
Andrea Maruna in Der Berg ruft (8b) @ Photo by Bernhard Fiedler (Andrea Maruna FB)
Good weather forecast and perfect spring climbing conditions can't keep the climbers to stay at home.
The Austrian Andrea Maruna climbed the classic Der Berg ruft (8b) in the small cave on the far right side of Kompanj. Also in Kompanj, local Goran Matika aka Gogo made the first ascent of the last project in sector Krankenhaus, 25 meters long vertical route with the name Koma has now the grade 8a and has the crux on tiny holds on it's finish.
Near Buzet in Buzetski kanjon, Andy Winterleitner from Switzerland ticked on his 2nd go beautiful Lap dance (8b) and in extremely steep Pandora the classic Avatar (8b), 2nd go as well.
In Mišja peč Ukrainians smashed their last project before leaving home. Fedir Samoilov onsighted his first 8b+, the long traverse in the left part – Mr Big hand. Besides he redpointed as well the crimpy Vizija (8c). The 13 years old girl Nika Potapova climbed Lahko noč Irena (8a+/b) and Misha Tkachuk Marjetica (8b). Slovenian Milan Preskar executed in the classic powerfest of Missing link (8b+).
Couple of hundred meters to the left, in the big cave of Osp, young Italian Gianmarco Visca, used the good conditions in apparently dry cave and clipped the chains of his first 8b ever, the steep and athletic Helihopter v omaki (8b).
Above the Trieste bay in famous Napoleonica, more specific in one of the rare overhanging sectors of it, Mano di Fatima, Andrea Padoan redpointed Sacro e Profano (8b).
Weather forecast remains the same or even a bit better, sunny and a bit more fresh. More news to come 4 sure!