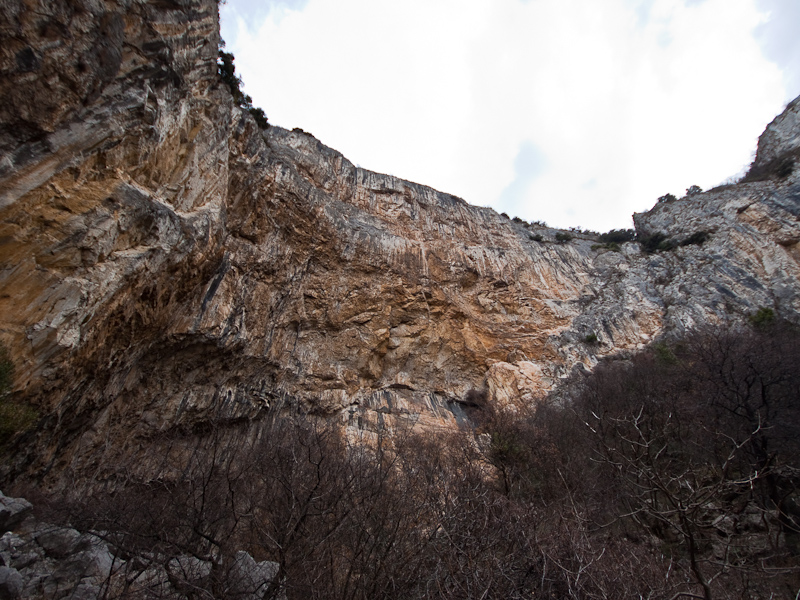 Luka Krajnc frees Stara in the Osp big wall
Luka Krajnc freed the last BIG project of the big wall in Osp – Stara (translated as "The old one"). This was the first route across the whole big wall of Osp which was done there, back in 1977, with aid climbing and was freed as the last one. The first ascensionists needed 10 days or 120 hours of effective climbing to reach the top of the wall. Amazing!
It is the first route to the right of the famous Magična goba (translated as "Magic mushroom"), 130 meters long and has 8 pitches. 3rd and 4th together have seemed for a long time like an impossible traverse till strong Slovenian alpinist Luka Krajnc showed up and redpointed them together with all the others on Monday. He graded the route as an 8b+. The protection inside is the one you would expect in old aid climbing route. A lot of 40 years old pitons, in extremely poor condition, better not to fall at all! 😉
An amazing achievement for sure!
Also sport climbers continued their missions with hard ascents in Istria.
In Mišja peč Urša Florjančič clipped the chains of her first 8a, the long and beautiful Uživancija while her boyfriend Boštjan Weingerl fired the hard and long J.S.F.K. extension (8b) and Žiga Debevec redpointed the classic powerfest Missing link (8b+). Also Ukranians keep on rocking hard; Fedir Samoilov redpointed Corrida (8c) on his 3rd go and 13 years old Nika Potapova climbed her first 8c, Strelovod and as well extremely morphological Marionetta (8b/b+). Another 16 years old Ukranian Misha Tschakuk ticked Corrida (8c) and the classic Mrtvaški ples (8b).
On the other side of the border, in Croatia, more exactly in Kompanj, experienced climber from Switzerland Andy Winterleitner enjoyed while climbing the tufas of Rainini (8b) and clipped the chains of it after just a couple of goes.
How many news these days, it's hard to follow. 😀