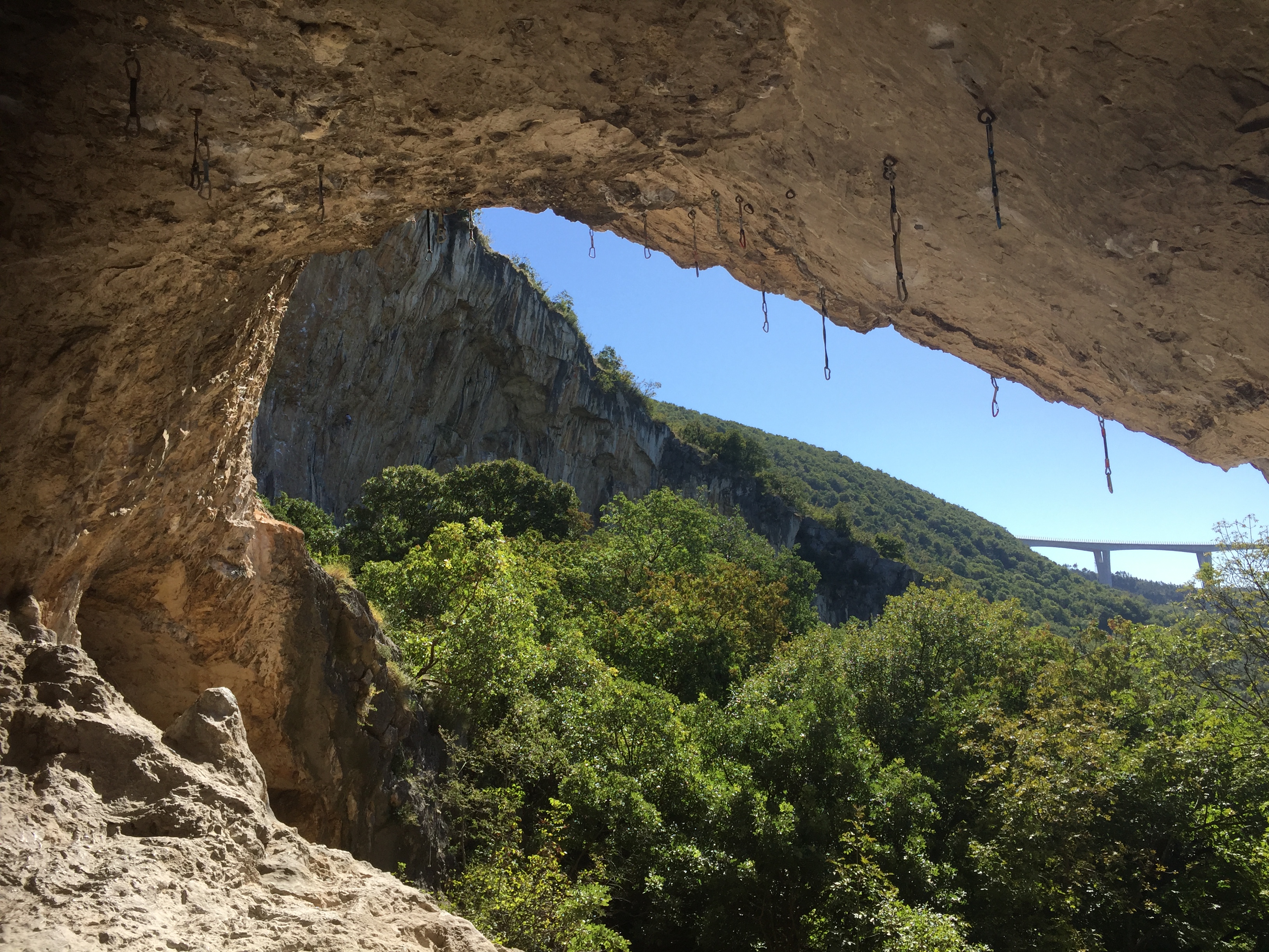 Jakub Konečny climbs Sanjski par extension 9a
Photo @ Tedis cave in the left part of Mišja peč, home to some of the Slovenias hardest sport climbing routes: Vicious circle (9a+/b), Sanjski par extension (9a), mythical Za staro kolo in majhnega psa (8c+) and Talk is cheap (8c)
Jakub Konečny, 19 years old climber from Czech Republic, had a really good qualifying round in the lead qualifications of World cup in Kranj this weekend, finishing in the second place after the home boy Domen Škofic. In semis he didn't had much luck and fell like many other climbers already in between 3rd and 4th quickdraw on an awkward mantel move.
But the day after he spent in Mišja peč and used good climbing conditions (fresh & windy) and a great shape to clip the chains of Sanjski par extension (9a). Sanjski par extension is a 9a situated in the left part of Mišja peč, first ascended by Uroš Perko, back in 2003. It is extension of Sanjski par (8c+), which ends in the middle of the roof. This one continues without any rest after the first chain for another 10 meters of hardcore roof climbing to reach the top of this small cave. For a cherry on the top, after he managed as well a fast ascent of powerful Talk is cheap (8c). What a score!
Besides Jakub, also many other World cup competitors, who missed the final round, were climbing in Mišja peč these days. Adam Ondras girlfriend, Iva Vejmolova, made her first ever semis on Saturday and on Sunday she redpointed the power endurance classic, Missing link (8b+). Also, from the Czech Republic climbing team, Vojtech Trojan smashed Mrtvaški ples (8b) and Sabina Večerova danced through Samsara (8a). Swedish  Hannes Puman onsighted two 8a's, Samsara and Giljotina while Belgium, Sebastien Berthe onsighted the beautiful Chiquita (8a). His coach, Venezuelan Marco Jubes, made a fast ascent of Lahko noč Irena (8b).
And what about "local" climbers?
Croatian Marko Kalčič, just couple of days after succeeding in his first 8b+ ever, Chica Latina in summer sector of Buzetski kanjon, striked once more and fired Inglorious bastards, also 8b+, this time in sector Slap (Waterfall).
Katarina Rus was climbing in magnificent Val Rosandra in sector Strapiombi delle Vergini, where she redpointed Donna del sud (8a), while Jure Golob visited the really short, steep and bouldery sector above the village of Bagnoli, named Caprette, where he flashed one 8a.
In secret crag above Trieste, Baratro, Sebastian Castanetto climbed La Supercanna aka Il ritorno di Placcoman (8b+).
For sure we have missed some hard ascents, but with these strong climbers and prime conditions at the moment, it is really hard to follow. More news are about to come soon!