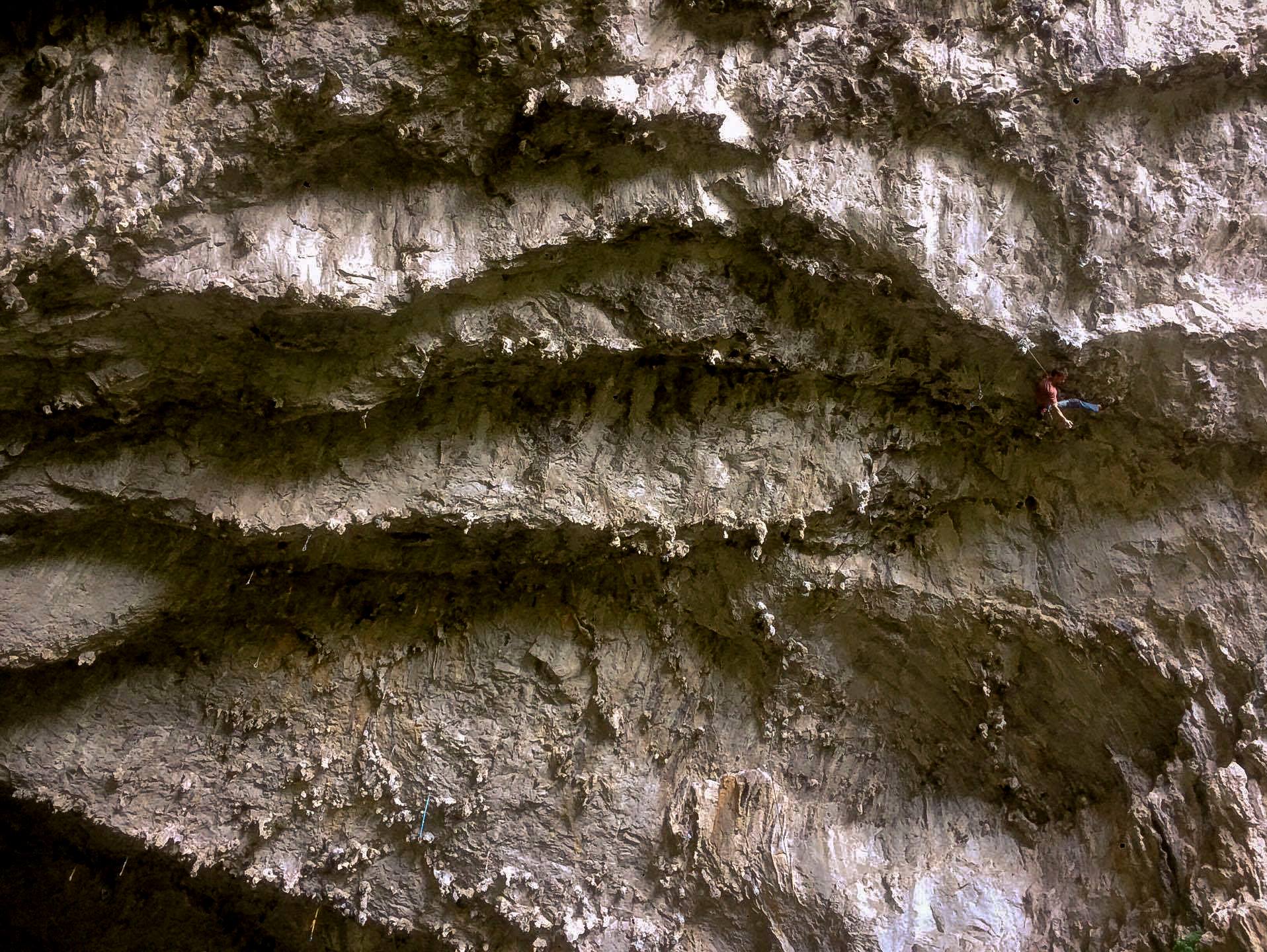 Personal records by Saša Vidmar and Peter Juvan
Peter Juvan on the rest after the first part of Active discharge (8b+) in the big cave of Osp @ photo by Maja Vidmar
Saša Vidmar clipped the chains of her first 8b, the route named Masochismo in the secret climbing area above Trieste, Baratro. Masochismo starts the same as Siddharta (8a+), has the same first crimpy and techy crux, then Siddharta turns to the right into the easier terrain while Masochismo continues directly in an overhang with another hard boulder. Bravo Saša!
Another personal best was achieved by cracks fascinated climber Peter Juvan, who redpointed his first 8b+, the Klemen Bečan's 55 meters long endurance monster Active discharge in the big cave of Osp. The route is characterized by first pumpy part graded as a soft 8a on big tufas, with OK rest in a full roof that is followed by two boulders with super long reaches on big stalactites. Afterwards you have just another 20 meters of steep climbing to reach the top. A big journey for sure! Well done Pero, let's go on!
Also in the big cave of Osp Jakob Bizjak crushed the connection between Helihopter v omaki (8a+ or 8b) and Osapska pošast (8c) now named Helihopter malo drugače for which he proposed a downgrade to 8b+. It is the third ascent of the route after Jernej Kruder and Benjamin Marjanovič. Just another 55 meters long masterpiece of the big cave in Osp!
Young, strong and fully motivated Jaka Šprah visited the cave of Osp as well, where he onsighted the first part of Osapska pošast (7c+) and fired Helihopter v omaki (8b).
It is getting hotter and hotter, the climbers are looking for the shade and cool temperatures in the caves like Skedenj and Baratro, even Grotta Caterina or Zarečki krov close to Pazin in the mornings, Portafortuna on the island Krk,…
Check the summer climbing areas in Istria here!
You can also go deep water soloing if you want, just click here!
Anyways, enjoy the summer as much as you can!