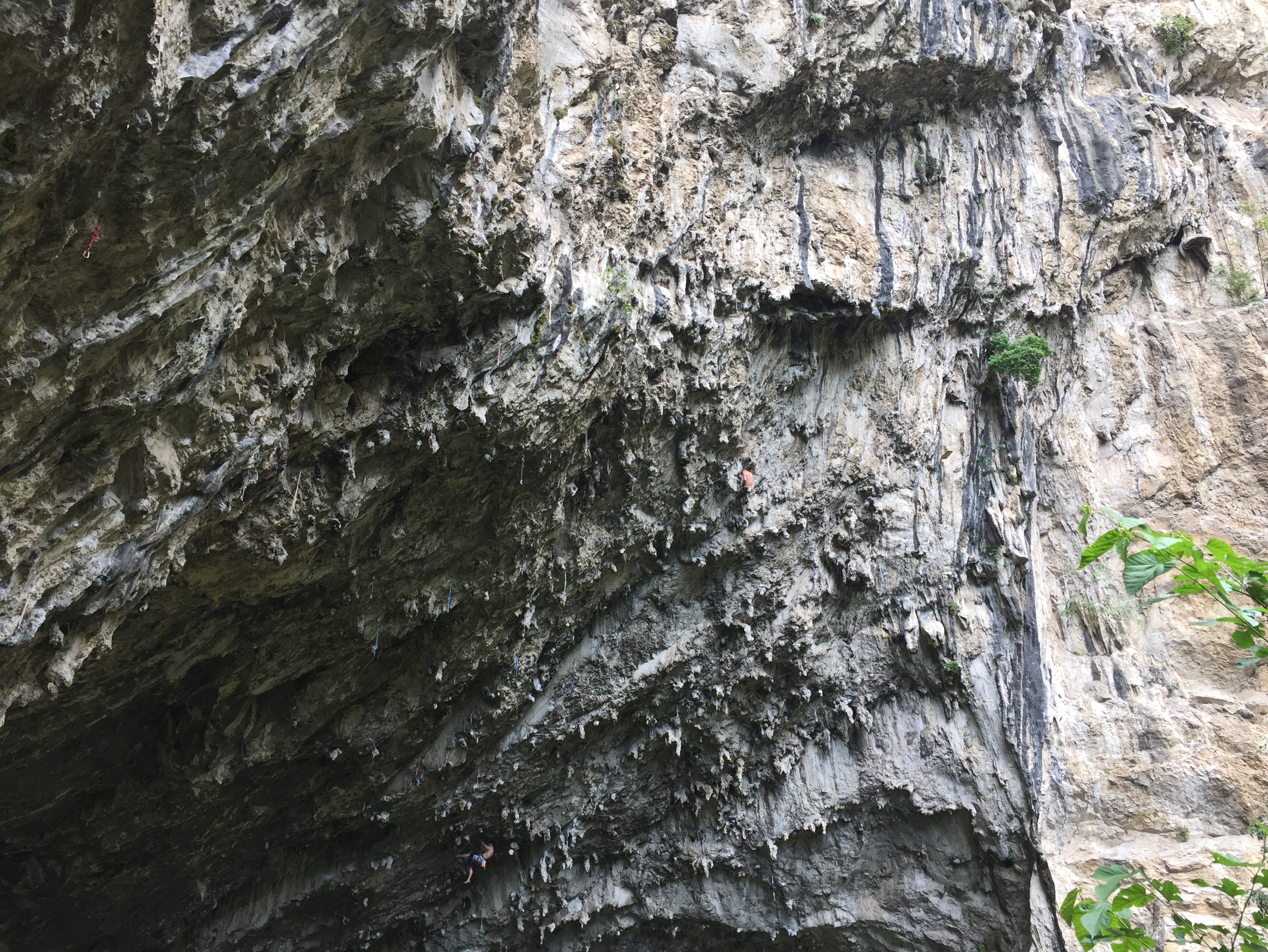 Luka Šorli climbed his 1st 8c, Osapska pošast
Photo @ Luka Šorli on the last big rest of Osapska pošast (8c) in the big cave of Osp
The biggest news from the last days comes from Luka Šorli who is in his lifetime shape. On Sunday, he crushed his first 8c, the 55 meters beast named Osapska pošast in the big cave of Osp. He tried it a bit already last year after succeeding in his first 8b+, Active discharge . Then he got super close already a week ago when he fell with a broken tufa in his hand just half a meter before the top. On Sunday, he was a bit under pressure not to mess it up again, but at the end the hard work payed off and he just cruised it. Bravo Luka!
Also in the big cave of Osp, another Luka, this time Luka Zazvonil made one of the rare repeats of one of the latest cave additions, Benjamin Marjanovič's route Leon (8b).
The most accomplished legend in woman sport climbing in Slovenia, Martina Čufar Potard, currently living in Chamonix (France) visited her family in Slovenia and made a short trip to Buzetski kanjon, more precisely to summer sector called Befana where in between wet stalactites easily onsighted the classic Favorit (7c) and made a fast repeat of a technical Befana Magica (8a). Hopefully she will return soon to Istria to visit some nice and new areas for her and crush some other classics.
Saša Vidmar was climbing in Mišja peč where she ticked the crimpy bouldery route Zajček (8a).
Family Sabina Sovinc and Franci Jensterle returned to Napoleonica to sector Mano di Fatima where Sabina did Il padrone assoluto (8a) and Frenk redpointed Sbisigando con l'orango (8b+). If we are right, this is the third ascent of this amazing route after FA by Sbisi and a repeat by Andrea Padoan.
Summer is on its way, temps are getting higher but you can still find some shady and fresh areas where you can climb »a muerte«! After the climbing, we strongly recommend you a jump in the fresh Adriatic Sea! 😀