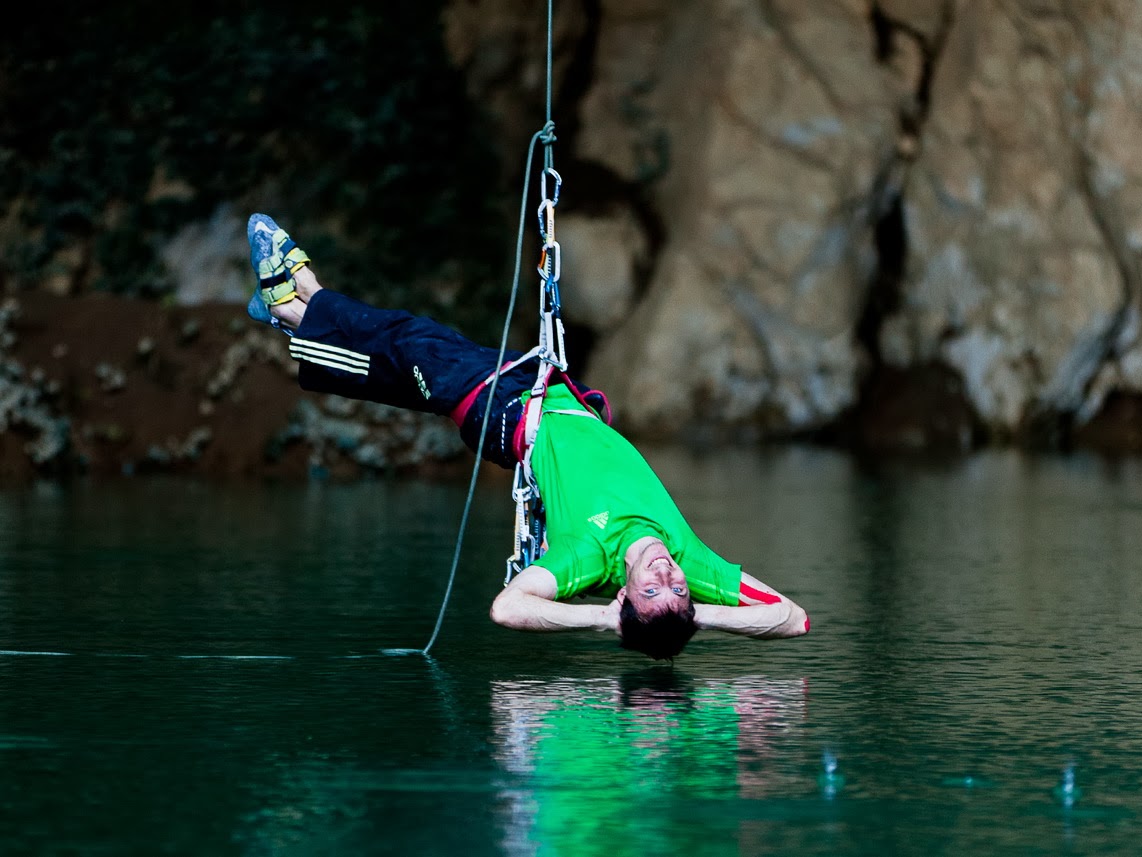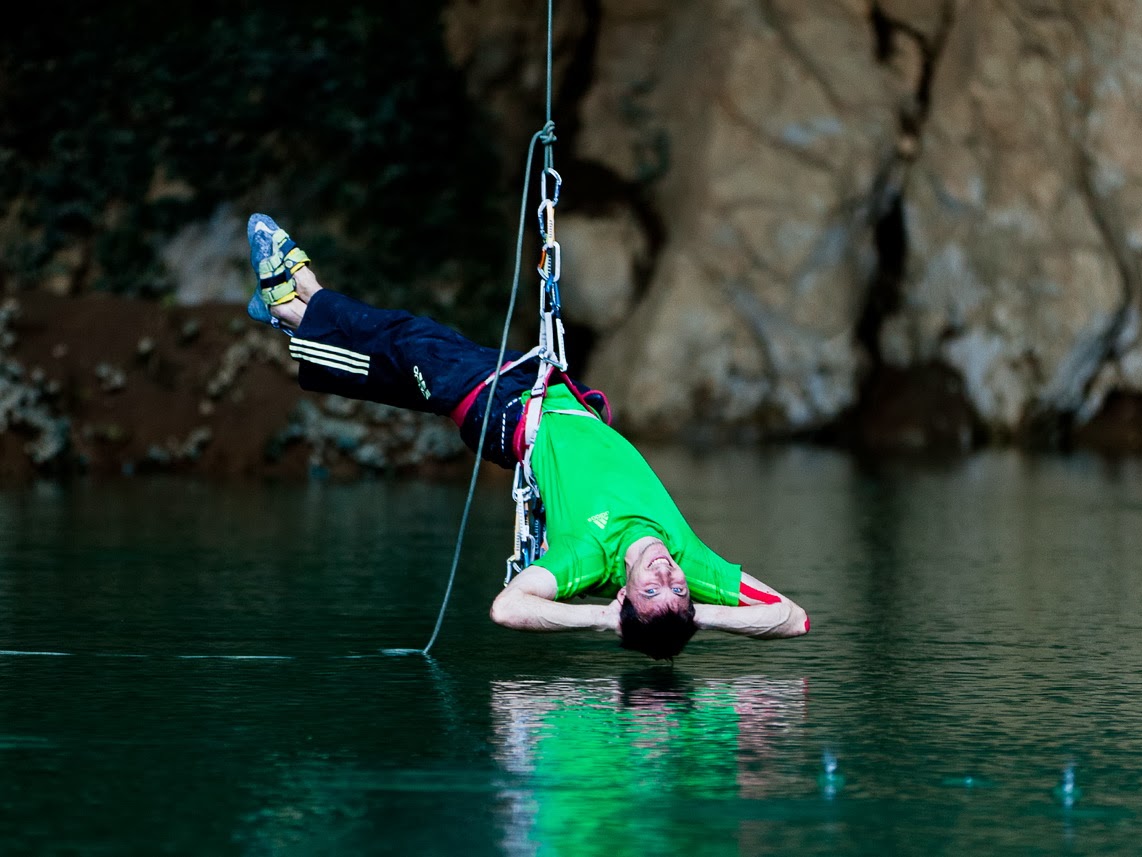 5 minute quickfire interview with Klemen Bečan
Klemen above the lake in the big cave of Osp @ Photo by Luka Fonda
We have prepared you an interesting 5 minute interview with one of the Slovenia's best rock climbers ever – Klemen Bečan. He is famous in the world of climbing as the first Slovenian male competitor who won in lead World cup competition, the first to onsight 8b, 8b+, 8c and 8c+ as well. He has also many 9a's under his belt and nowadays he is putting a lot of effort in equipping new routes all over the world – a true climber to admire!
Under the pressure of the time watch he had to answer very fast on as many short questions as possible.
ClimbIstria: OK, let's do it – action!
ClimbIstria (0min 3s): Three biggest achievements in your life?
Klemen: Siempre se puede hacer menos (8c+, FA) on sight in Chulilla, all the 9a's I did and the fact that I'm still climbing.
ClimbIstria (0min 19s): Best dinner after the whole day of climbing?
Klemen: Beer!
ClimbIstria (0min 24s): A week of ice climbing in the Dolomites or a two day bouldering trip to Cresciano?
Klemen: First to bouldering in Cresciano and after to ice climbing in the Dolomites 😉
ClimbIstria (0min 34s): What is the key to such a success of Slovenian climbers in the World cup?
Klemen: I have no idea. They are weird enough and they train a lot, hahaha.
ClimbIstria (0min 46s): Winning World cup, onsighting 9a or redpointing Dawn Wall in the El Capitan? What would mean more to you?
Klemen: Onsighting 9a.
ClimbIstria: Why?
Klemen: Because I like it.
ClimbIstria (1min 1s): What would you do in your life if all of a sudden gravity would be gone?
Klemen: I would be… (pause)… I would feel bad. That wouldn't be good. In fact, it would suck. I would hate everything together.
ClimbIstria (1min 15s): In which cultures you feel better? Asia, Middle East or USA? And why?
Klemen: In Asia no, hmm, Middle East, maybe, in USA … I don't know. Let's say USA.
ClimbIstria: Why?
Klemen: Hmmm, because I have cancelled other two.
ClimbIstria (1min 45s): Beer, wine or absinth?
Klemen (Anja, Klemen's girlfriend, in the back laughing): Absinth!
ClimbIstria (1min 54s): Porsche Carrera 911 Turbo or VW Transporter?
Klemen: Volkswagen Transporter 4
ClimbIstria (2min 3s): How many hours did you spend all together playing on your mobile phone Reel Racing 3?
Klemen: Around 5 hours?
Anja: Days, hahaha
Klemen: 500 hours :), hahaha
ClimbIstria: Wow, that seems a lot! How happy was Anja?
Klemen: Even happier than you can imagine :)!
Anja (sarcastically;): Yes, yes ;))), very happy.
ClimbIstria (2 min 29s): Your dog Barques is well known as one of the world's best climbing dogs. Which is his favorite crag and which he hates the most just because of the approach?
Klemen: He likes more the ones with the longer approach, so we can walk a bit more.
ClimbIstria: Which is his favorite climbing wall?
Klemen: The other day in Ariege he was really happy because he climbed till the second pitch without any problem. Hahaha
ClimbIstria (2min 53s): The most romantic crag you have visited with Anja?
Anja: Romantic?
Klemen: Leze (climbing area in the Basque country), the one with many artificial pockets 😉
Anja: ???
Klemen: The one where we have poisoned ourselves with the water, Leze!
Anja: Leze. Romantic?? Hahaha, what's wrong with you? ;))) Oh come on 😉
ClimbIstria: Any details?
Anja: Hahaha, come on!
Klemen: We have poisoned ourselves with the water, so Anja was shitting all the day around the crag. Hahaha
Anja: 🙁
ClimbIstria (3 min 17s): What's the perfect distance between the bolts in a moderate sport climbing area in your opinion?
Klemen: That much that you never hit the ground when you fall.
ClimbIstria (3min 28s): What are your short term and long term projects in climbing?
Klemen: Short term 9a onsight, long term 9a onsight 🙂
ClimbIstria (3min 41s): We know that you would like to have a climbing refugio with Anja. How would it look like and where would you like it to be situated?
Anja: One minute left! Hurry up!
Klemen: It should be located somewhere where there are many walls around with short approach and loooong routes. If possible with everything from boulders, sport climbing routes to long multipitch routes.
ClimbIstria: Anywhere in the world?
Anja: No.
Klemen (simultaneously): Yes… (pause)… only that it is in Spain, hahaha (both laughing)
Both: Doesn't matter where, only that it is Spain.
ClimbIstria (4min 14s): There are more and more people climbing only indoors nowadays. What are they missing in your opinion?
Klemen: They are missing climbing!
ClimbIstria (4min 25s): Which is your favorite climbing spot in Istria (Slovenia/Italy/Croatia) and which is your favorite route over there?
Klemen: Hmm, HC rules, the cave in Osp rules. Favorite route. Hmm, Žopa que te cagas (8a+ in Pandora).
Anja: Aaah ;)))
ClimbIstria: Great, time is up! 🙂 Thanks Klemen and keep crushing hard! 😀