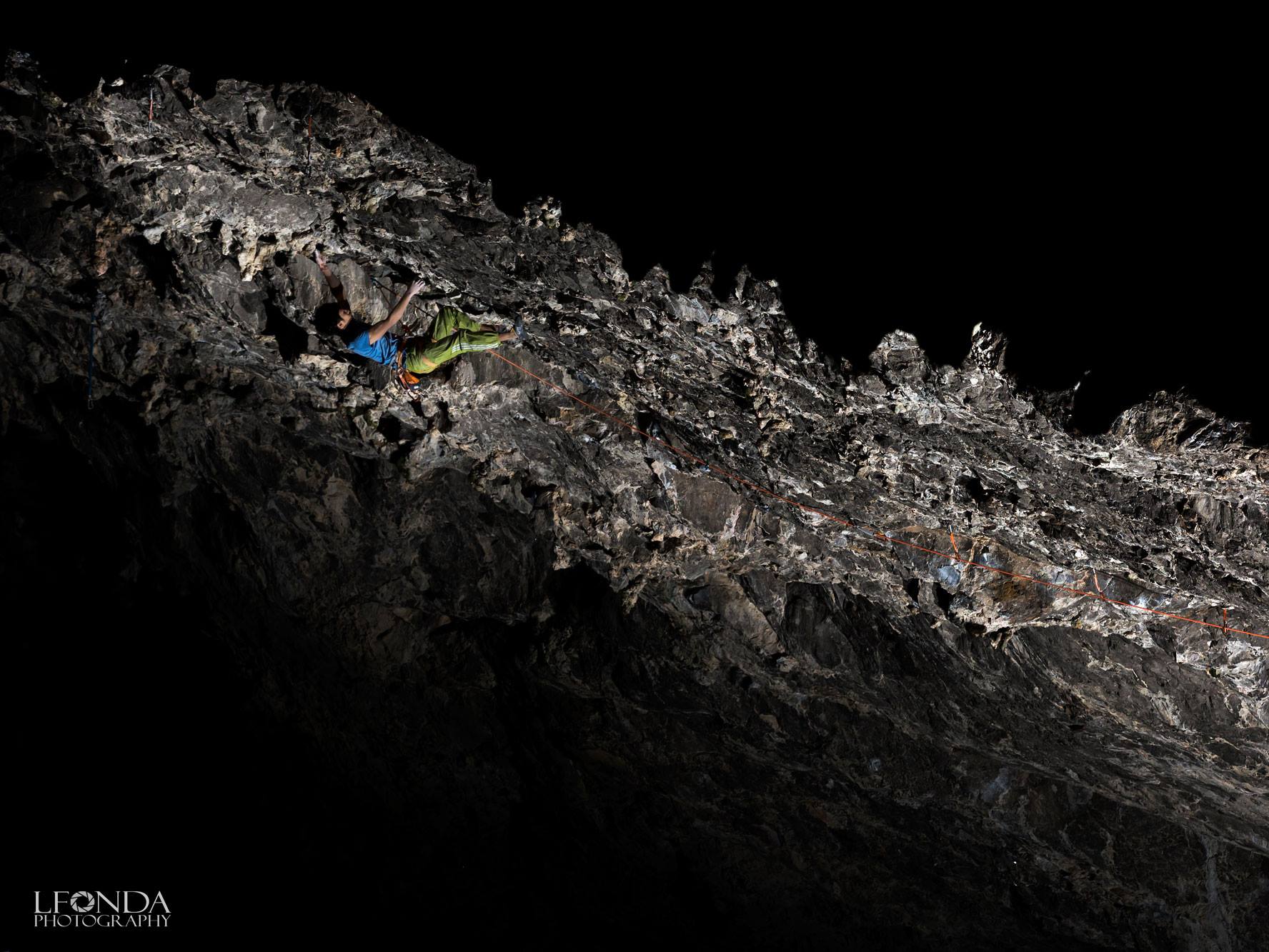 Sachi Amma and Waterworld 9a in the big Osp cave
Sachi Amma in Waterworld (9a) in the big cave of Osp @ Photo by Luka Fonda
Already last week Japan superstar climber Sachi Amma on his second day and 4th try in the route successfully clipped the chains of 55 meters long Waterworld (9a) in the big cave of Osp. That was the third repeat of this route after first ascent by Klemen Bečan and second by Domen Škofic last year. He commented the route as the best 9a ever!
Also in the big cave of Osp Piotr Schab from Poland onsighted Troja and Active discharge (both 8a). First part of Active discharge (8a) was flashed as well by Kuba Kovačik and Maciej Dobrzanski.
In Italian classic crag Napoleonica in the sector Mano di Fatima Mitja Peternelj redpointed Sacro e porfano (8b).
Mišja peč was really busy in the last days, there were many climbers from Checz republic, Slovakia, Poland, Italy, Slovenia,…
Kuba Kovačik climbed Kaj ti je deklica (8b+) and Marjetica (8b), Martin Jech redpointed totally artificial Marionetta (8b/b+) and Jan Zima executed in Mrtvaški ples (8b).
On the girls side, Gabriela Vrablikova did Sonce v očeh (8a+), Samsara and Giljotina (both 8a, both on her second go). Samsara (8a) was climbed as well by Lenka Slezakova. Local Italian girl Eva Scroccaro did a second go ascent of 40 meters long extension of Samsara with the name Izgubljeni sin (8a+), besides that she climbed Sonce v očeh (8a+) and Albanski konjak (8a).
Another young girl, this time Slovenian, Vita Lukan visited the very steep Pandora near Buzet in Croatia where in one day smashed Naytiri (8a) and Avatar (8b) both on her second go. Bravo Vita!
Another world cup star visited Istria, this time Jakob Schubert. First he visited Kompanj where he made the first repeat of All in, I'm out, 15 meters long route in the main sector first to the right of Rainini. It was bolted by Gerhard Hoerhager and freed last year by Klemen Bečan and graded as a hard 8c. Afterwards he visited Istarske toplice where he did the fully steep Caveman's playground (8c+). Later on he found out about the new developing crag under the village Roč named Rock n Roč, where he made the first repeat of Borna Čujič's fresh new route The time (8b+).
Today is a bit cloudy, cold and with some strong wind. From tomorrow on the sun will come back, it's going to be fresh with some chilly wind but with perfect friction! Let's rock! 😀