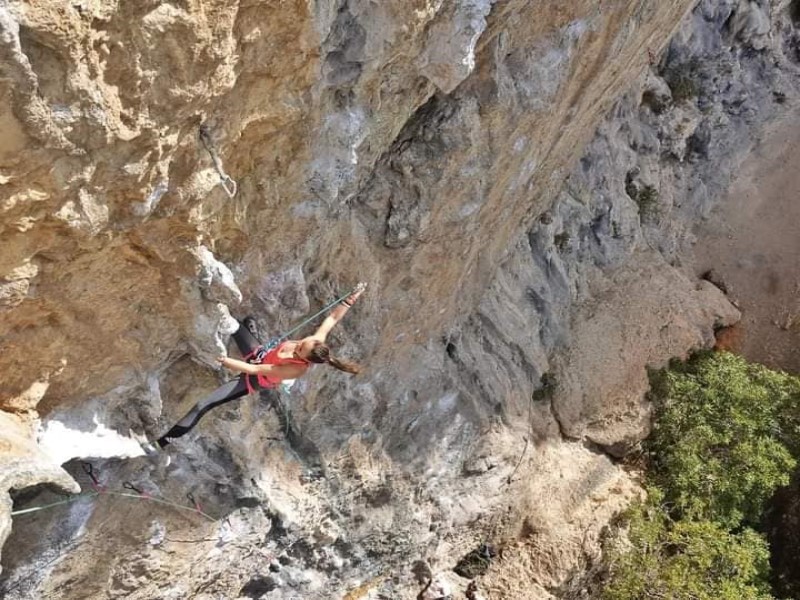 Sara Čopar climbs Histerija (8c+) in Mišja peč
photo @ Sara Čopar in Histerija (8c+) in Mišja peč
Histerija (8c+) is a 32 meters long route in the central part of Mišja peč. It starts with an easy slab followed by beautiful climbing on tufas to a good rest on about 15 meters. Then it goes on with a hard boulder on small pinches, crimps and undercuts to another OK rest. After comes the hardest boulder on very small edges and sideholds and a sustained, really pumpy finish on OK crimps. It was first ascended by Matej Sova back in 2004. Later it was done as well by Natalija Gros, Mina Markovič and Vita Lukan, so this is the 4th female ascent of Histerija (8c+). Big congrats to only 16 years old Sara for her hardest route yet.
Another young gun, Italian Paolo Sterni, crushed the powerful testpiece Konec mira (8c/c+) in the right part of Mišja peč in just a couple of tries.
Also in Mišja peč, Jakob Šparovec, showed his strength after a bouldering trip to Fontainebleau and Maltatal by doing fast ascent of Vizija (8c) and Sanje za dušo (8b+).
Our Slovakian friends, Ernest Piesta has done Marjetica (8b) while his girlfriend Lenka Micicova did Urbanova (8a) and Pingvin (8a), all in the same crag of Mišja peč.
A couple hundred meters to the left, above the village Osp, in the big cave Matteo Menardi crushed two really steep routes Leon (8b) and Working class hero, which is now considered as an 8b+/c. British Louis Jones redpointed on his 3rd go the amazing endurance testpiece Bitka s stalaktiti (8b).
The other day we have reported about Timotej Romšak's fast ascent of Scrat (8b+) in Pandora, but we forgot to mention his onsights of Avatar (8b) and Naytiri (8a).
In old school crag founded by the legend Maurizio Zanollo aka Manolo back in 1980's called Dvigrad in the centre of Croatian Istria, Matjaž Zorko succeeded in a day ascent of Otavarium (8b).
In Kompanj, Goran Matika bolted a new project, the extension of Rainini (8b).
The beautiful weather continues, so see you at the crags of Istria.