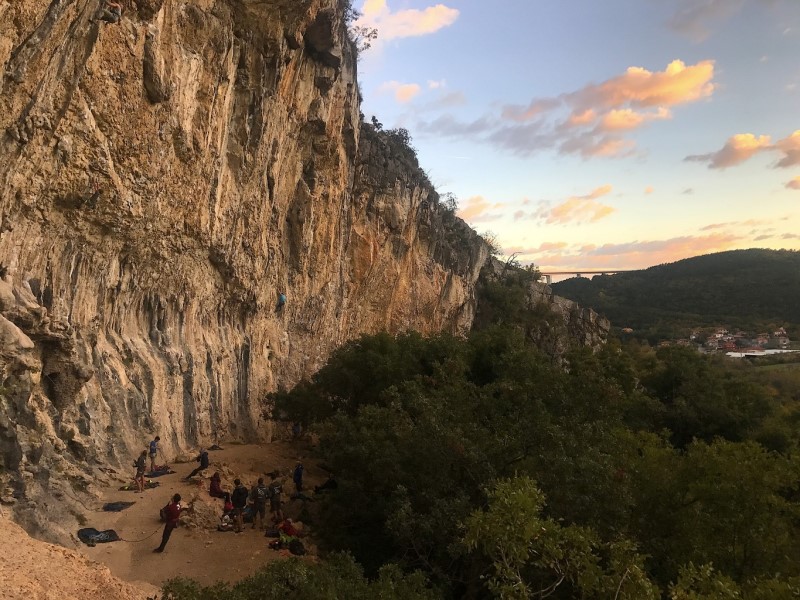 Sends from Istria
Photo @ Mišja peč
Last days in Istria were awesome. During the week it was nice but weekends were crowded as everybody escaped the fog, snow and cold in the cities around.
Rok Blagus did probably the longest route in Mišja peč, Bastilla (8b+). Bastilla was first ascended by Marko Lukič back in 1997. The first part Giljotina is a powerful 8a, then you have a no hand rest on an edge. The second part is a hard, crimpy and bouldery 8a+. After it waits another good rest and the hardest part of the route. At first it was done on the right side of the roof which was definitely much harder than the "new" left version found by Mauro Bole aka Bubo more than a decade ago, which consists of hard drop knees and just two hard moves on crimps to a good jug. From there on it is still lots of climbing and rope drag to reach the top of Mišja peč. One of the most remarkable onsights ever from Mišja peč is certainly David Lama's ascent of this beautiful and long climbing journey.
Italians, Matteo Menardi redpointed another long classic of the wall, Sreča vrtnice (8b) and Andrea Pustetto crushed also one amazing long route over there, crimpy Karizma (8b+).
Croatian Igor Čorko ticked Lucky Luke (8b) a while ago.
A bit shorter routes, but hard as well were climbed also. Miha Pančur solved his nemesis route, the powerful Mrtvaški ples (8b). The same route was also done by 17 years old girl from Czech republic Marketa Janosova, who also sent Corto (8a).
Luca Bacer is lately more in the bouldering mood, so he visited the garage size cave of Črnotiče where he squeezed King of the cave (FB8a). Check the video here!
Jakob Šparovec visited the winter climbing area Lijak above Nova Gorica where he flashed the amazing James Bond (8b). He climbed as well in Kompanj where besides all the "easier" routes he did the painfull Nussknacker (8b).
And a bit forgotten ascents, Nicolo Liva did L'amuleto (8b) in sector Strapiombi delle Vergini in scenic Val Rosandra after his first 8b redpoint in the same sector already in spring, Anek (8b).
18 years old Austrian, Cristoph Brauer fired three 8b's in Mišja peč: Mrtvaški ples, Marioneta and Marjetica.
Just a hint for the end. On Sunday there was fog in Mišja peč, Osp and close to the sea. In that case, visit Lijak near Nova Gorica or all the climbing areas in the inside of Croatian part of Istria like Kompanj, Pandora, Krkuž, Rock'n'Roč, Sunset rock and so on. Enjoy climbing!