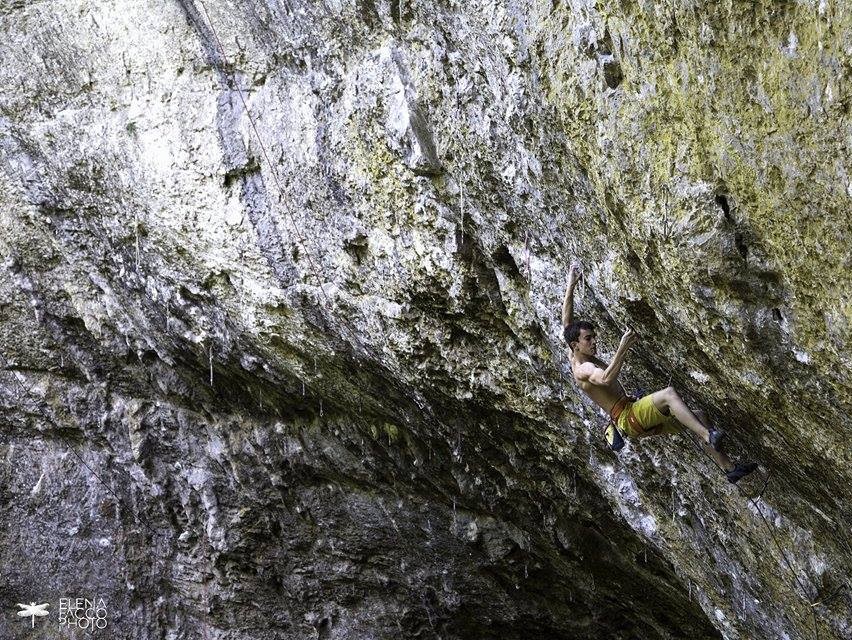 Sendtember in Istria
Luca Bacer in Le terme del musico (8c) in Baratro @ photo by Elena Facco
Lots of people would think that rain might have destroyed hard ascents in Istria but it was just the opposite.
Young and strong Trieste based local climber Luca Bacer succeeded in one of the rare ascents of Le terme del musico (8c) in Baratro. It is a direct start on super small crimps and poor footholds to join the classic Il musico (8b). It has to be noticed as well that in Il musico on the second crux one artificial hold fell off a couple of years ago, so it became a hard 8b without it. A couple of days later he proved his shape once more with the fast ascent of Helihopter v omaki (8b), super steep route in the big cave of Osp.
The same route was redpointed three days ago by restless Ana Senegačnik Kurnik. This was her second 8b, after the neighbouring marathon testpiece Bitka s stalaktiti.
On the Croatian side of Istria Goran Matika made the first repeat of Gianfranco Dušičs new route in sector Slap of Buzetski kanjon, the extremely overhanging Finta di mona (8b+).
The weekend doesn't look so promising, but you can always find some rain protected climbing area in Istria like Mišja peč, the big cave of Osp if it doesn't get flooded, the cave of Črnotiče, maybe Pandora as well, some routes in sector Pengari in Buzetski kanjon or Hallelujah caves in Istarske toplice and so on… Enjoy the Sendtember and keep crushing hard. 😀