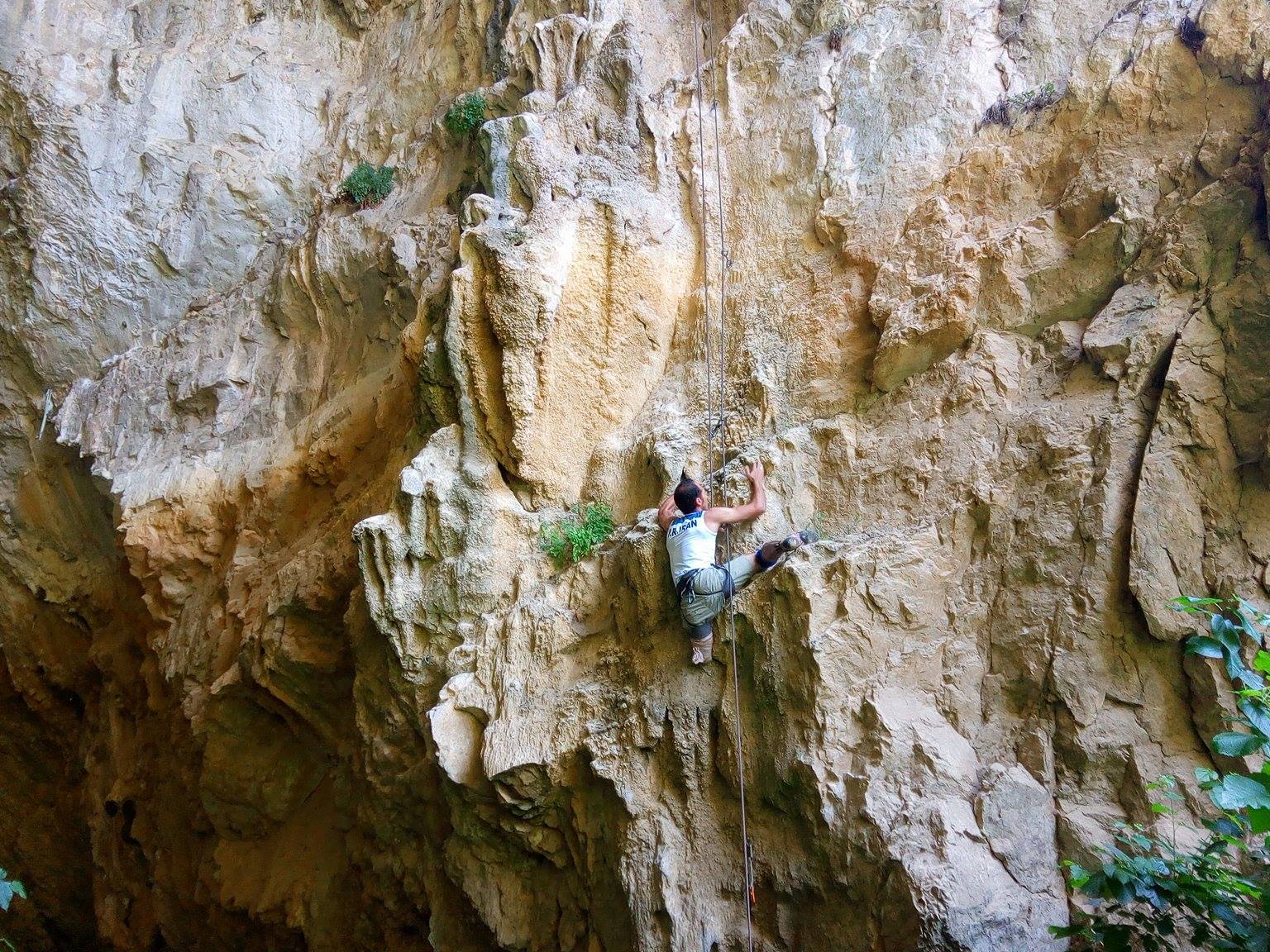 Summer in Istria
Hassan Mirzahosseini in Šatida Bagaba (6a+) in the cave of Osp @ photo by Klemen Bečan
The summer heat is fully on, the temps got higher than 30 degrees Celsius, but some climbers just can't resist climbing in the »fresh« climbing areas.
Klemen Bečan returned back to Slovenia, and immediately went to his home crag the big cave of Osp, where for training he repeated his classics like Bitka s stalaktiti (8b), Osapska pošast (8c) and so on. Just for fun he established a new combo route Insanity combinazion which starts in Secret project, does its first boulder, continue to the left passing the second anchor of Active discharge, the second anchor of Troja, passing Bitka, doing some hard parts of Osapska pošast, passing Waterworld to finish on the top of Leon. A really insane combination route that looks like it lasts for ever.
The UK climbing legend Gareth Parry came back to the cave of Osp where he redpointed the 55 meters long marathon route Bitka s stalaktiti (8b), which in Slovene means the battle with the stalactites. After he also onsighted the short and super steep Baram Baram (8a). Cheers, dude!
Probably the first climber with only one leg was climbing in the cave of Osp, Hassan Mirzahosseini from Iran. He lost his left leg 14 years ago because of cancer. In the cave he did Šatida Bagaba (6a+) and Rudolfo (5c) as a preparation for Paraclimbing Lead Cup next week in Briancon. Respect, man!
On the Croatian side of Istria, more precisely in the summer sector Befana in Buzetski kanjon, Gianfranco Dušić and Goran Matika repeated Vaška mafija after the hold broke on the crux in the first roof. Now the route got significantly harder, so they have proposed a new grade of 8b.
Looks like the summer heat will keep on burning at least until Monday, so if you don't prefer climbing in sauna, keep in mind that you can always go deep water soloing in a fresh blue Adriatic Sea!
Enjoy!