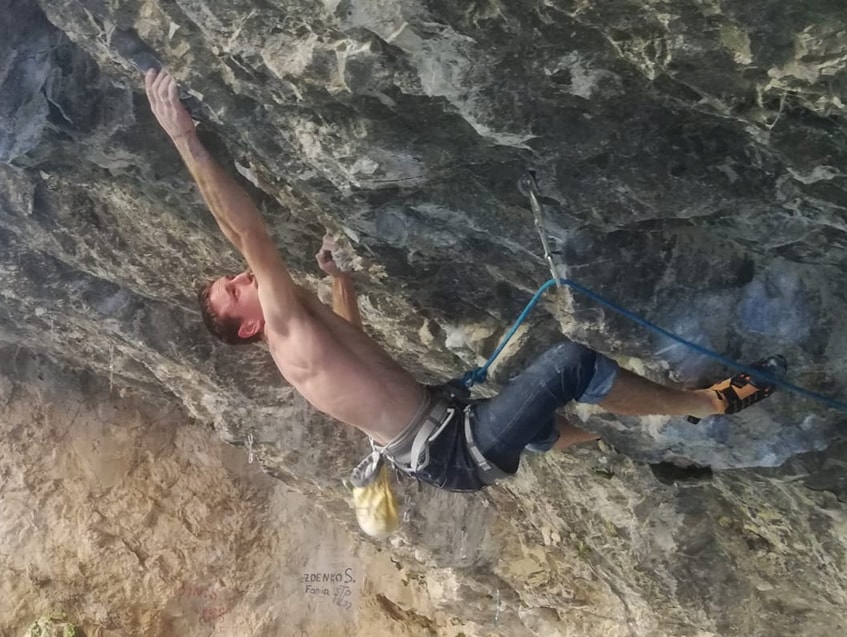 2x 9a in the big cave of Osp
Jakob Bizjak in Water world (9a) in the big cave of Osp @ photo by Klemen Bečan
The centre of hard redpoints last week was for sure the big cave of Osp. First Jernej Kruder climbed another 9a by clipping the anchor of Matej Sova's Halupca 1979 (9a). Then Jakob Bizjak crushed his first 9a ever with climbing Klemen Bečan's work of Water world (9a).
Now Slovenia counts already 12 climbers (10 male and 2 female) with the hardest redpoint route in the 9th grade.
1. Jure Golob
2. Uroš Perko
3. Matej Sova
4. Klemen Bečan
5. Domen Škofic
6. Jernej Kruder
7. Mina Markovič
8. Janja Garnbret
9. Gašper Pintar
10. Gregor Vezonik
11. Jaka Šprah
12. Jakob Bizjak
Not to forget, in Mišja peč, Vita Lukan redpointed Karizma (8b+) and Igor Primc ticked Strelovod (8c). Mina Markovič did the first female ascent of strangely nice Šunka (7c+).
In Kamena vrata, close to Buzet, the Croatian rockstar Nikola Kramarič made a quick ascent of short and powerful Bonsai (8b), another Klemen Bečan's gem.
Soon, some more news! Keep on crushing!