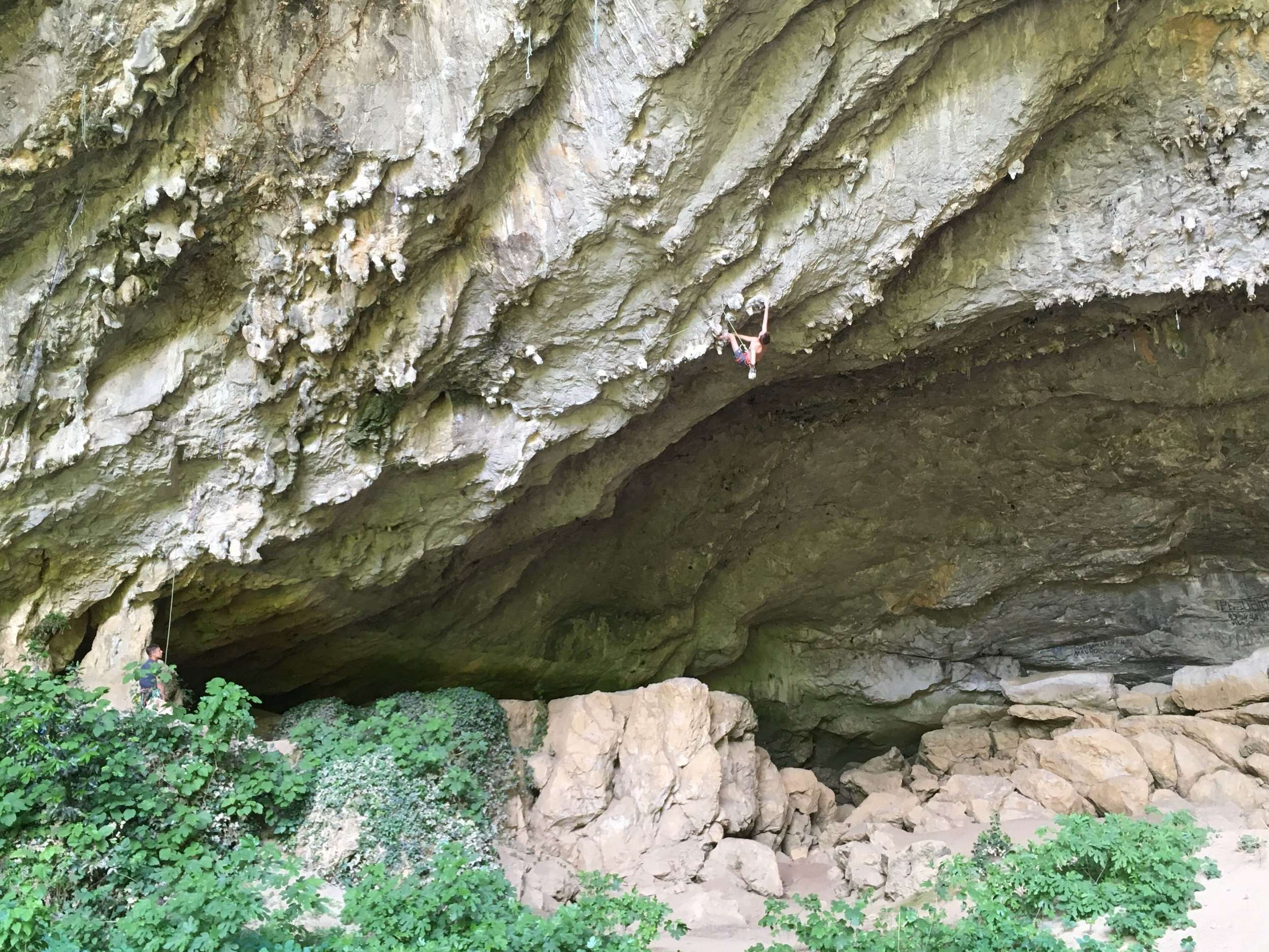 Many hard ascents around Istria
Photo @ Timotej Romšak onsighting Baram Baram (8a) in the big cave of Osp
Really many hard ascents were done in Istria in the last week. Let's check out the most important ones.
In the big cave of Osp, only 15 years old Timotej Romšak onsighted short and steep Baram Baram (8a). Baram Baram starts with "easy" climbing in a roof to a sketchy boulder and a pumpy finish, funny Klemen Bečan's route. A couple of days later in the same climbing area, female World Cup winners joined up in a team. So, Mina Markovič flashed Helikopter v omaki (8b) and Martina Čufar did the same route on her second go. Helikopter v omaki was bolted by Jurij Ravnik. It involves crazy but not hard climbing on tufas until you reach the crux, where you have to unlock the sequence of some bumpy moves on tufas followed by undercut and a long move to a jug. From there on it is just amazing endurance climbing on blobs in a big overhang until you reach the anchor in a full roof. Awesome journey!
Rajko Zajc visited Croatia. In Buzetski kanjon, in the summer sector called Befana he redpointed beautiful and quite soft for its grade route named Lap dance (8b).
On Italian side of the border, Luca Bacer clipped the chains of extremely overhanging Kalispera (8c) in Grotta Caterina. Some days earlier he crushed the artificial Gengiscan (8c) in the secret crag Baratro, above the Trieste bay.
We also got a long list of hard ticks done by young and strong Paolo Sterni before and after Corona virus quarantine. In Mišja peč he did Strelovod (8c) and in Napoleonica, in sector Mano di Fatima he smashed Sacro e profano (8b) on his second go. Just the list from Baratro is amazing as he succeded in: Bimba Iena (8c/c+), Gengiscan (8c), Attila (8c), Il sultano nero (8c), Le terme del musico (8c), Holocaust (8b+), Il musico (8b).
Wow guys and girls!
Soon, we will publish some news with many new first ascents in Istria. So, stay tuned!