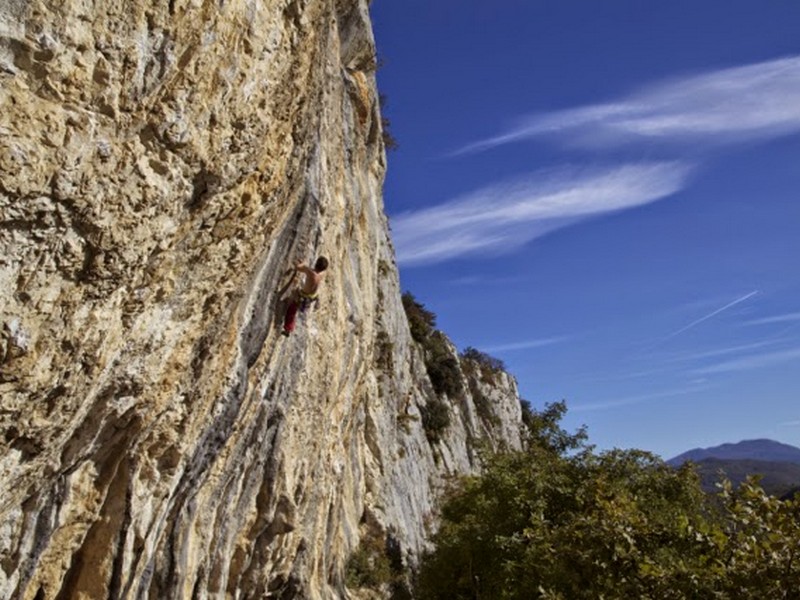 Another FA 8c in Istria by Klemen Bečan
photo @ Kompanj
Klemen Bečan really not tires from climbing. Looks like he is not taking rest days at all, since he's onsighting, bolting new routes, doing FAs, coaching on climbing camps and so on.
This time he was climbing on the left side of Kompanj, more specifically in sector Klobasi or Ghey team however you prefer. In between routes La dottrina di nappi Valentina (8a) and Hajvan (7c+) he smashed around 30 meters high project bolted by Gianfranco Dušič. It starts with the »broccoli« vertical wall on solid but extremely small and sharp crimps and goes to a full rest on a tufa underneath the roof. From here it follows up slightly to the right on OK undercuts but poor feet until the footholds disappear. Then you put your feet on nothing but poor friction and you move left in the grey slab where in the middle is the only hold. Fortunately, a big "jug", where you "rest" a bit, then you place your foot in the same handhold and stand up on no holds to reach good ones. Funny route, with poor holds, even worse footholds, hard transition and funky moves, blind slab,… A new challenge with the name Hangover party and a proposed grade of an 8c! For a redpoint Klemen needed one try this Saturday, one in September and one something like two years ago. More of his adventures on his blog!
Slovenian couple Boštjan Weingerl and Urša Florjančič moved from Ljubljana to Sežana to be closer to Mišja peč, where in the last days Urša executed in classic endurance technical testpiece Chiquita (8a) and her boyfriend Boštjan fired the longest route of Mišja peč, Millenium (8b+).
The weekend (especially Sunday) was not perfect with the weather at all. But in the next days, sun will dominate. Enjoy your climbing!