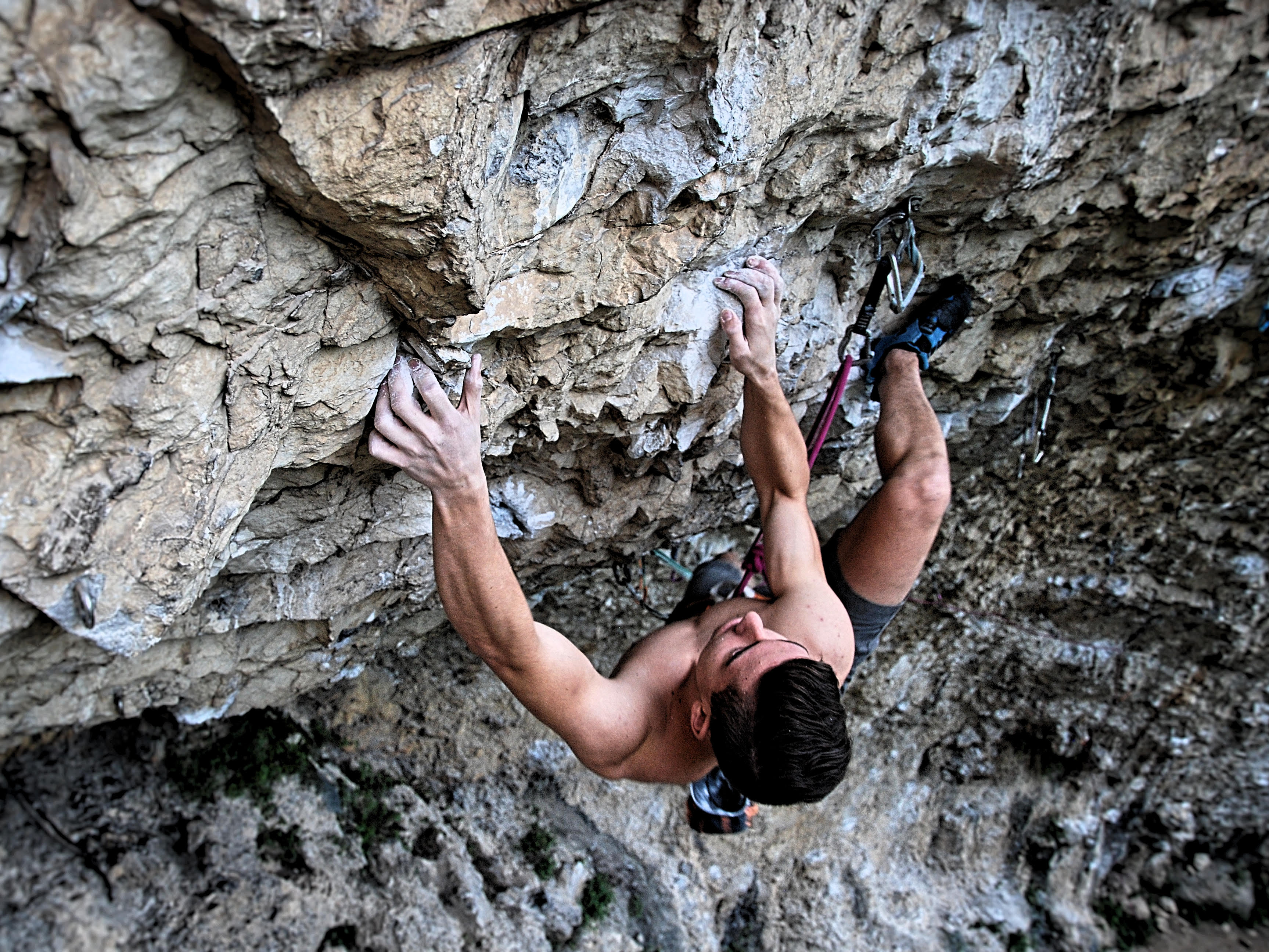 Nico Ferlitsch climbed his 1st 9a, Martin Krpan
photo @ Nico Ferlitsch in Martin Krpan (9a) in Mišja peč
On 28th of October 16 years old Austrian Nico Ferlitsch redpointed Martin Krpan (9a), the hardest route in the right part of Mišja peč. He tried it in winter, spring and after the summer he came back in October to finish it off. For a successful ascent he needed about 40 tries during this year. Martin Krpan can be considered as the most repeated 9a in Istria, it was a first 9a ever for climbing legends like Adam Ondra, Domen Škofic,…
The route starts with a not too hard boulder problem, then you come to a good rest by the second bolt (and the last good rest), then there is a power endurance section, which is in same time the first part of Strelovod. The first part is about 8a+, no rest and then you have pretty much the whole Konec Mira, which is about 8c including its crux. And from there on it means resisting the pump. It is pretty much an endurance testpiece around 60 moves long without any decent rest positions. This was Nico's first 9a and now he is already motivated for trying Halupca 1979, another 9a, in the big cave of Osp. Check the video of his successful ascent in Martin Krpan here!
Anything else? Of course, with so many climbers, many hard routes were done. Let's start with young girls crushing hard.
13 years old Slovenian Ema Seliškar flashed the first part of Active discharge (8a) in the big cave of Osp and redpointed Mozaik (7c+/8a) in Mišja peč. Her colleague, a year older, Lucija Tarkuš, fired Active discharge (8a) on her second go and redpointed Mozaik (7c+/8a) as well.
Also 14 years old Czech girls Michaela Smetanova and Tereza Širučkova visited Mišja peč where they both succeeded really fast in one of the worlds most repeated 8a's – Samsara.
Then 16 years old German Moritz Welt had a climbing holiday here where he proved that he is in fully shape. In Mišja peč he onsighted Corto (8a) and on a second go he smashed Marjetica (8b) in which he unluckily fell on the last hard move on his flash attempt. Besides that, he did Človek ne jezi se (8c+) in which he was a bit luckier as he did it first go to the top after clipping the chains of hard, fingery and techy first part with the grade of 8c. In the big cave of Osp he easily flashed the funny and super steep Baram Baram (8a).
Mark O from Italy climbed on his second try the powerfest Mrtvaški ples (8b) of Mišja peč.
Another interesting news comes from Ondrej Bina who broke a hold by the forth quickdraw in classic Sonce v očeh (8a+), anyways the grade still remains the same. In this legendary route in the last cca 25 years broke off three crucial holds, so the route changed quite a bit and got from a soft 8a+ to a real one.
Outside of Osp, Klemen Kejžar visited Medveja where he onsighted the endurance classic Venga vecchio (8a).
More to come in the next days for sure! Venga, a muerte! 😀