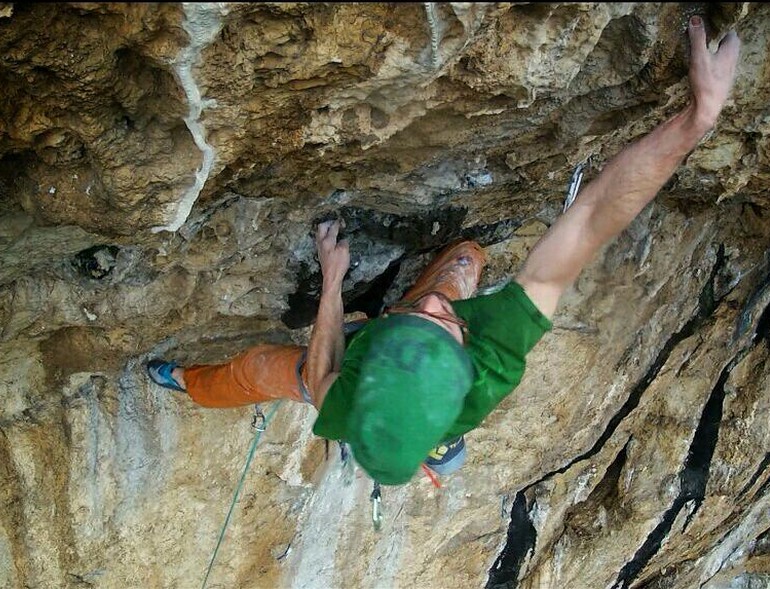 Bad weather and great redpoints in Mišja peč
Photo @ Daniel Jung's FB profile
This winter seems like the bad weather really doesn't want to go away. OK, the weekend now will be sunny again, but there is some rain coming back again next week.
But with the bad weather conditions and lots of motivation you can always find some dry climbing challenges in Mišja peč. Daniel Jung and Sylwia Buczek really didn't had the luck with the weather on their climbing holidays last week in Osp but anyways they've performed extremely well.
After Daniel smashed the hardest testpiece of Mišja peč – Xaxid hostel (9a), he dispatched really fast the amazing Histerija (8c+) before the holds got too wet. His beautiful girlfriend didn't want to be left unnoticed, so after fast ascents in Iglu and Corto (both 8a), she redpointed extremely bouldery and crimpy Eagles (8b). Well done guys, hope you return soon with better luck with the weather.
Also strong Slovenian local climber Jakob Šparovec visited Mišja peč where he did the short and artificial power endurance route Marioneta (8b).
Now get your ass in the car and drive to Istria to catch some sun and climb on the perfect limestone with your best friends.