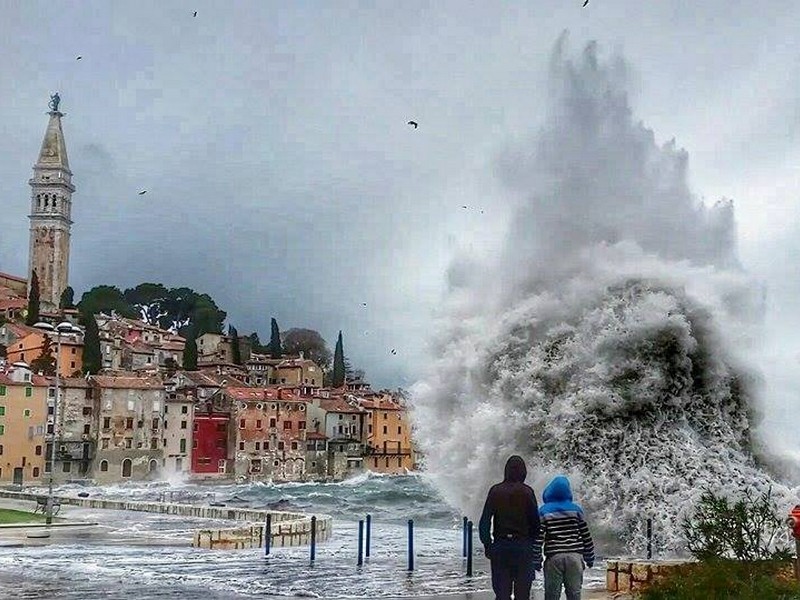 Xaxid hostel 9a climbed by Daniel Jung
Hurricane-force winds and destructive waves that rose up to ten meters on Wednesday around noon in just an hour destroyed the beautiful city of Rovinj. The storm left behind a real hubble-bubble. Rovinj's harbour, the streets around the central square and parking Valdibora that contained 200 cars looked unreal. More than a hundred vehicles powerful waves throw around and knocked into each other. Many offices around Valdibora are soaked in water and all the streets are covered with mud.
And in the climbing scene?
Daniel Jung, strong German climber with a proud ticklist including La Rambla (9a+) in Siurana (Spain) and many other 9a's, travelled to Istria for a climbing holiday. Due to the wet stalactites in Croatian Istria he came back to Mišja peč in Slovenia after his last visit 8 years ago. He tried Xaxid hostel (9a), the 40 meters long line in the central part of Mišja peč consistiting first 15 meters of around 8c+ (FB boulder 8b) and the top part of Ekstaza (8c+). The weather conditions last days were far from great but he used some windows of nice weather in between and quickly sent the route. This was the 5th ascent of the route after FA by Tomasz Mrazek back in 2009 and repeats by Adam Ondra, Domen Škofic and Lukasz Dudek. He confirmed it as a hard 9a.
His girlfriend Sylwia Buczek, a very strong boulderer, this time tided herself on a rope and quickly redpointed Iglu (8a).
Another news comes from Italian Napoleonica where Janez Miklavčič succeded in beautiful and technical masterpiece – Orcobaleno (8b).
And some nice news from Pandora as well: Igor Čorko – Deda glued the broken hold of Avatar back in it's place, so it made routes like Avatar (8b), Blob (8c) and Mule trail traverse (8b+) back possible. Thanks Deda, great job 😉
The weather forecast for the next days doesn't look too much promissing but concerning the temps being around 10 degrees Celsius during the day, with lots of motivation you can always find some dry rock to climb on. Enjoy!