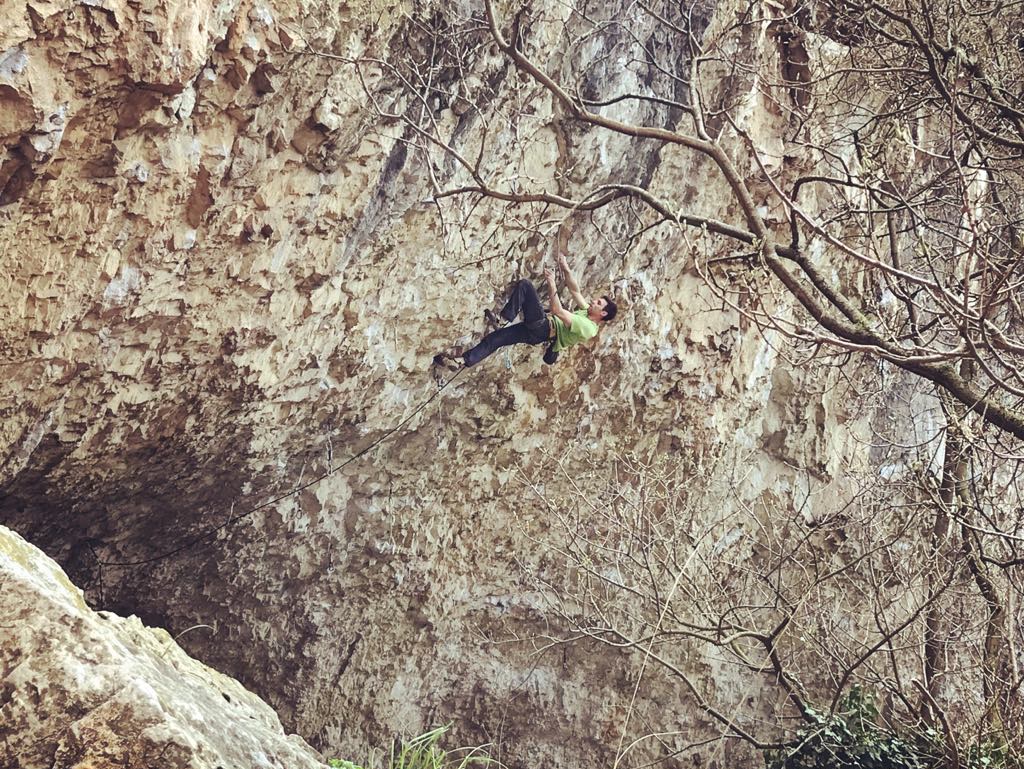 Boulderers tied in a rope
photo @ Miha Hribar in Missing link (8b+) in Mišja peč
Some days went by and extreme number of hard ascents were done on Istrian rocks.
Jakob Bizjak had an amazing day in Mišja peč. First, he did super steep Talk is cheap (8c) and shortly after the long beauty Karizma (8b+). Wow!
Another strong boulderer, Miha Hribar, tied himself on a rope after a long time and in two days of tries he managed to clip the chains of his first 8b+ ever, the mythic Missing link. Check video of his ascent here! Bravo, Miha!
Another rare ascent of short, bouldery and old-school 8b+, Pugacioff in Napoleonica was done by Luca Bacer. Thumbs up!
Our strong Slovakian friend Stefan Bednar climbed Ninja želva (8c) in the left part of Mišja peč. The extension of Tortuga (7b) was first ascended by Slovenian champion Janja Garnbret two years ago.
Klemen Novak had a great day in Mišja peč as well where he onsighted Uživancija (8a) and redpointed the artificial power endurance testpiece Marioneta (8b+). A couple of days later he also climbed on his third go the classic powerfest Missing link (8b+) in the right part of Mišja peč called "Freezer". Also, Jaka Šprah onsighted one 8a in Mišja peč, in his case Chiquita (8a).
Our beloved females showed their powers once again. Petra Zupan smashed the fast ascent of Oktoberfest (8a) in Mišja peč, young rising star Lucija Tarkuš did Corto (8a) in Mišja peč and Karies (8a+) in sector above the village of Osp in just a couple of tries. Karies (8a+) was done as well by Ana Ogrinc. Then German girl Frederike Forster dispatched the classic Samsara (8a). Young mama Katarina Kejžar fired her first 8a after the birth of her child, Adelante in sector Strapiombi di Vergini in picturesque Val Rosandra. The same route was onsighted by her brother, Klemen Kejžar.
The big cave of Osp is finally totally dry. Matic Obid used the good conditions and climbed his first 8b after a while, this time Jurij Ravnik's masterpiece Helihopter v omaki.
Some days earlier Domen Kolenko smashed Veper lady (8b), the hardest route of sector Babna in Osp and his first 8b ever.
In the Croatian part of Istria, Austrian Christoph Detschmann climbed the beautiful Rainini (8b) in Kompanj, although some crucial holds were wet.
Spring is here, nice warm temps, climbers are moving from sun in to the shade and many hard climbs are done on daily basis. More to come! We promise to keep you updated soon!
P.S. Just a hint! Jernej Kruder is today back in Mišja peč trying his small project directly after his first WC boulder win this weekend in Meiringen (CH). What an amazing show he did over there. Well deserved, Jernej! Respect!