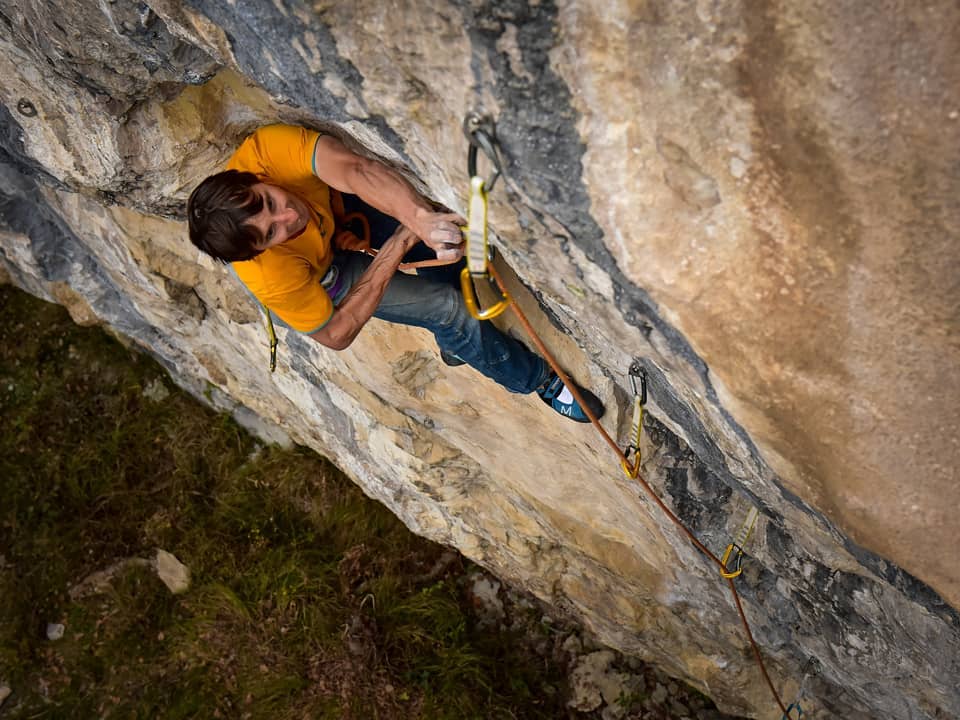 Climbing news from last week
Klemen Bečan making a first ascent of Napaka u systemu (8c) in HC @ photo by Anja Bečan
Let's start our week report from Istria with another first ascent made by Klemen Bečan. This time he fired short, vertical and bouldery Napaka u systemu (8c) in HC. HC or HardCore crag now counts 14 routes: 6b+ and 6c warm ups, one 7a, one 7a+, one 7b, one 7b+, one 7c and 7 routes in the 8th grade, plus a project called Esmeralda. Almost all the routes were bolted and first climbed by restless Klemen Bečan and most of them still waits for its first repeat. Thanks, dude!
In Kompanj, local climber Filip Kurtović climbed his hardest route, the beautiful Hard sun (8b+). In the same crag Czech climber, Vojtech Trojan climbed the hardest route over there, Klemen Bečan's All in, I'm out (8c+). He needed around 15 tries to clip the anchor of this amazing route. Besides that, he also flashed Domaće kobasice (8a) and did Nussknacker (8b) on his second go. He visited as well Pandora, where he ticked the super steep Es ist vollbracht (8b+).
In Mišja peč, Milan Preskar redpointed the powerful Talk is cheap (8c) and the endurance testpiece Sreča vrtnice (8b). His team mate Martin Bergant onsighted Iglu (8a), while Matjaž Zorko smashed Marjetica (8b) for the end of the day.
In Italy, in Napoleonica, Luca Bacer made a first ascent of a new route, now with the name La galina zota and a proposed grade of 8b. The route is located in the first sector above the road named Scudo. It starts the same as Wild wind (8a) and after first two bolts turns to the left. Now, also the direct start with a hard boulder is waiting for its first ascent.
More news to come in the next days, as the weather forecast looks great.