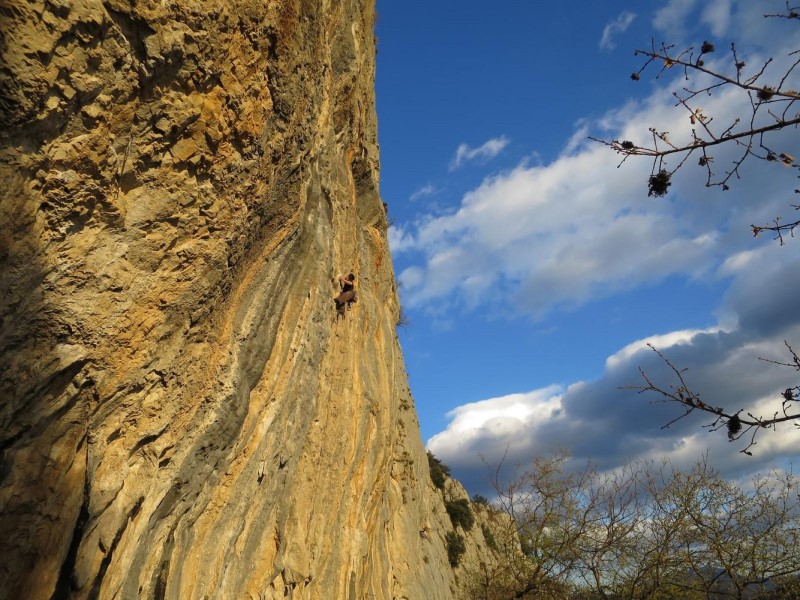 Great start of the year in Istria
Looks like the new year of 2022 started just great for all the climbers in Istria. First snow in the inlands and then many sunny days attracted climbers from all over to get our climbing areas even crowded somewhere.
It is hard to start what was climbed in the last days as there are so many hard sends from everywhere.
The hardest route was climbed by Spaniard Alex Ventajas who in succeeded in Martin Krpan (9a) in Mišja peč. It is the first 9a on Slovene ground and has seen already more then 20 ascents in 20 years. It was first ascended by Jure Golob in 2001 and is characterized as power endurance route with cca 8b start for 20+ moves direct into hard boulder on undercuts followed by another 20+ powerful moves to the top without any rest. Alex also easily flashed Corto (8a) on the other side of Mišja peč.
Slovene Matjaž Zorko crushed the long and juggy Helikopter v pošasti (8c) in the big cave of Osp. In the same cave just 17 years old Hungarian Valvy Gergo onsighted the cruxy Baram Baram (8a). In sector Babna above Osp he onsighted as well Zadnja skušnjava (8a) and did the hardest route over there Veper lady (8b). The same route was also done by father of two, German Martin Wagner. Robert Buh flashed the powerful RKC (8a) in the same sector.
A bit lower, in sector above the village of Osp called Banje Pole climber Kuba Kododziej ticked the bouldery Matičkov svet (8b) and in Mišja peč he redpointed the classic powerfest Mrtvaški ples (8b). Miha Pančur was successful once more, as he sent the beautiful and long Pikova dama (8b), which was redpointed as well by Dominik Fon.
Dominik also visited scenic Kompanj where on his second go joined the sent train in Hard sun (8b+) done as well by Jernej Kruder and Jakob Bizjak. On the female side, Sophie Dellinger from Germany fired the crimpy Narikača (8a).
Close to the old village of Roč, in very steep Rock'n'Roč, German Jakob Scheiter and Austrian Clemens Berger both flashed the soft Nairobi (8a).
In Istarske toplice, in sector Frat restless Gabriele Gorobey made a first ascent of Stargate with a humble proposed grade of 7c+.
Thumbs up to all of you!
As the weather forecast for the next days looks just great we will keep delivering you the news from the climbing scene over here, so stay tuned!