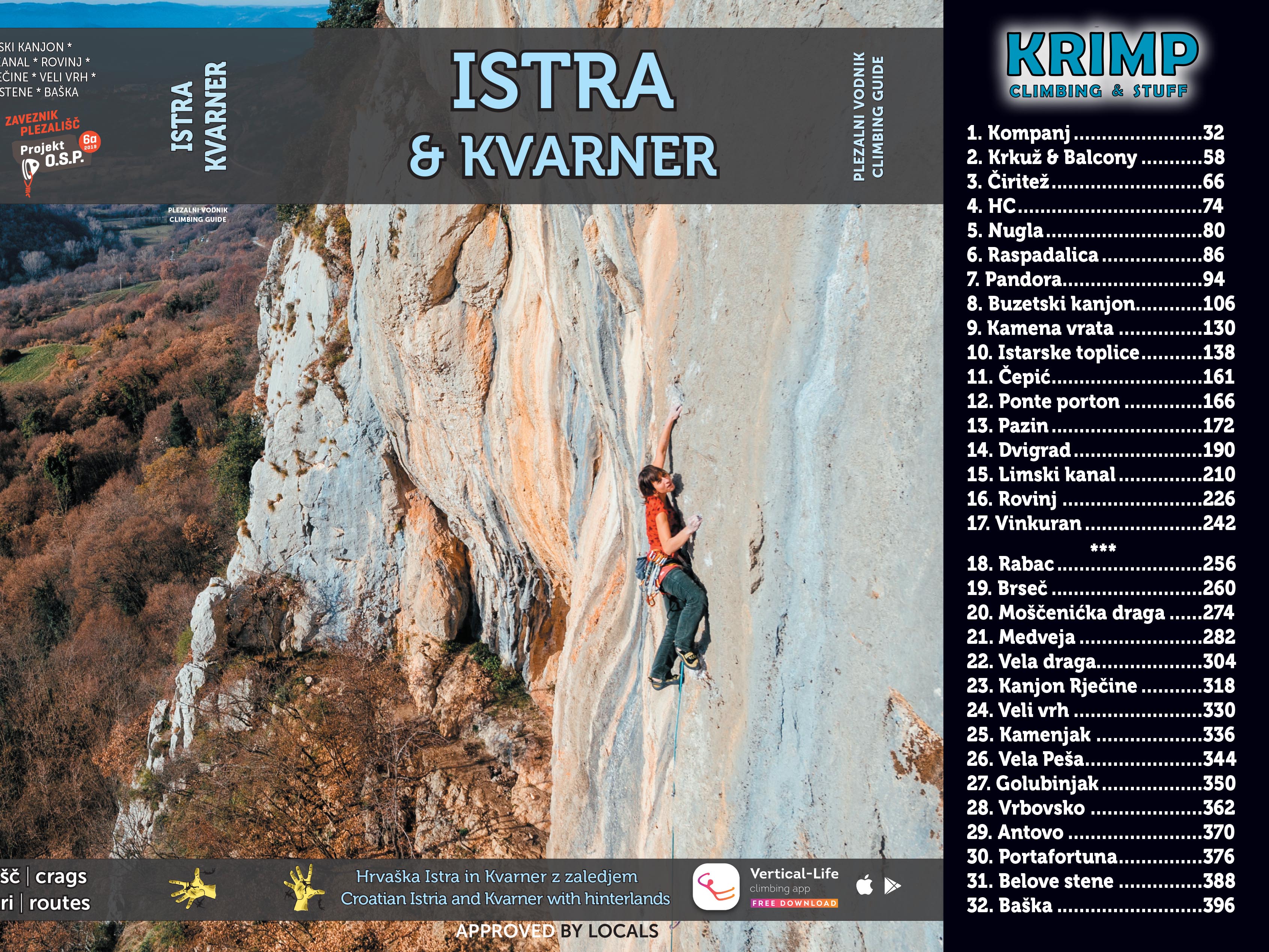 New guidebook for Istria & Kvarner
In October 2019, a new edition of guidebook for Istria and Kvarner was published. This time it's even larger and richer, with additional areas of Gorski Kotar and islands: Vela Peša, Golubinjak, Vrbovsko, Antovo, Portafortuna, Belove stene, Baška, with drawings for Lubenice, Babina, Osoršćica and Lukovo. As always, we try to make each edition better and more useful.
The new guidebook now has 36 crags and over 2000 routes. All other crags have been updated, freshly photographed and checked: Kompanj, Krkuž & Balcony, Čiritež, HC, Nugla, Raspadalica, Pandora, Buzetski kanjon, Kamena vrata, Istarske toplice, Čepić, Ponte Porton, Pazin, Dvigrad, Limski kanal, Rovinj, Vinkuran, Rabac, Brseč, Moščenićka draga, Medveja, Vela draga, Kanjon Rječine, Veli vrh and Kamenjak.
The guidebook now has a more durable cover with useful ribbon, which will come useful, as the book has grown to 464 pages. Anyone who feels the book is too heavy to carry under the crag, will surely appreciate that the price includes a free of charge Vertical Life app, with which you will get all the crags in the book on your mobile phone.
As you're already used by now, the guidebook precisely, informatively and with a pinch of humor covers all the crags in the region, with updated grades and lines of routes, out of which everyone is marked on photo topo, often from multiple angles. Guidebook combines panoramic-drone shots from afar with super practical DOFAP photos from under the wall, which is the situation you will see as a climber, seeking your route.
The book also has lots of informative texts about history, gastronomy and nature, along with climbing tips, interviews with prominent climbers and funny stories to pass the time. It's all completed by many great photos and ticklists of routes at the end. And let's not forget about the rest day section with tips what you should see and experience when you're not climbing.
The new layout will please people with poorer eyesight, as the fonts are much bigger, as well as the intro page and photo topos. The crag description has some useful icons, followed by overview of the weather conditions, style of climbing, comfort for children and safety and suitability of the crag with tips for different levels of climbers. Sometimes there's some space left for a historical tidbit or anecdote. All the routes on the photo topos are colour coded by grade for easier use.
The guidebook is trilingual, in Slovene, English and Croatian, with shorter translations to German, Italian and French. After just a few visits of the crags in the topo you surely won't regret, that you spent your hard-earned money for this most complete encyclopedia of climbing in Istria and wider. Big thanks also go to all current users of our topos, who with your support enable us to build this vision, to benefit climbers, the area and everyone who shares it.
More info at www.krimp.si