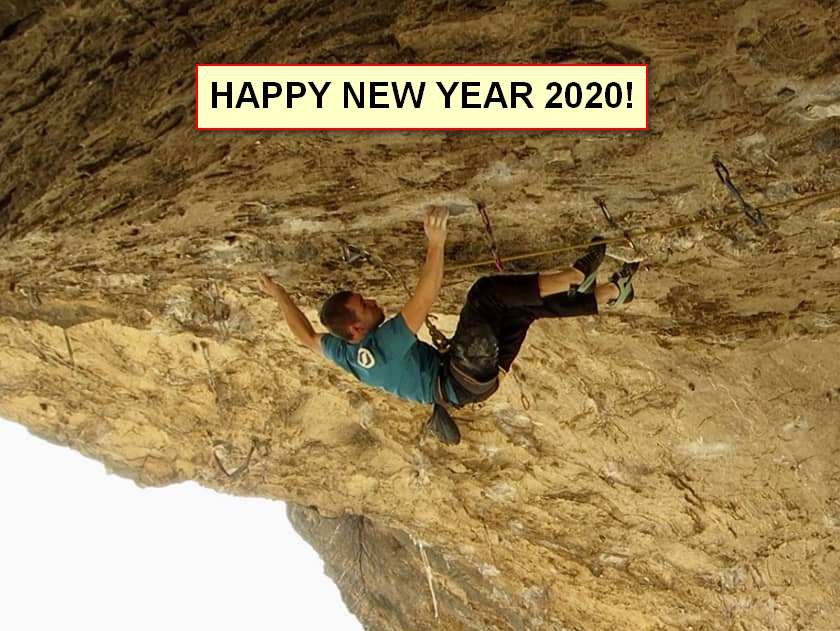 Happy new year 2020!
photo @ Martin Tekles in Sanjski par extension (9a) in Mišja peč
Happy new year 2020 to all of you climbers! We wish you a healthy and injury free year, full of prime conditions for climbing, with lots of sun. May it bring a bunch of hard onsights, flashes and redpoints.
In Istria Christmas and New Year passed with great conditions for climbing. Sun, clear skies and wind made it possible for many routes by many climbers to be ticked.
Let's start with the queen of Istrian climbing, Mišja peč in Slovenia, which was as usual the crowdies place where lots of hard redpoints and onsights were done.
The hardest redpoint was for sure the first 9a for German Martin Tekles, who did Sanjski par extension (9a). The route is located in Tedi's cave on the left side of Mišja peč and was first ascended by Slovenian Uroš Perko, back in 2003. This is the 14th ascent of this 20 meters long roof. Check the video of Stefan Bednar doing this route, here! Besides that, Martin also onsighted Corto (8a) and Iglu (8a) and redpointed Mrtvaški ples (8b).
On the female side, the hardest redpoint was done by Czech Gabriela Vrablikova who succeeded after 14 days of work in extension of Rodeo (7a), the route with the name Corrida (8c) in the central part of Mišja peč.
Then, Italian Davide Picco smashed the first part of Sanjski par (8c+), the long traverse of Tedi's cave Mr. Big hand (8b+), Mrtvaški ples (8b) and flashed Giljotina (8a).
The latest one was flashed also by Francesca Medici, which did as well Iglu (8a) and Mrtvaški ples (8b). Another Italian girl, Camilla Bendazolli climbed Čao bejbe (8a) on her second go and Giljotina (8a) as well.
Austrian Julia Fiser clipped the chains of her first 8b+ by doing the classic endurance pitch Kaj ti je deklica?. Besides that, she did as well the first part of Chiquita (8a) on her second go and Corto (8a).
Polish Daria Brylova succeeded in 8a classics like Samsara and Giljotina.
Jakob Greistorfer from nearby Graz in Austria redpointed two long 8b's in the middle part of Mišja peč, Gorenjski šnops and Sreča vrtnice.
Of course, also Swiss and French climbers were in Mišja peč. French Antoine Maire ticked the classic powerfest Mrtvaški ples (8b).
Szymon Lodzinski from Poland decided to avoid Mišja peč, so he visited the majestic big cave of Osp where he onsighted the first part of Active discharge (8a). In sector Babna above the village of Osp he smashed the hardest route over there, Veper lady (8b). Veper lady was also done by Slovenian Timotej Romšak.
In Croatia, in Medveja, our Swiss friend Nicola Vonarburg ticked the diverse Happy birthday (8b), as well as many others easier ones.
Close to the beautiful Rovinj, in climbing area Limski kanal, only 15 years old Czech girl Marketa Janosova onsighted Mrak (8a).
In the area of Buzet, in super steep Pandora, Robert Buh flashed Gerhard Hoerhager's classic, Naytiri (8a). The latest one was done also by Martina Harnisch, which in Kompanj redpointed the hard Domaće kobasice (8a), Granuille (8a) and flashed Yugo blast (8a). Strong Slovenian Jakob Bizjak did Gayline original (8b), which he thinks should be downgraded to 8a+.
Also World Cup superstar Mina Markovič decided to spend her New Years holidays after many years for the first time at home. She was climbing all around, doing many easier routes for a change and repeating hard classics.
So many routes were climbed in these days, we for sure forgot some. Anyways, congrats to you all!
The weather forecast for the next days looks amazing, so see you in the crag. Ciao!