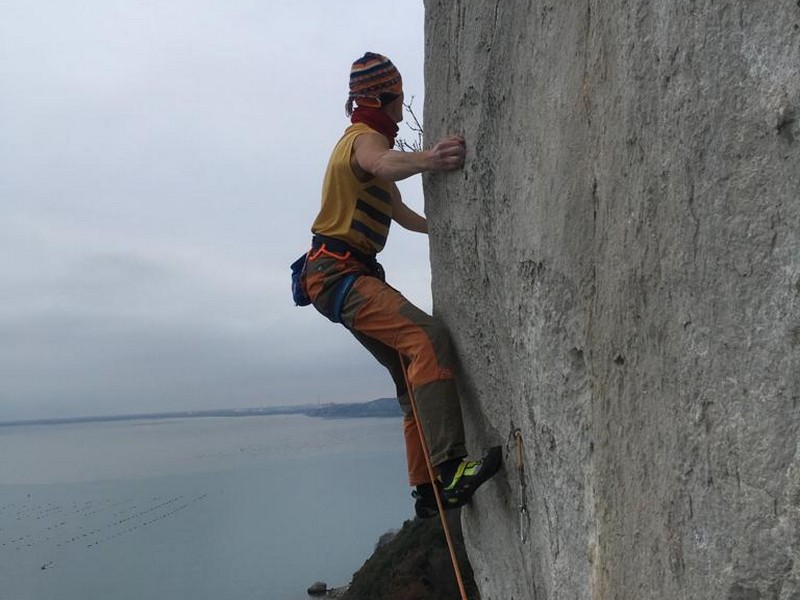 Repeated Mister Fantasy in Costiera
Benjamin Marjanovič in Mister Fantasy (8a) in Costiera @ photo by local Aldo Michelini
There was quite a bad weather everywhere in the last days or even weeks, so not many hard routes were climbed. But still, in Istria you can always find some dry rocks. Thankfully in the next days it will be only sunny, so the climbing is going to be great.
In Costiera, Benjamin Marjanovič made a rare repeat of Mister Fantasy (7b+), for which he proposed an upgrade to 8a. It is 40 meters long with a technical crux just under the chain.
In Mišja peč, Ukrainian Illya Bakhmet – Smolensky clipped the chains of crimpy Človek ne jezi se (8c). Then Jakob Bizjak fired super bouldery and rarely done Matrix (8b), while his girlfriend Petra Zupan smashed endurance testpiece Albanski konjak (8a).
In Osp, in sector Babna, Miha Hribar redpointed it's hardest route there, Veper lady (8b).
With nice weather forecast for the next days and good conditions for climbing many news will follow, so stay updated.
Merry Christmas and happy new year!