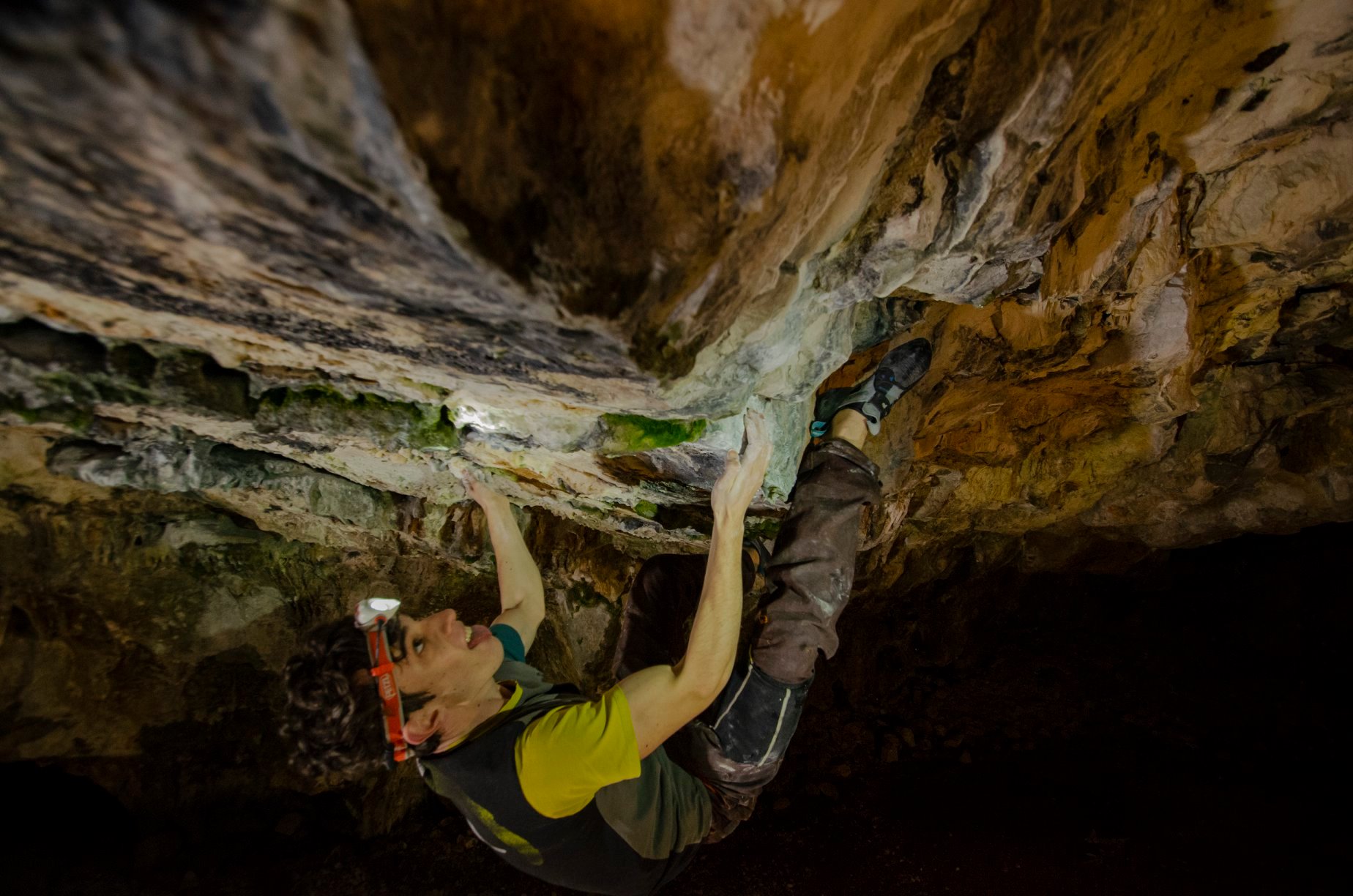 Luca Bacer crushes Intensive (FB8a) in Črnotiče
photo@Luca Bacer in Intensive (FB8a) in Črnotiče
Trieste based local climber Luca Bacer crushes Intensive (FB8a) in Črnotiče. He crushed the sit start to Less intensive (FB7c) on a night session between his studies for university exams. Link to the video of his ascent!
In the same garage sized cave in Črnotiče, Gregor Šeliga bolted a new project that starts in Gibanica (7c+) and then goes to the left. This new addition in the big roof will weight around 8b+ by Šeli's words.
Last weekend Mišja peč was visited by Slovenian youth climbing team who smashed a big number of hard routes. Let's mention Timotej Romšak who redpointed classics like Mrtvaški ples (8b) and Lahko noč Irena (8a+). Lahko noč Irena used to be 8b until a hold broke in the upper part and suddenly a new juggy undercut showed up in the second crux, which of course made it a lot easier than before.
Another Italian, Davide Gaeta climbed the beautiful Karizma (8b+) in the central part of Mišja peč. This route was first ascended by Luka Zazvonil in the beginning of the 3rd millenium. It caused many controversies as Luka drilled some artificial holds. Anyways, this king line was later done for example by strong Martina Čufar on her second go and she was also thinking about downgrading it. Today it is well confirmed as a hard, but beautiful 8b+.
In Croatia, in Kompanj, Goran Matika used his good shape after climbing holidays in Margalef, Spain. He smashed the super steep and hard Sould kitchen (8b) in the cave on the far-right side of Kompanj.
In Italy, in Napoleonica, in sector Mano di Fatima, orthoped, father and a good climber, Benjamin Marjanovič climbed Sacro e profano (8b).
With good conditions for climbing many hard routes are climbed on daily basis. Tomorrow it should rain a bit, but then the sun will come out and hopefully stay for long. So, stay tuned!