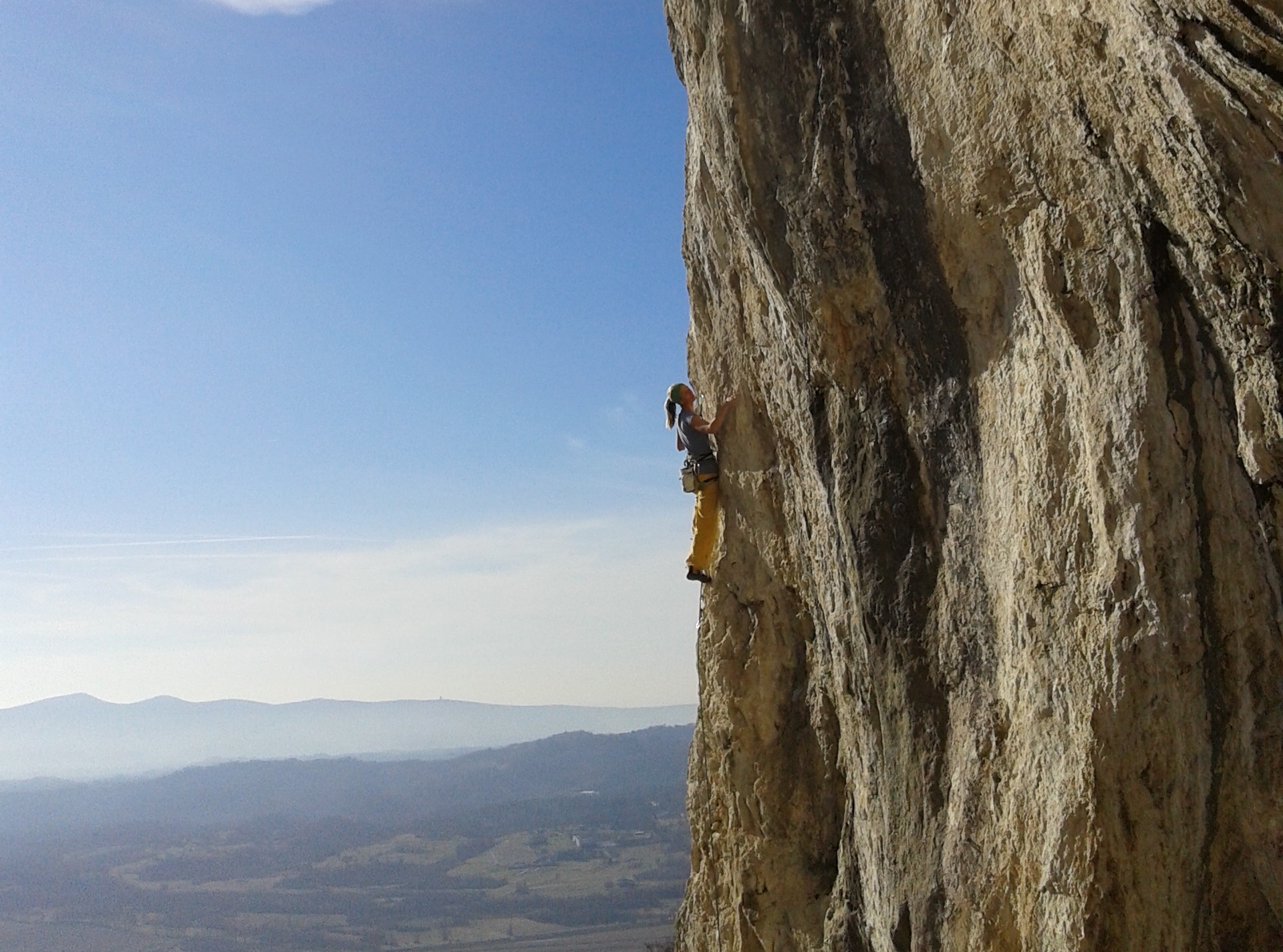 Jernej Kruder: 8c FA & 8b and 8a OS
Photo @ the view from Lijak
Dear climbers, it seems that the ray of light towards the freedom of allowed climbing outdoors has shined. As far as we understand the Slovenian government proceedings, Thursday the 16th of April's news state that outdoor sports where personal contacts can be avoided and safety precautions followed, are again allowed. But still leaving the municipality where you have your residence is not permitted, so it seems mostly locals can profit from this novelty.
We still have some news from the times before this unusual era when Jernej Kruder showed up in a beautiful winter crag near Nova Gorica, named Lijak.
First day he onsighted Venezia (8a), followed by another on sight of beauty called James Bond (8b). On a third visit of Lijak, he made a first ascent of Uroš Brecelj's project second to the right of James Bond (8b). The new route now has a name Puščavski pesek and a proposed grade of 8c.
Jernej is at home these days, doing very noble society help for a charity organization, training, having fun and he was gladly up to answering three short questions.
Hey Jernej! First of all, congrats to get back in shape so fast after broken arm and of course for your amazing ticklist from Lijak.
Can you tell us a bit more about your experience over there?
I had 3 visits to Lijak. Probably my first one was by far the best, when I on sighted Venezia (8a) right after the 6b+ warm up. That was my first hard on sight after the surgery, and even though it felt easy for me, I was happy to be back in the game. No much expectations after Venezia (8a), I gave James Bond (8b) an on sight try. Not used to on sight climbing much, I pulled all my experiences of climbing out and found myself on the top. Same day I tried the new project on the right and found a good bouldery beta. Unfortunately, I was too tired to climb it that day. The next visit wasn't too promising either. Strong wind aka "burja" and cold temperatures knocked me off right after the crux.
I wasn't too sad about it, because I like to come back to such beautiful places. On the third day the conditions were perfect, so there was no much struggle after the crux this time. I finished the day topping the new route that Igor Primc just climbed (same start, right finish). We agreed that it's slightly easier than James Bond, so probably around 8a+. Successful on Venezia (8a) were also sister Julija and Igor, both flash.
How come you got so fast back in shape after the injury? What have you been doing?
I love climbing and that's the first step to come back to an old track. I had to ignore the pain that I have because of the screws and that's pretty much it.
Now this coronavirus! Probably you are bored at home, doing some stretching, pull-ups, hangboard,…? How are you spending time?
Yeah, I do some dead hags on my balcony, but you know – it's not the same 🙂
Thanks, Jernej! I hope that we meet in some crag really soon!