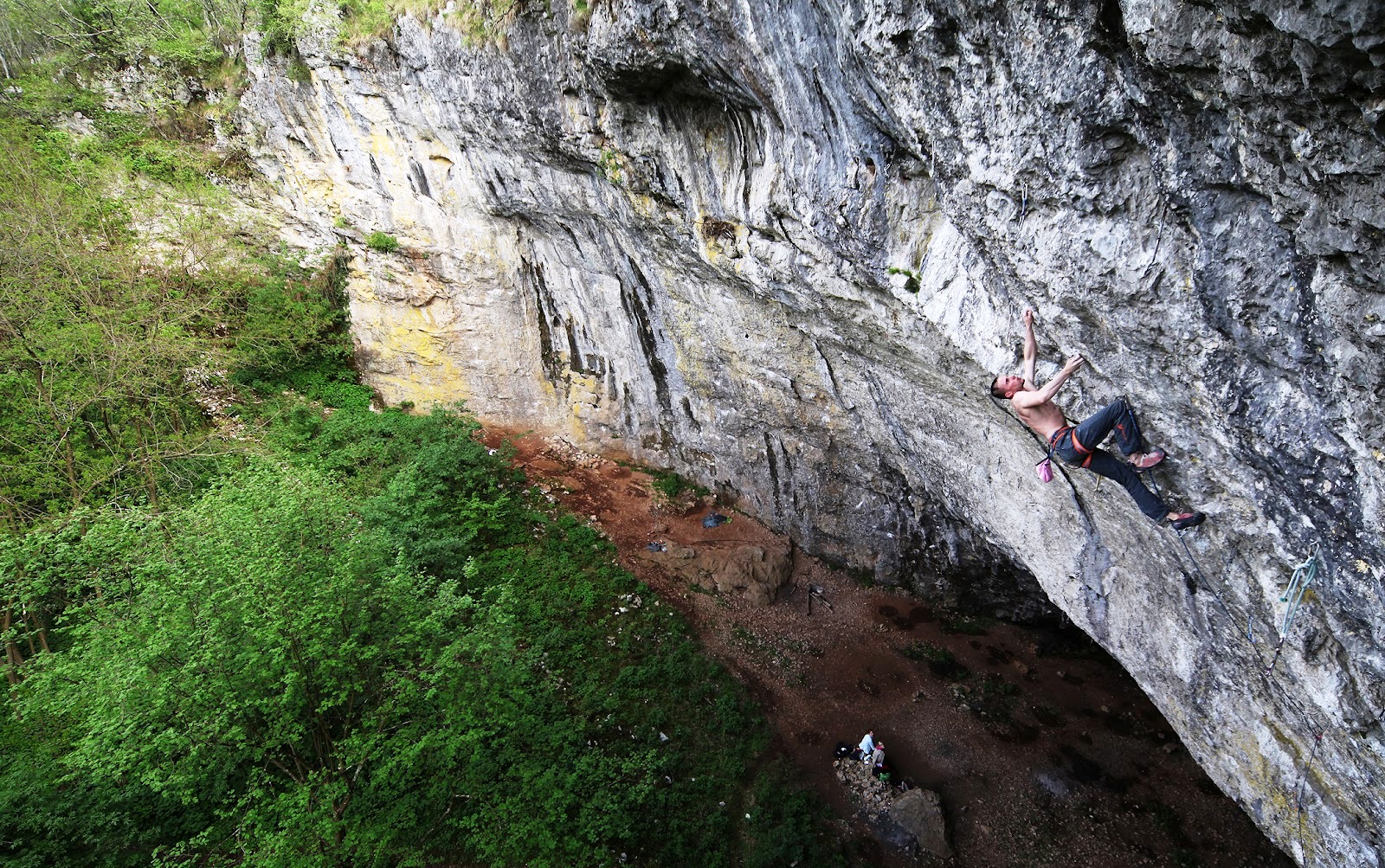 Kruder fires Attila (8c/c+) in secret crag Baratro
Jernej Kruder in Baratro @ photo by Luka Fonda
Jernej Kruder returned from the World bouldering cup in Innsbruck this weekend where he despite looking strong in semifinals, unfortunately finished his competition without participating in the finals again. But the next day he was already in Baratro, summer secret crag near Trieste, where in rather bad and humid conditions redpointed the power endurance challenge Attila (8c/c+).
Attila was bolted and manufactured by Dino Sturman more than a decade ago. It involves a hard start on sika edges followed by some sloppy pinches in a big overhang for about 15 meters. It was first ascended by Swiss competitor and base jumper Simon Wandeler. In 2008 Matej Sova climbed it to the top of the wall by joining it in the upper part of Il sicario sanguinario (8c), which makes it Attila lunga (8c+). Interesting as well, Attila lunga is the hardest route redpointed by now retired Slovenian female competitor, Maja Vidmar back in 2009, which was the first repeat of the route. The only repeat later was done by Rocco Romano.
Attila, frequently referred to as Attila the Hun, was the ruler of the Huns from 434 until his death in March 453. Attila was a leader of the Hunnic Empire, a tribal confederation consisting of Huns, Ostrogoths, and Alans among others, on the territory of Central and Eastern Europe. During his reign, he was one of the most feared enemies of the Western and Eastern Roman Empires.
In the same crag, couple of days ago young Martin Bergant climbed La supercanna aka Il ritorno di Placcoman (8b+).
On the other side of Istria, more specific in the winter secret crag of Medveja, sector Knezgrad, Matej Sova used some last days before the heat, to climb the beautiful and long Colpo di Fulmine (8b+).
Also the summer secret crag near Sežana, Skedenj, should be dry at the moment.
Secret climbing areas are "secret" because of the private property, problems with not sufficient parking places, approaches leading through private property and so on. There were no guidebooks for this climbing areas published and they will never be, because of this issues. But this doesn't mean you can't visit this interesting climbing areas, try to ask the local climbers and they will happily take you over there. Enjoy!