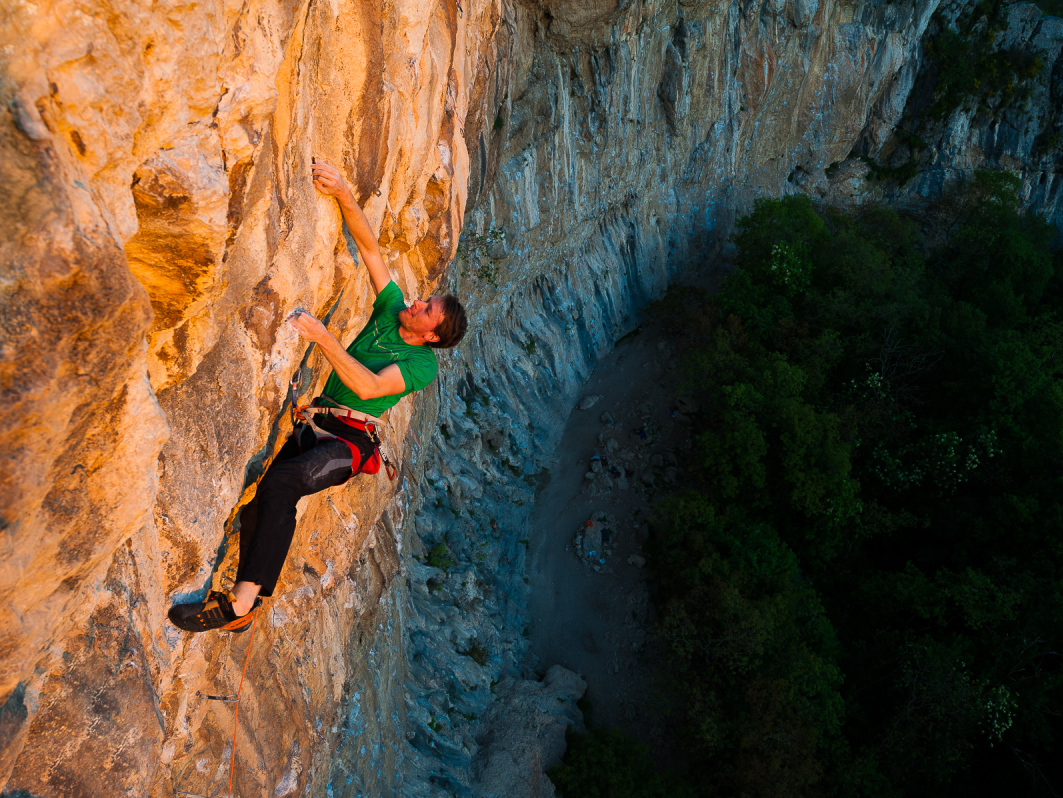 1st 8c for E.Cassol and 2nd for J.Levatic
Jurica Levatić on the top of Corrida (8c) @ photo by Luka Tambača
Biggest accomplishments in the last days go for sure to Italian Enrico Cassol who redpointed his first 8c, the 55 meters long monster route called Osapska pošast in the big cave of Osp.
Another 8c was climbed in Mišja peč by Jurica Levatić, strong Croatian that is now living in Ljubljana. Last year he succeded in Vizija (8c) and this year he redpointed Corrida. Corrida was first ascended by Franci Jensterle back in 2004. It is the extension of the classic 7a warm up route Rodeo in the central part of Mišja peč. After the first chain you have a nice rest and shortly after an extremely hard boulder with small undercuts, bad pinches and poor footholds. From the boulder on, the route gets more sustained with a big run-out and some more hard moves directly under the top on 35 meters. More info on his nice blog!
Also in Mišja peč Martin Bergant succeded in Marjetica (8b).
If we remain in the big cave of Osp, we saw as well flash ascent of the first part of Active discharge (8a) by Miha Pančur. This was his first 8a flash ever. Bravo Miha!
The Polish guy Jacub Matuszek redpointed another classic in the cave of Osp, the steep Helihopter v omaki (8b) and a Croatian Marko Kalčić climbed the endurance testpiece of Bitka s stalaktiti (8b).
In the secret spot close to Sežana called Skedenj, Mitja Jereb used the perfect dry conditions and sent Sex and candy (8a+). This is his first route in the 8th grade range. Well done!
A bit more to the south, close to the Buzet in Croatia, more specific in Kamena vrata, Goran Matika Gogo did a 2nd go ascent of Zvući teško (8b) and proposed a downgrade to 8a+.
In the new sectors of Istarske toplice Carlo Giuliberti made his hardest first ascent ever by clipping the anchor of a route now with the name »Fino a qui tutto bene« and a proposed grade of hard 8b+.
Some new routes were bolted and climbed as well in Brseč. More news to come in the next days.